Analysis by Keith Rankin.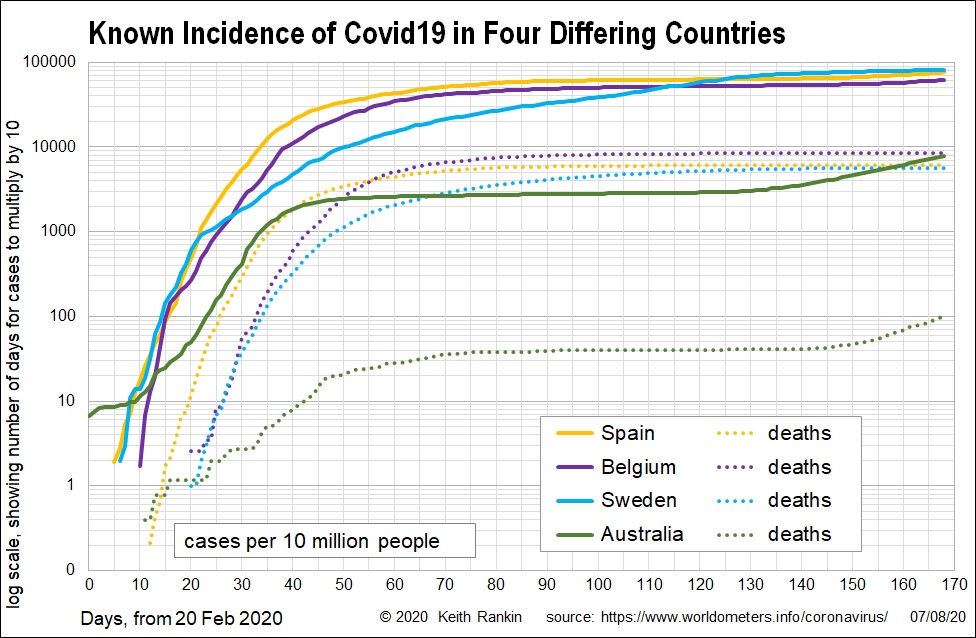 The known incidences of Covid19 in Spain, Belgium and Sweden are similar, although Sweden lagged for a while before overtaking the other two. In deaths, Sweden is slightly lower than Spain and about 30% lower than Belgium. Belgium, after little San Marino, is still the country with the highest deaths per capita. It is likely that all three of these European countries have an actual case fatality rate of about one percent, meaning that Belgium and Spain have slightly higher historical infection rates than Sweden.
Sweden's slightly lower infection rate is probably due to natural and cultural physical distancing. Belgium's higher Covid19 incidence is likely related to its political role within the European Union; ie comparable with Washington DC in the United States. (See my Europia …)
Australia's overall infection rate is at most ten percent of these European countries' rates. And the death rates, so far, in Spain, Sweden and Belgium are 60 to 90 times greater than in Australia (between one and two orders of magnitude). However, the recent growth rate of cases and deaths in Australia is faster; look at the slopes for Australia since Day 145, which is mid-July.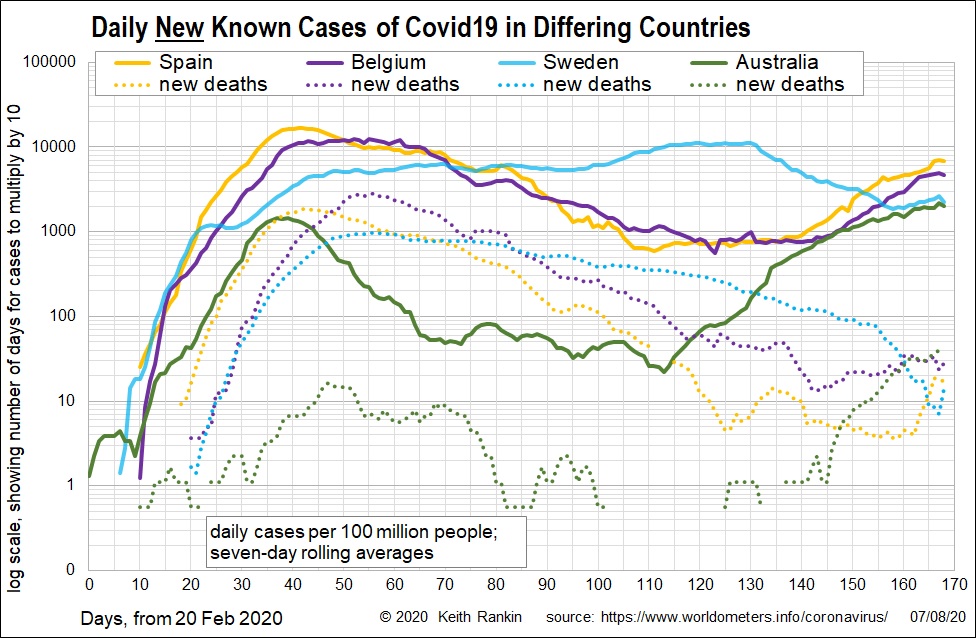 This chart plots seven-day averages of case and death rates. In terms of cases, all four countries are now recording similar percentages of new infections each day. And all have had recent resurgences. Sweden has come down to this level of infection, whereas Australia has risen rapidly to almost meet Sweden. Belgium and Spain have had significant resurgences over the last month.
When it comes to recent deaths, Australia now pips Belgium and has double the death rates of Spain and Sweden. Death rates are probably lower now in part because many of the most vulnerable people in these European countries have either died already, or have gained a degree of immunity.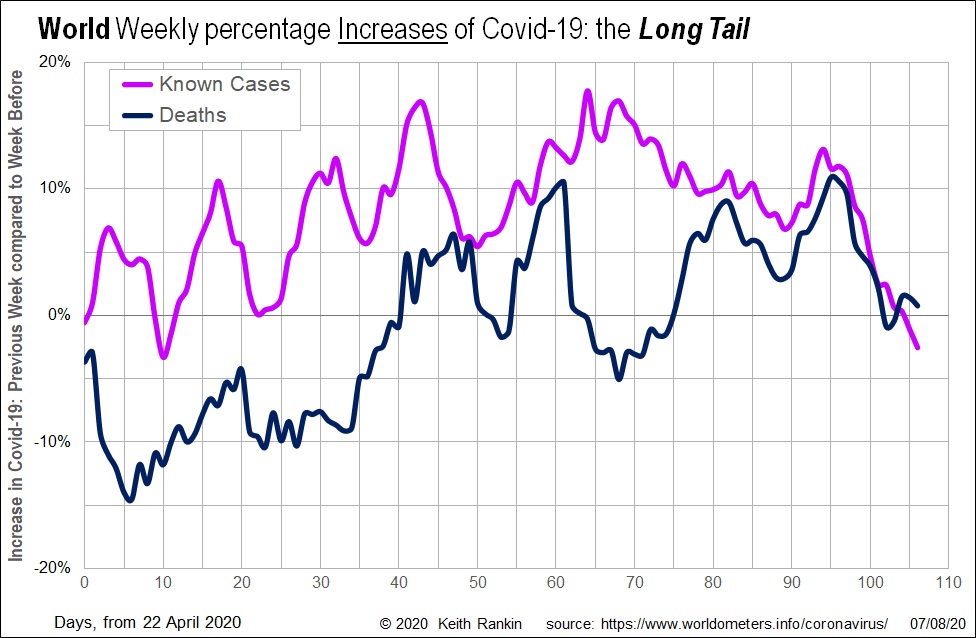 Now for the good news, the updated Long Tail chart shows a clear turning point about 40 days ago. A zero percent weekly growth rate represents a stabilisation of case growth, not a reduction of new cases. But stabilisation has to come first. There are clear signs that the pandemic in the Americas – the highest incidence countries in June and July – is now slowing.
My sense is that death growth rates will rise again before persistently falling in September; this is because deaths lag infections.
It is looking that, in August, increased testing globally is yielding fewer cases per test. Chile now has performed almost as many tests per person as New Zealand; and Australia's testing rate is now double New Zealand's. Likewise, the percentage of Americans tested is now double the percentage of New Zealanders. Brazil's testing rate is now two-thirds that of New Zealand. Even sceptical Sweden is catching up to New Zealand. (New Zealand's present rate of testing is about right for a country which has contained the virus.)
Europe and the Americas have undergone huge learning curves re Covid19 in particular, and public health preparedness in general. Healthy economies will follow – maybe healthier than pre-covid economies – as people become healthier. Good things take time.
Public health is an area of market failure. This pandemic is teaching us more widely about both market failure, and market resilience. We are learning, slowly.