Analysis by Keith Rankin.
Today's five charts are all set to the same scale, allowing for total weekly deaths being four times (300%) above normal.
South Africa and Chile are both countries with substantial connections to New Zealand. Most of New Zealand's pioneering immigrants sailed to New Zealand via Cape Town. And the relationship has continued through rugby, cricket and immigration from South Africa. The relationship with Chile also goes back a long way. Chile is across the 'big ditch'. Ships sailing east from Sydney would call into New Zealand ports on their way to Valparaiso. (And the Beagle, carrying Darwin and Fitzroy, came the other way, in December 1835; albeit via the Galapagos Islands.) The more recent Latam direct flight from Auckland to Santiago has recently been the mainstay of New Zealand's formerly growing relationship with South America. And Australia's first Labour Prime Minister, John Watson, was a New Zealander born in Chile.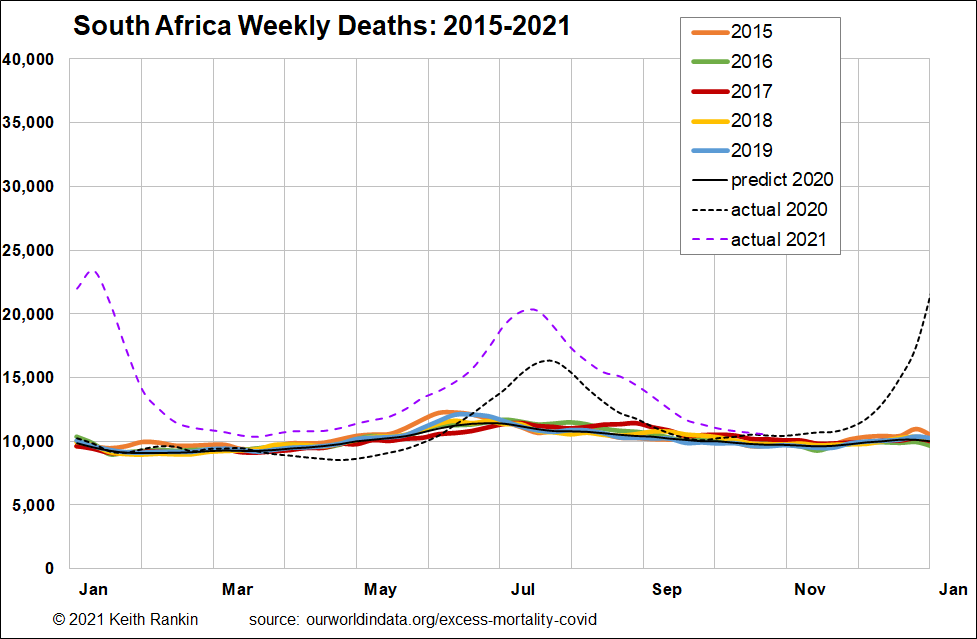 In the autumn of 2020, South Africa had a 'successful' covid lockdown, as evidenced by a significant drop in death numbers. However, as happened in many countries with successful lockdowns, the good news didn't last. Death rates doubled in July 2020. After getting back to normal death rates, a second covid wave hit at Christmas, taking death rates up to 140% above normal in the New Year. And again, in July 2021, in a third (delta) wave death rates again reached 100% above normal. The July peaks look suspiciously like South Africa's peak time for visitors flying in from the Northern Hemisphere. We should never lose sight of the fact that Covid19 is an airborne disease.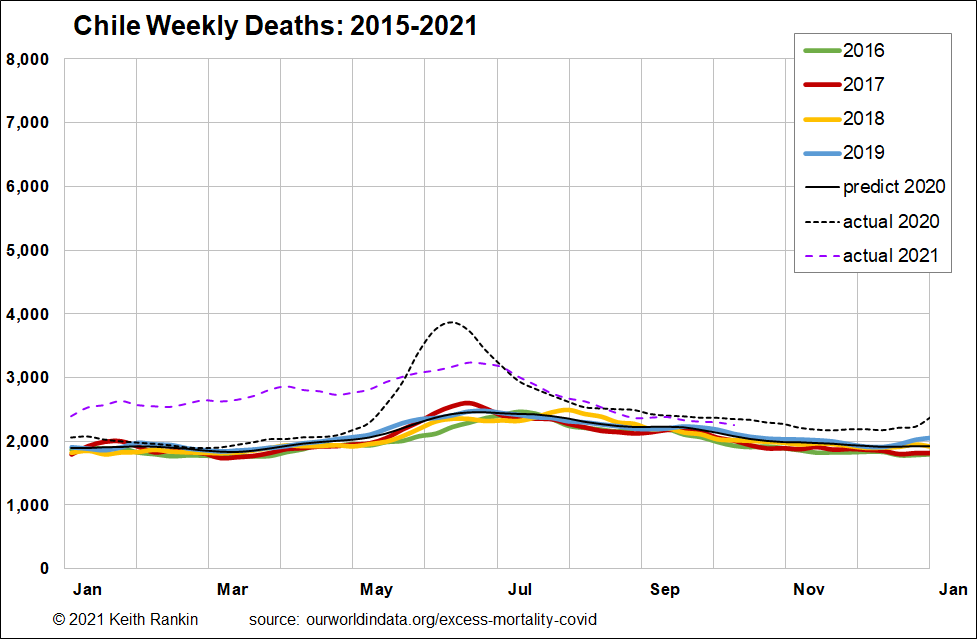 Chile held Covid19 at bay for quite a while in 2020, despite having more relaxed lockdowns than, for example, Peru and Argentina. But Covid broke through, soon enough, in May 2020, causing deaths to peak at just under twice the normal level. From then, deaths remained significantly above normal until September 2021. Chile suffered particularly in the first half of 2021, facing the virulent gamma strain of Covid19. Delta has had no impact yet in Chile, though it is now the dominant strain.
In South America, Chile was first to roll-out a vaccination program, which did save may lives of especially older Chileans.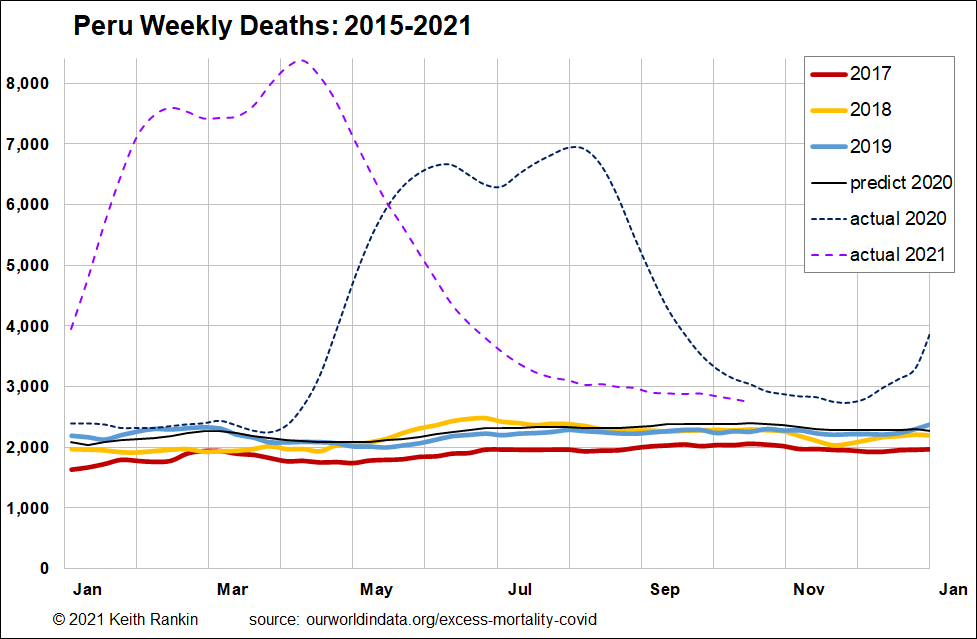 Peru tried to fight Covid19; indeed, many western tourists were stranded there, with New Zealanders amongst the last to be rescued. But Peru never properly sealed its air border; Covid flowed into Lima. It almost certainly flowed in, as well, through its northern land border with Ecuador.
While Peru's early emergency was focussed at Lima, not at its high altitude Andean tourist spots, it would appear that people living at high altitude were nevertheless vulnerable to respiratory infections such as coronaviruses. Not even the coca tea, good in normal times for helping the locals to deal with the altitude, could keep covid at bay. (I well remember the warm hospitality in the little hotel in Cusco where I stayed.)
Peru basically couldn't cope, and many of its people live at high altitude away from the tourist areas. At least, to its credit, Peru did not cover-up its covid suffering. The Peruvian government decided to use 'excess deaths' as its official measure of pandemic mortality. (Based on this measure, Peru is no longer the world's worst covid case. Bulgaria is, with Russia next; though some other countries in or near the Black Sea part of the world may be even worse.)
A particular issue faced by South America's high altitude equatorial lands is that they do not get 'seasonal' influenza; despite temperatures being temperate, these places have neither winter nor summer as we know it. This means that base immunity levels are not regularly boosted by seasonal respiratory viruses; it makes their populations 'sitting ducks' to a respiratory pandemic.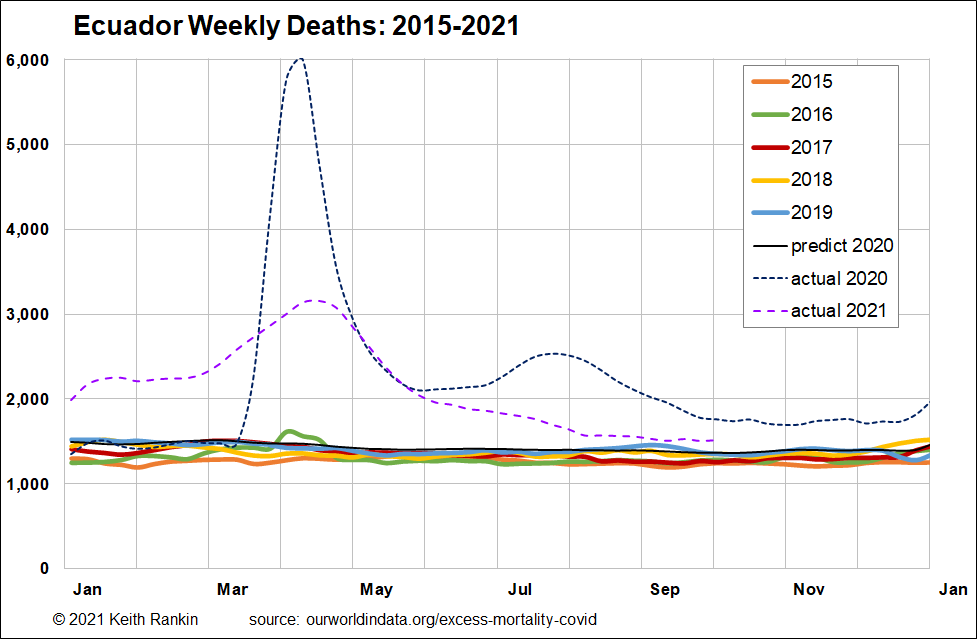 Next up the Pacific coast is Ecuador, source of the great Kiwi banana. In South America, Ecuador copped covid first. Deaths were over 300% above normal in two bad weeks in early April 2020. While a degree of control – or immunity – was established in May, covid has sustained levels of mortality up to 100% above normal; it's still about 20% above normal, though with no sign of any impact from the delta strain. Almost certainly, much subsequent infection on the continent – especially in the equatorial region of South America – was consequent on Ecuador's unfortunate circumstance.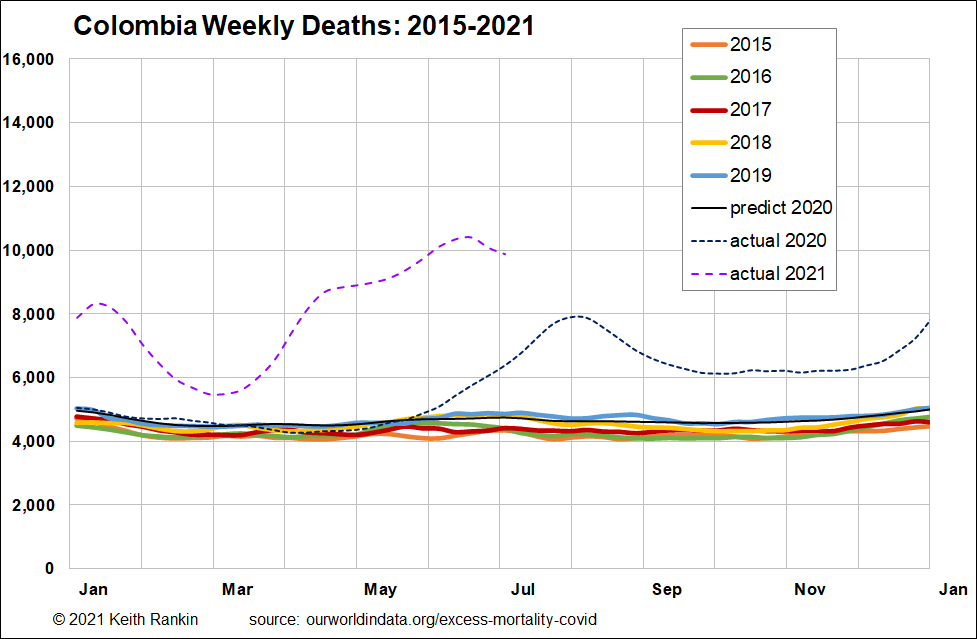 Finally, Colombia, South America's most populous country after Brazil. Again, once Colombia's initially successful defences were breached, death rates reached double normal levels by the end of July 2020, and again at Christmas New Year. In 2021, Colombia suffered particularly badly from Gamma. While excess death data for Colombia is slow to come through, I am pleased to be able to say that, since September, officially recorded deaths have been at their lowest since May 2020. The delta strain has made no impact so far, and overall immunity levels suggest that it might not make an impact, though the coming Christmas New Year will be the big test.
Overall, these countries have suffered much. We can learn from them, and they are open about their experiences. In particular, we can learn about how immunity patterns (re respiratory viruses) can vary in different climatic zones. The South American experience also reminds us of the experience of 'colonisation' in South America; an experience that saw wholesale indigenous mortality in the third quarter of the last millennium, owing to the complete naivety of Native Americans to European and African pathogens. In those days these countries suffered from multiple novel viruses – and other micropredators – all at pretty much the same time.
Interestingly the anti-colonisation backlash, prominent here in New Zealand and in Canada, is even more prominent in South America, especially (at least to my knowledge) in Colombia and Chile. Unfortunately, this backlash is unnuanced; the suffering of (and lack of recognition of) indigenous peoples in the New World varied considerably between places and between times. And, of course, indigenous peoples in America and Aotearoa are substantially assimilated in irreversible genetic ways; less so in South Africa. Past tragedies should be a point of shared sympathy and understanding, not a basis for future division.
Keith Rankin (keith at rankin dot nz), trained as an economic historian, is a retired lecturer in Economics and Statistics. He lives in Auckland, New Zealand.