Analysis by Keith Rankin.
These charts give an insight into the actual impact – and progression – of Covid19 in South and Central America. As for the previously posted charts showing Russia, and showing the Middle East, these countries are included because they report their overall mortality monthly rather than weekly.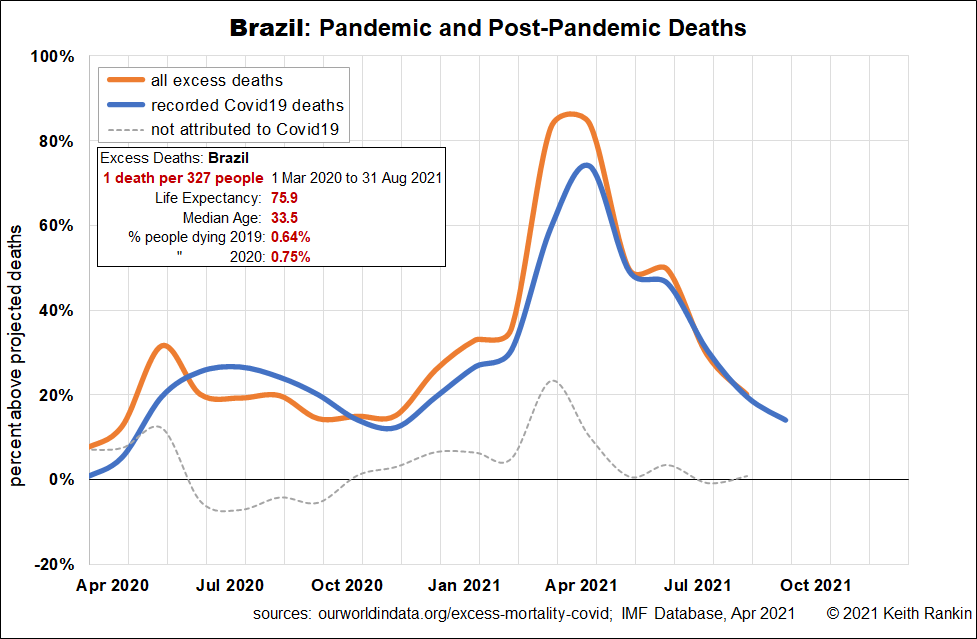 Brazil
Brazil received more publicity than most countries, because of its large population, and because its political leader President Jair Bolsonaro was a politically divisive man who received much attention from the international media.
Brazil's overall death rate is comparable with those of Poland, Iran and South Africa. It is better than Mexico, and worse than the United States. With one excess death per 327 people, Brazil has done much better than Russia, which – according to the most available data – has one excess death per 192 people in its population.
Brazil, getting its critical exposures to Covid19 at about the same time at the United States, had its first significant mortality peak in May 2020. After that, and while public health measures were taken – indicated by negative deaths 'not attributed to Covid19' in the middle of 2020 – Covid19 was at no stage suppressed; excess mortality continued at around 20% of normal (counterfactual) deaths. Covid19 accelerated for the winter Christmas months, and then really took off at the time of the emergence of the Brazilian (gamma) variant of the virus.
Overall, excess deaths closely match official Covid19 deaths, so the death registration process is reliable. Further, Brazil is now over its worst, has vaccination rates comparable with the United States, and, with high immunity to Covid19, will probably not suffer any more severe outbreaks.
If the timing of Covid had been slightly different, I would have been in Brazil in April 2020; probably stranded at Foz do Iguaçu.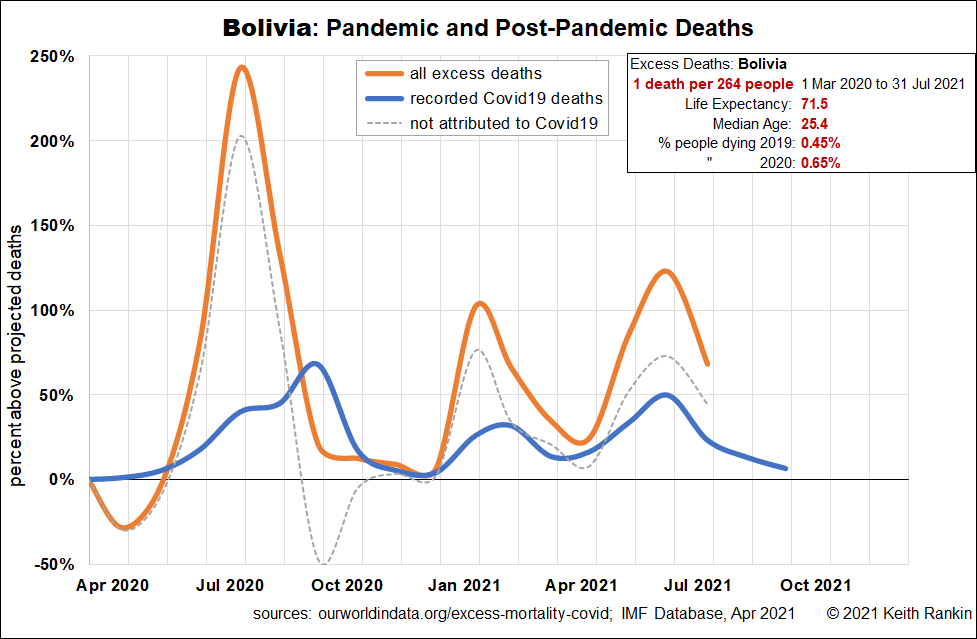 Bolivia
A landlocked country of two parts – one high altitude altiplano, one forested and ranch lands that form part of the Amazon basin. I enjoyed a few days there in 2017; in Copacabana on Lake Titicaca, La Paz, and the main high-altitude highway to the Chilean border. It was in high-altitude Copacabana that a local, on discovering I was from New Zealand, greeted me 'Kia Ora'. I feel for Bolivia.
Covid19 hit Bolivia early and hard, despite taking some precautions in April 2020. But 'Bertie Covid' got away, and exploded through Bolivia in July. Conditions in Bolivia were both like those in Peru – the worst-affected country in the world, and like those in the covid-afflicted Brazilian Amazon. The high altitude conditions – always a challenge for those with breathing difficulties – may have substantially aggravated this respiratory disease. Bolivia's hospitals were clearly overwhelmed, with only a small portion of covid deaths diagnosed as such.
In subsequent Covid waves, greater proportions of Covid19 deaths were registered as such. But it was a struggle. Conditions in Bolivia were especially problematic in 2020, following a 'right-wing' political coup in 2019. Late in 2020, the previous 'left-wing' administration was restored. The election campaign, in October 2020, does not appear to have been a super-spreader event.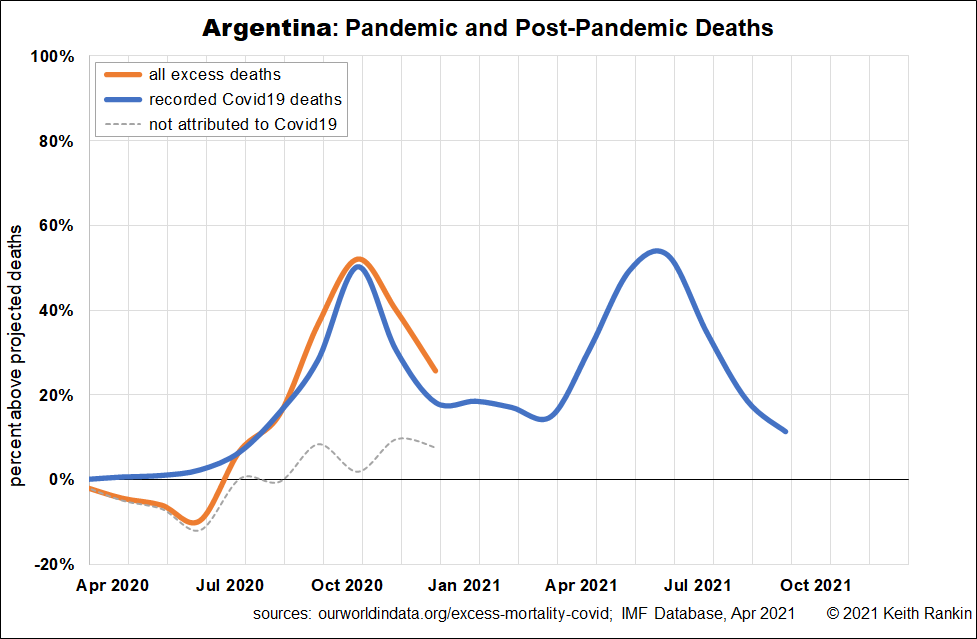 Argentina
Argentina is shown on the same scale as Brazil. It's official death statistics are clearly reliable, just slow to become available. Argentina fought hard to keep covid out – including closing its border with Brazil – but covid breeched Argentina's defences in July 2020.
Covid quiesced in the summer, but reappeared with a vengeance – and the new gamma strain – in the early winter of 2021. The data for that super-outbreak is almost certainly demographically accurate. Hopefully Argentines are substantially immune to Covid now, though the long period of lockdown in Buenos Aires suggests there may be an immunity debt – to other viruses if not to the Covid19 virus – still to be paid.
Many New Zealanders are familiar with Argentina, and will be quite disappointed that, in future, it will be much harder to get to.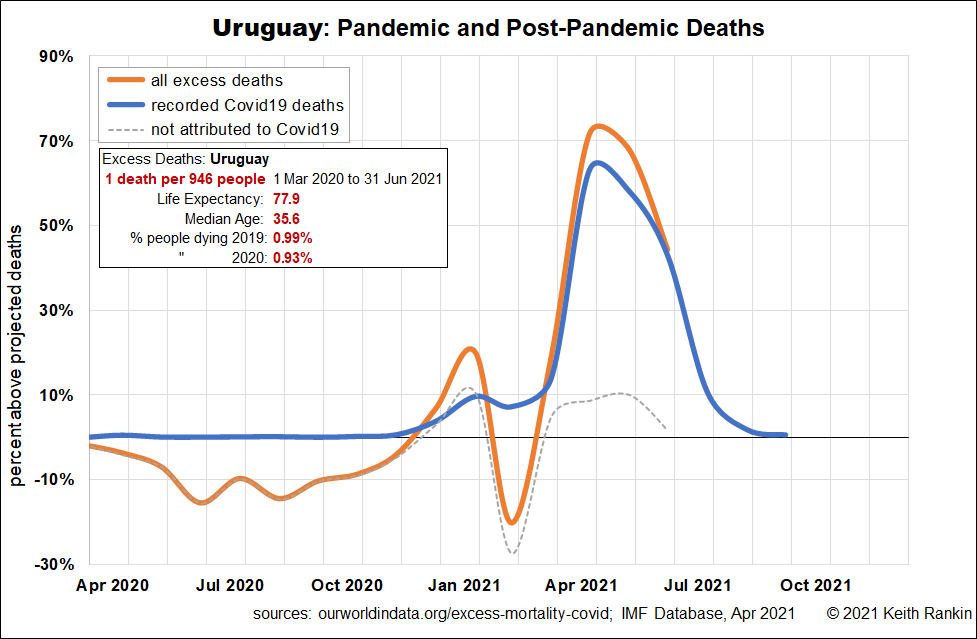 Uruguay
Whereas it was common in the twentieth century for economic historians to compare Argentina and Australia, the equivalent comparative study for New Zealand was with Uruguay. Uruguay was – along with New Zealand, Australia and South Africa – a principal of the International Wool Secretariat (which I worked for in London in the 1970s). Along with Argentina and ahead of New Zealand, Uruguay was a co-founder of the Welfare State in the 1920s.
Like New Zealand, Uruguay was the first host – and first winner – of the World Cup for its national sport; Uruguay in 1930, New Zealand in 1987.
Also like New Zealand, Uruguay made a heroic effort to keep Covid19 out; especially difficult given its border with Brazil. The breech, when it came, took place in December 2020; a not uncommon date for covid to strike.
Uruguay's negative excess deaths show that Uruguay's public health response was very quick, and very hard. Nevertheless, the elimination strategy could not be sustained. Uruguay's immune-naïve population suffered – and suffered hard – from March 2021. It took months for the (mainly gamma) outbreak to resolve; for some of that time, Uruguay had the highest official Covid19 death toll in the world.
So far, the delta-strain seems to have left Uruguay alone; in particular because immunity levels re covid are high. Uruguay's vaccination rate is substantially higher than New Zealand's; while that should protect Uruguay as well from other coronaviruses, Uruguay may have become highly vulnerable to a future influenza outbreak.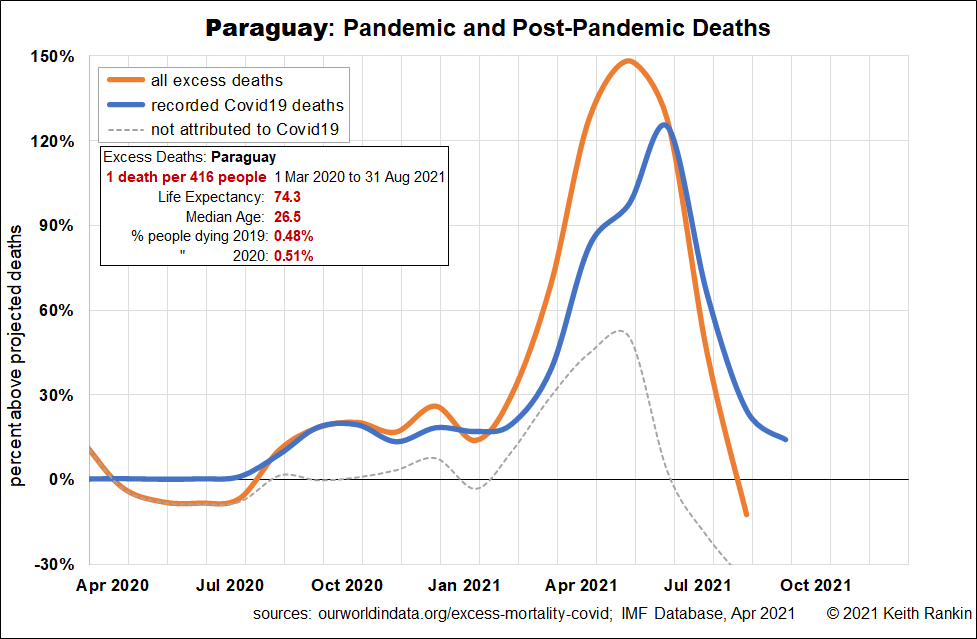 Paraguay
Paraguay is a much poorer – though more populous – landlocked country with a somewhat quirky history. While few New Zealanders will have been there, New Zealand did play Paraguay in the 2010 Football World Cup.
Paraguay's experience of Covid19 in 2020 reflected that of Argentina; indeed the overall pattern of deaths suggests that similar public health measures were taken. Covid19 really exploded though in early 2021; the country was indeed overwhelmed by covid, much as Bolivia was in 2020. Hopefully, Paraguay is now 'out of the woods', the woods of Paraguay were no place for a picnic earlier this year.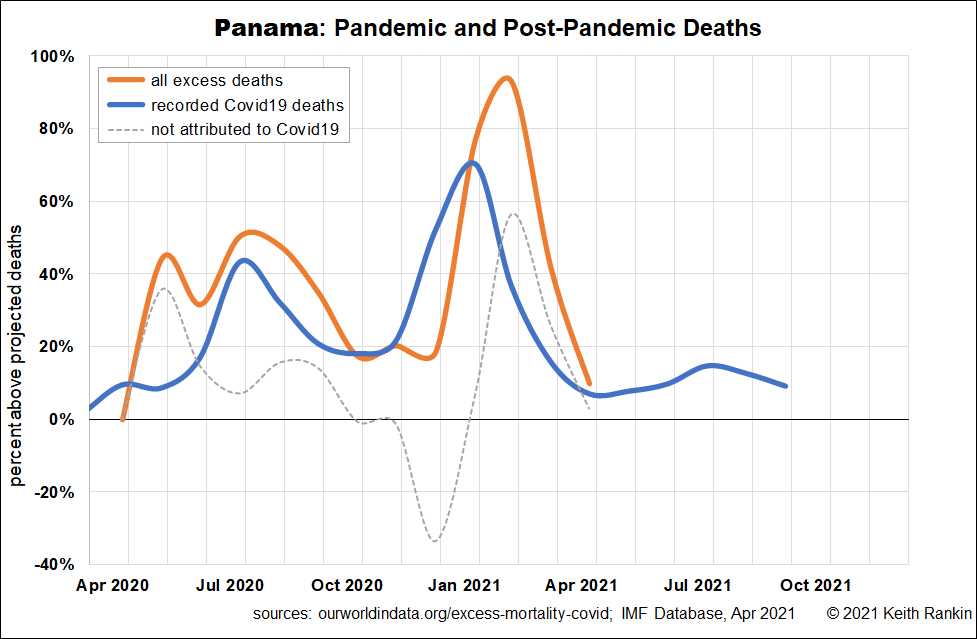 Panama
Now it's the Pandora Papers; previously it was the Panama Papers. Panama City has been a boom financial centre ever since Panama formally acquired the Panama Canal. We know that, in February and March 2020, the little financial centres of the world were Covid leaders, and almost certainly contributed to the initial spread of the pandemic.
The first wave of Covid19 hit Panama early, and unexpectedly. It's peak in July 2020 was one of the world's largest national peaks. Covid came back to Panama with a vengeance in November 2020, and the Panamanian authorities responded swiftly this time, as revealed by the big fall in deaths from other causes in December.
I visited Panama City in April 1974 – long before it was the city it is today – and sailed through the canal in the Northern Star. A very humid tropical city, which today will be one of the world's most intensive users of air-conditioning.
Covid19 still appears to be a problem in Panama, though relatively contained.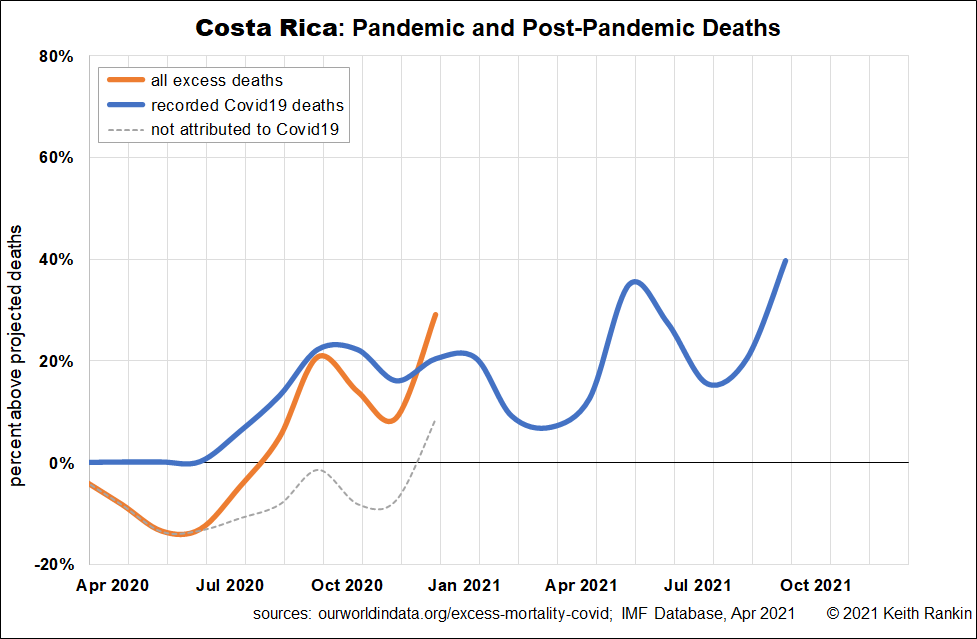 Costa Rica
Costa Rica is a country in the region widely known for its high levels of social capital, and for its ecotourism. It has traditionally hosted many western 'travellers'; the people who don't like to be called 'tourists', but are OK with the label 'backpackers'.
Costa Rica clearly did its best to 'eliminate' covid, but succumbed at about the same time as Argentina, in the third quarter of 2020. Since then, Costa Rica has had its ups and its downs. As part of the Caribbean region, it seems to have been highly vulnerable to new incursions of western travellers, and, as for the region as a whole, its economic dependence on tourism will have made it especially hard to mount a fortress defence against 'Bertie Covid'.
Costa Rica's statistics are clearly reliable.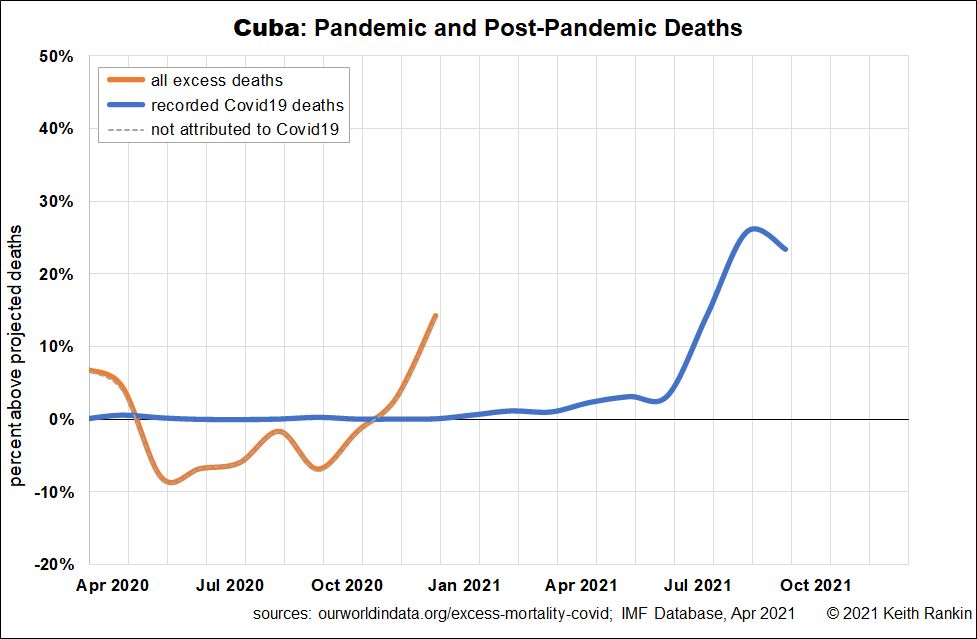 Finally, Cuba.
Cuba seems to have got an early touch of Covid19, probably from Europe. It's subsequent low excess deaths indicate that Cuba did mount a substantial defence. However, Cuba seems to not have done much testing, so its authorities were completely unprepared for the outbreak that did come at the end of 2020, most likely as western visitors visited during the early northern winter months.
Cuba seems to have been reluctant to acknowledge that it had a Covid problem in 2021, but eventually – mid-2021 – did start testing, and the rest of the world came to know that Cuba was not immune from the Caribbean covid tragedy. We should eventually know just how bad Covid19 has been in Cuba.
———–
Generally, Latin America has high levels of social capital; it's statistics can be relied upon, and it did its very best to manage the Covid19 pandemic, despite its economically constrained circumstances.
When I chart excess deaths in these other countries – Chile, Peru, Colombia, Ecuador, Guatemala, Mexico – we will get a fuller picture. These countries report deaths on a weekly basis, so I will batch them together at a later date. South America is proud, contradictory, and wonderful. It will recover.
Keith Rankin (keith at rankin dot nz), trained as an economic historian, is a retired lecturer in Economics and Statistics. He lives in Auckland, New Zealand.