Analysis by Keith Rankin.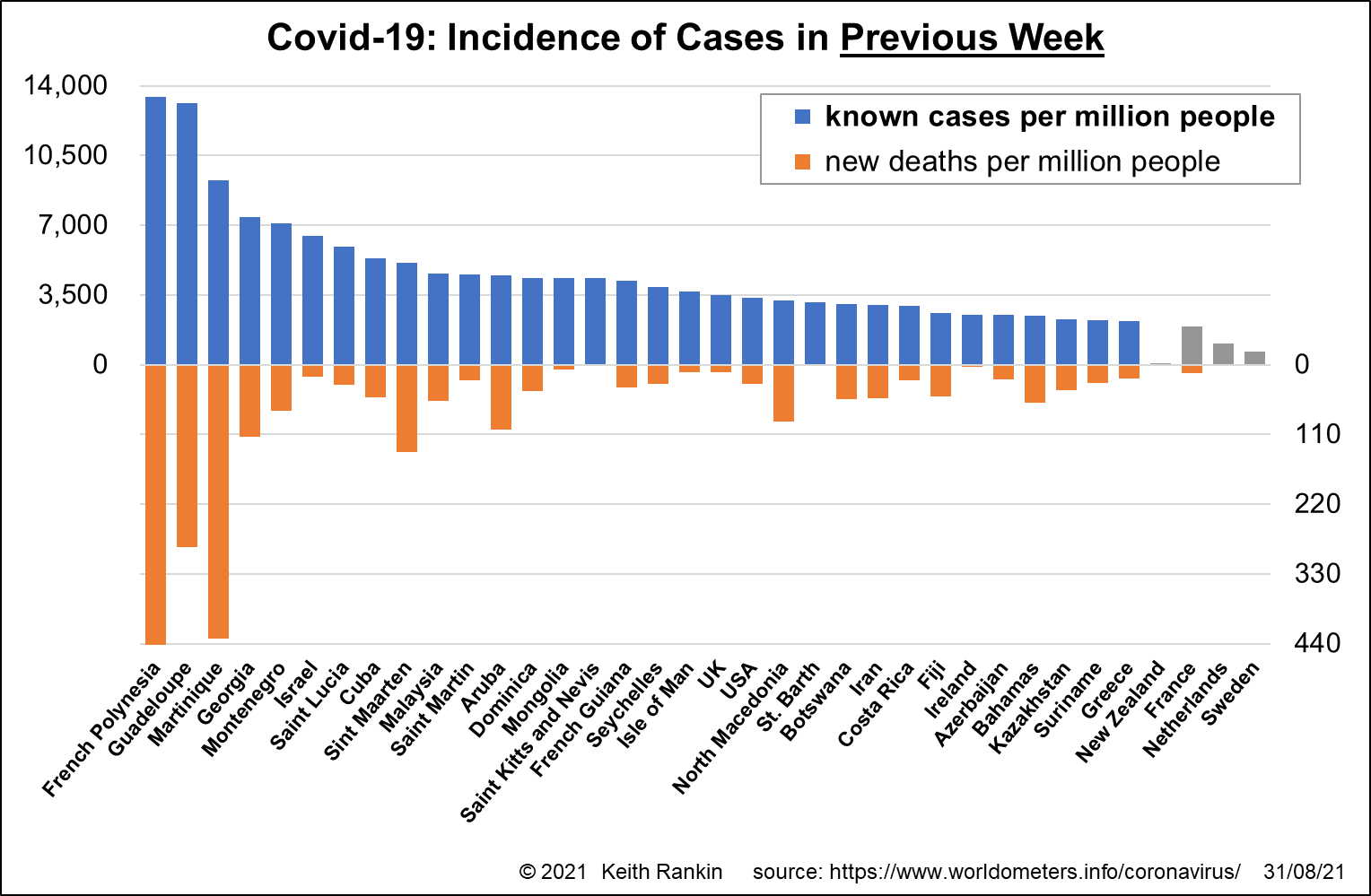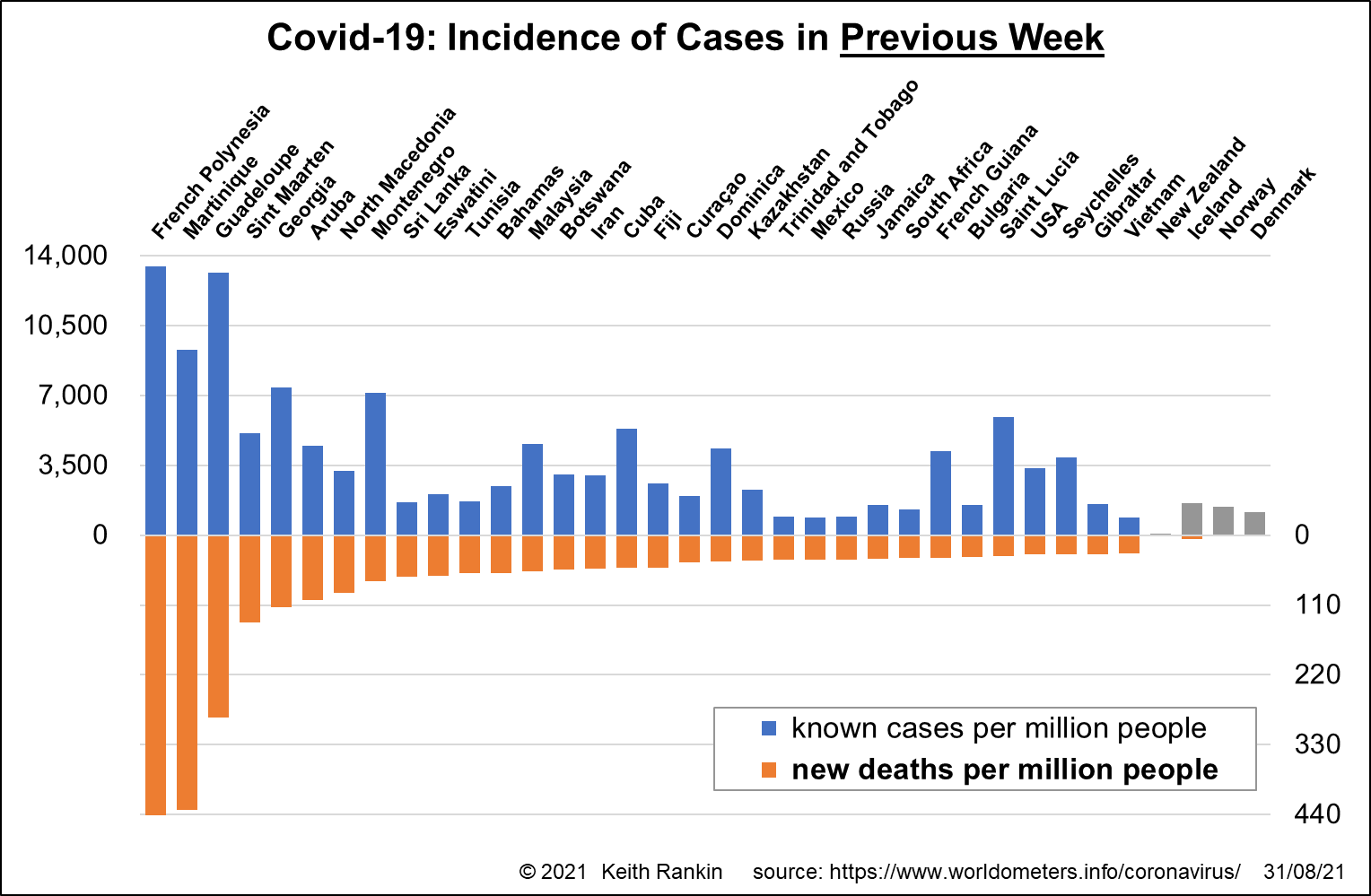 The first two charts show official case numbers and deaths, for all countries, including the little countries that tend to dominate in the peak of the northern summer holiday season.
Chart 1 shows the countries with the highest case numbers per person – from French Polynesia (Tahiti) to Greece, plus four other countries for reference. Chart 2 shows cases in order of deaths per person.
The three top 'countries' are all French overseas territories, as are Saint Martin, French Guiana, and St Barth. Also listed are Sint Maartin and Aruba (and Curaçao on Chart 2 only), overseas territories of the Netherlands. Also shown in these charts are six Caribbean destinations in the British Commonwealth (the 'West Indies' as we know them, plus the Bahamas). Then there's Cuba, now a popular holiday destination for Europeans. And Suriname is a former Dutch colony – and a holiday destination – in the Caribbean.
What we are seeing is a 'colonisation' problem, rich vaccinated people from rich European countries (a number of which are shown in grey, and the United Kingdom and United States, which have substantial case numbers but few deaths by 2020 standards. Covid19 has always been a condition of the rich which they have then passed on to the poor, especially the relatively poor people who provide services to those rich people. What is happening now is that 'healthy' vaccinated Europeans are infecting (with Delta) and killing the local service sector employees (and their families) in these mainly Caribbean destinations. These territories and countries are open because they are understood to be dependent on tourism from Europe (and, except for Cuba, from USA), and because this class of rich tourists is uncaring – entitled – in their lack of care towards the people whom they are killing. We look the other way, because these death zones are very small territories and countries.
In French Polynesia, 450 deaths per million people is equivalent to 2,250 covid deaths in New Zealand in just one week.
Another small tourist country to mention here is Seychelles, still among the top infection/death sites, and has been since April. In this case, as I understand it, Seychelles has become a tourism bolt hole for rich Indians, especially in the summer monsoon season.
And another small country is Iceland. This fully vaccinated country has, at present, a delta outbreak far worse than New Zealand's, and in the last week has had its first deaths in this outbreak. Per capita, it is the worst affected in Scandinavia, although Norway and Denmark also have very high case numbers at present. (We should note that, since the start of the pandemic, and according to ourworldindata.org/excess-mortality-covid, all three of these Scandinavian countries have fewer excess deaths per person than does Aotearoa New Zealand.) These countries affirm that Covid19 remains highly infectious, that immunisation substantially lowers deaths, and that international travel by people from highly immunised countries is more dangerous than ever to people with low levels of immunity to Covid19.
It is important to note that the immunity in western Europe to severe illness from Covid19 is due to both a mix of vaccination and viral circulation. Even when New Zealand is as immunised through vaccination as are Europeans, New Zealand will remain substantially vulnerable to an opening up to tourism from Europe, USA, India, South Africa, and South America.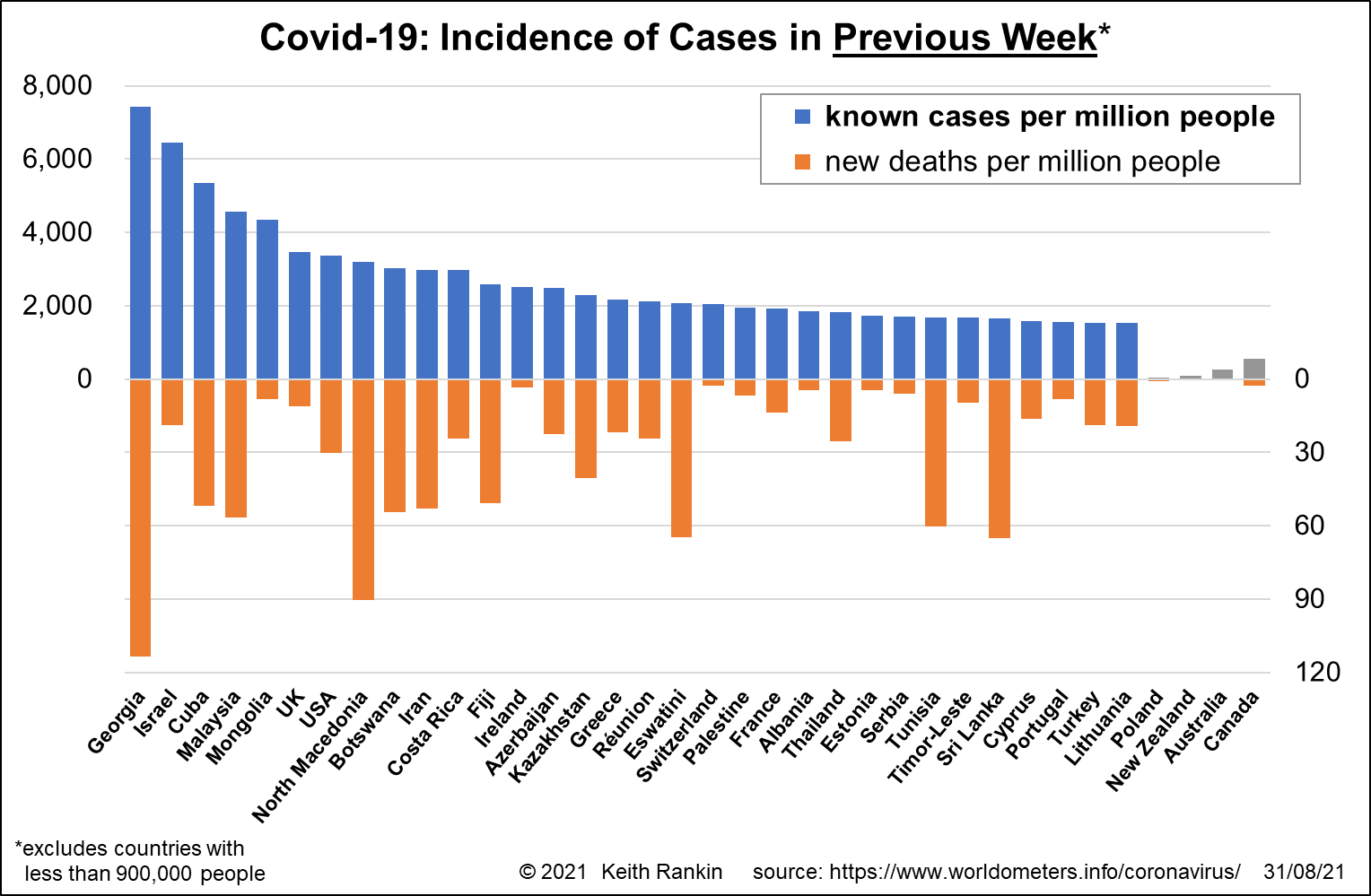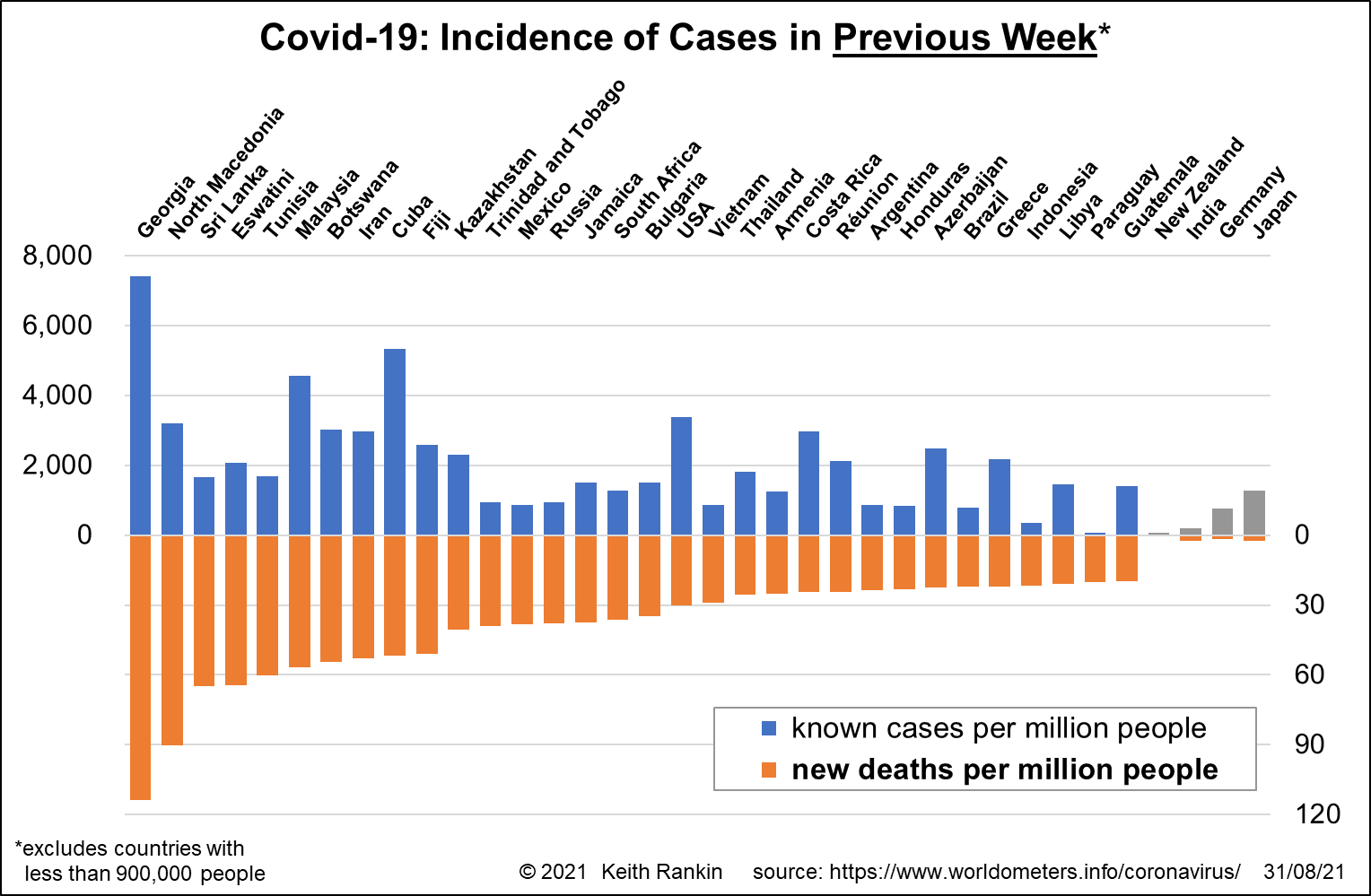 The second two charts are restricted to countries with more than 900,000 people.
Looking at death rates at the end of August, regions that show up are the Caucasian countries (Georgia, Armenia, Azerbaijan) and neighbours Russia, Kazakhstan and Iran.
Reunion, another far flung French territory, with a population (like Fiji) of 900,000, also shows up. (I visited Reunion in 1978; it's a truly spectacular piece of real estate.)
Other important regions showing up in these two charts are southern Africa, the Balkans (southeast Europe), Sri Lanka and Southeast Asia, and Central America. And we note Greece, the Eurozone country with the highest covid death rate, and a country for whom the vast majority of recent deaths precede Delta. And South America – also non-Delta – still shows up strongly in the fatality data.
In Chart 3 above, we note the presence of Israel and Palestine. Many anxious eyes are looking in that direction, and the news at present is not good. Almost certainly the inequity between Israelis and Palestinians is an important part of the problem there. And, while Israel will resolve its problem, this month, through booster vaccination, it is likely that Israeli tourists are among the most dangerous for other countries to host. Lebanon, though no longer present on this chart, almost certainly continues to be ravaged by Covid19. Its economy is in a state of collapse, including three-digit inflation. We should be hearing much more about Lebanon in our mainstream news media.
Of countries with high infection rates though low death rates, the places that show up most are the British Isles (UK, Ireland, Isle of Man), and Switzerland. We also note the Baltic States (Estonia, Lithuania) and Portugal (with better holiday weather this year than Greece) getting new delta outbreaks, though with indications – see Lithuania – that deaths will soon follow. Interestingly, Poland, Lithuania's neighbour, is much less affect at present (see final section below).
Australia and New Zealand remain well below the international radar, at least in the data if not in the global news cycle. (On Al Jazeera we continue to get frequent Covid19 reports from Australasia that are mainly of novelty interest to global audiences.) Canada broadly falls in between the experiences of the United States and Australia.
India now has low rates of Covid19, with the exception of Kerala. While the statistics there understate the true picture, that understatement is almost certainly less now than it was in the peak of India's epidemic, and is probably no more understated than many other countries. India today is like Northern Europe, highly immunised, yet dangerous to people in countries with low immunity to Covid19 and comparable viruses.
Japan is interesting, given the Olympic and Paralympic Games. Its profile is very much like that of a typical northwestern European country.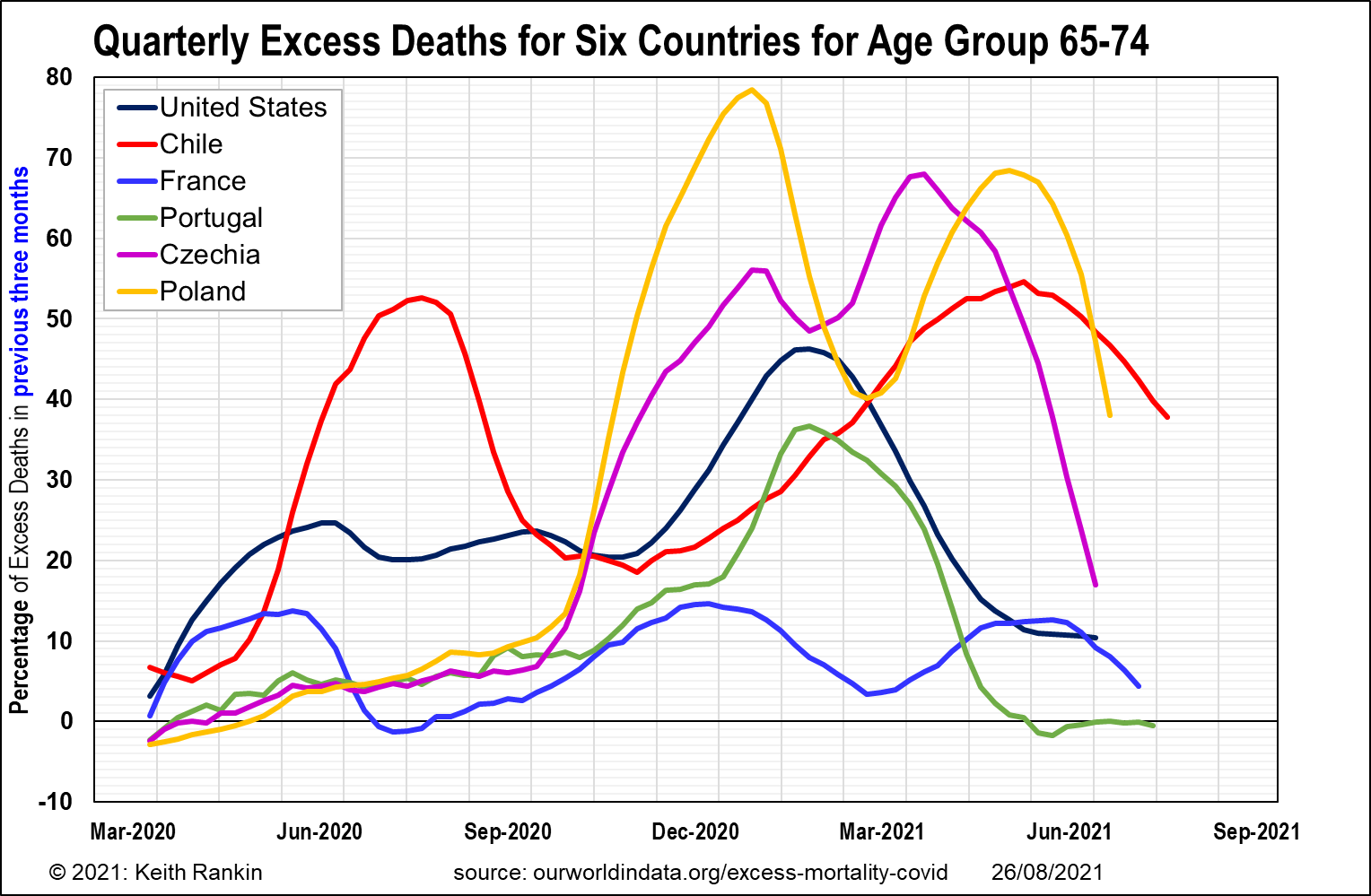 This final chart shows historical (for the pandemic) excess deaths of people aged 65-74, in a range of countries all severely affected by Covid19. (A similar chart showing England and Spain, was on this site last week.) None of what features in this chart has anything to do with Delta. France was surprisingly little impacted; eg much less than England. Portugal just had the one peak, of Alpha, which strongly coincided with England's peak.
In the Americas, Chile and the United States feature prominently. As a region, the Americas have suffered most of all this pandemic; ironic perhaps given that Brazil is the antipodes of the source country, China (whereas China has suffered the least mortality of any large country). Chile suffered severely from the Gamma strain of Covid19, and it really shows; and despite Chile's high and early vaccination rates, which focussed especially on people aged over 75.
Finally, we note the severity of the pandemic in northeastern Europe, shown here through Czechia and Poland. Their deaths resulted from the non-variant Wuhan strain of Covid19; and they almost certainly occurred in large part because of (rather than 'despite') earlier restrictive policies to keep Covid19 out of their countries. (See the timing of France's peak mortality.)
Poland is particularly interesting here, because I included it in the third chart above, and because it borders Lithuania and Germany, both much more infected. Poland even 'lent' Australia much of its excess stock of Pfizer vaccine. Through herd immunity, a mix of vaccination and calamitous infection last northern autumn and winter, Poland is, for now at least, able to have normal domestic freedoms. The same basically applies to Czechia, Slovakia and Hungary. No country would want to go through Poland's experience to get to their present position. It is important, nevertheless, that we in little Aotearoa New Zealand do understand Poland's situation, in these 'Delta Days'.
Keith Rankin (keith at rankin dot nz), trained as an economic historian, is a retired lecturer in Economics and Statistics. He lives in Auckland, New Zealand.