Analysis by Keith Rankin.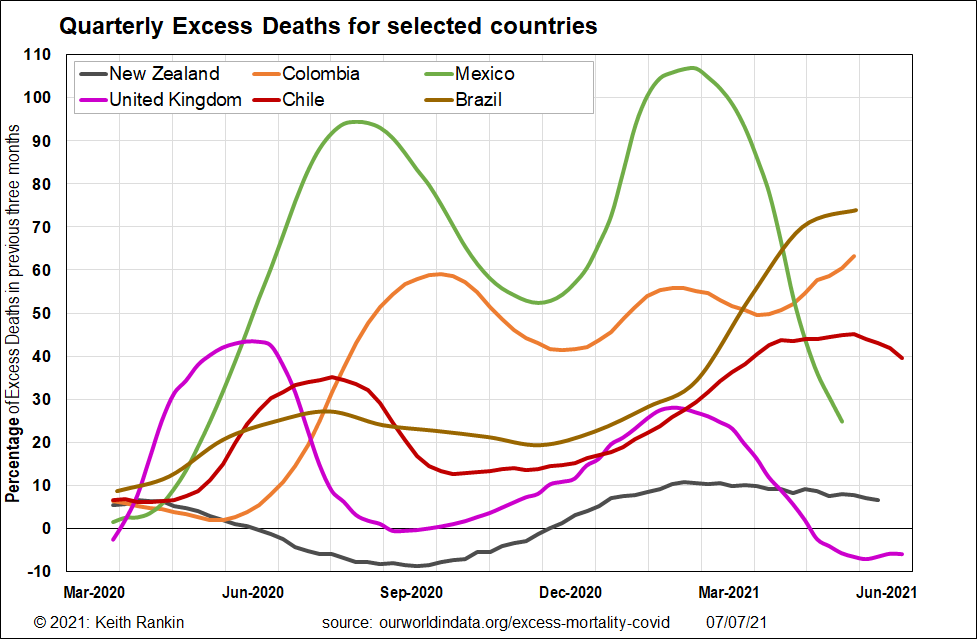 Chile is our neighbour over the ditch; the 'big ditch', that is, the Pacific Ocean. And it's a country with much in common with Aotearoa New Zealand. Until Covid19, Latam flew daily flights between Auckland and Santiago. Chile is regarded as the richest country in Latin America, and it certainly keeps better statistics than the others.
In December 2016, my family and I took advantage, and spent a wonderful three weeks in Chile (plus time in Argentina, Peru and Bolivia). We have great memories of the houses, hillsides and ascensors of Valparaiso; of cosmopolitan Santiago at the foot of the Andes, historic Valdivia, lakeside Puerto Varas, of Castro in Chiloe Island (with its pied swans and palafito houses), and of the cool Arica in the tropical north (cooled by the Humboldt Current).
The chart above shows that Chile had total Covid19 deaths comparable to the United Kingdom, though – despite high vaccination rates – much higher than the UK in recent months. Until the end of February 2021, Chile's covid mortality was also comparable with the more publicised Brazil; other countries such as Colombia and Mexico were clearly worse, and others in the region had excess mortality too high for this chart.
Latin American countries have been unable at any stage to restore their covid death rates to normal levels, reflecting the same issues that now plague Fiji; essentially inadequate social security, forcing people to risk death in order to put food on their families' tables, and making a New Zealand style lockdown untenable.
Unlike Fiji, Chile and other South American countries are yet to be impacted by the 'delta variant' of Covid19.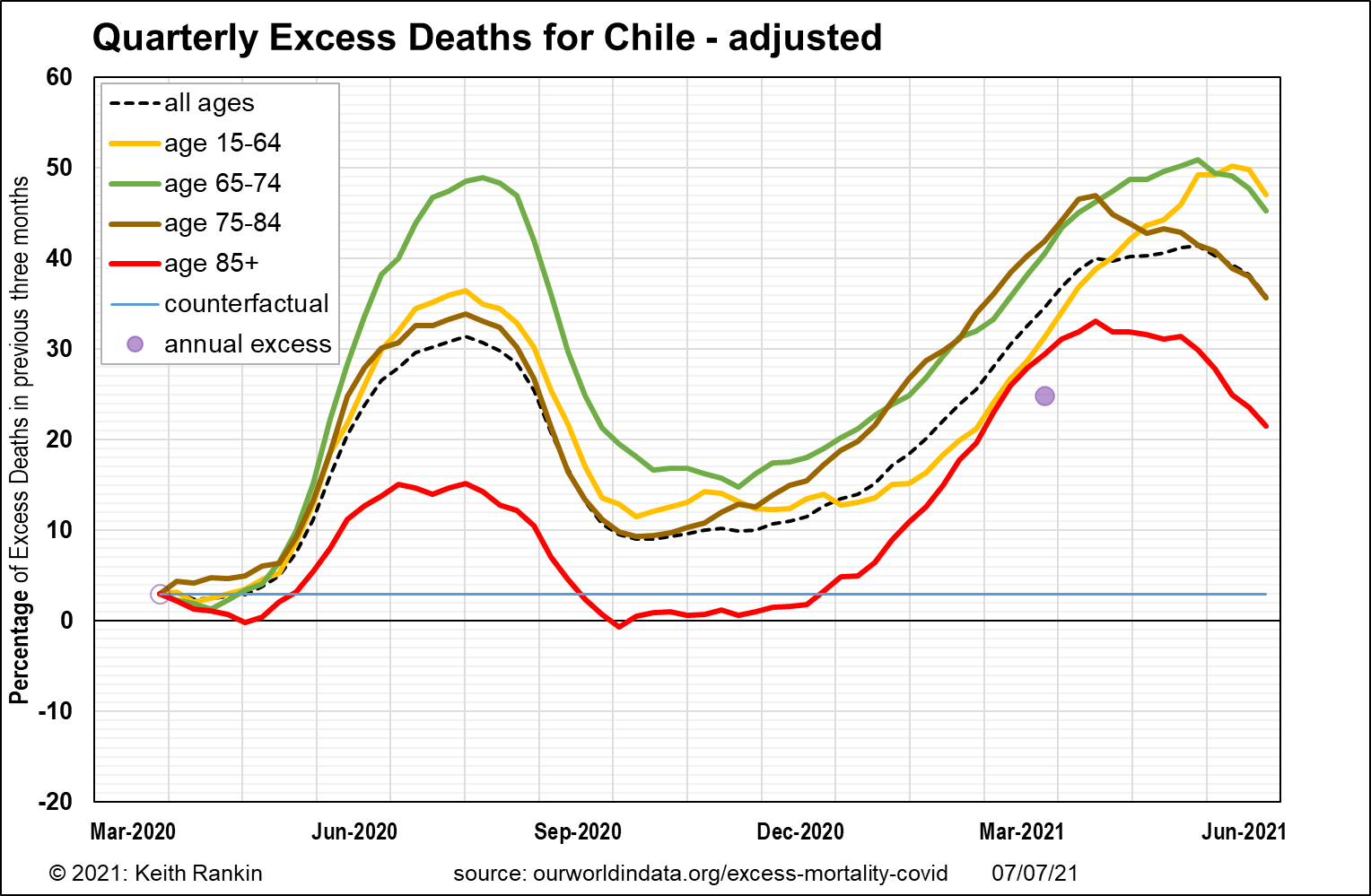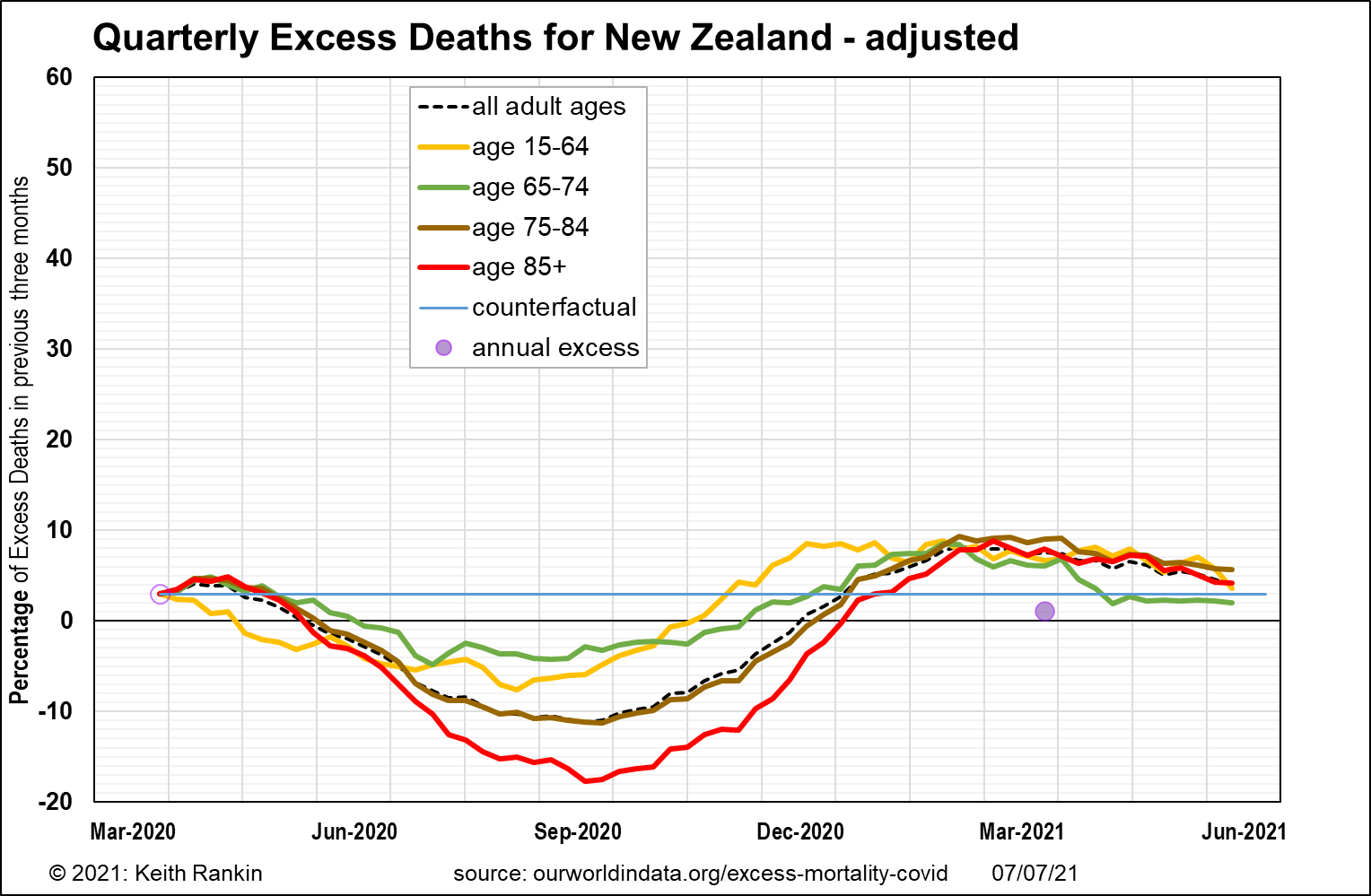 Unlike many other countries, Chile went to great efforts to protect its oldest citizens. Chile did not participate in World War 2, so has no post-war baby boomer generation, as such. Nevertheless, it was the 'boomer' generation (aged 65-74) that suffered the most in Chile, with excess deaths reaching fifty percent this autumn. The excess death percentage is now highest for the younger 15-65 age group; no doubt those aged 45-64 being the worst hit within that group.
The New Zealand chart, set on the same scale, looks very different. The seasons in New Zealand are of course the same as in Chile, so different seasons cannot be any part of the explanation for the difference. (The single biggest reason for the difference is, of course, MIQ 'Managed Isolation and Quarantine'. Chile did have some quite major lockdowns.)
Revolution?
Chile is of particular importance to the world now, because it is in the process of creating a new constitution, and because that process has been largely gifted to the young protagonists of identity politics; and we should note that, while Chile has identity politics 'on steroids', the basic political forces present in Chile are also present in Aotearoa New Zealand. It is a mix of 'new gender politics', the politics of the indigenous (especially Mapuche) population pushing for a new 'colonisation' narrative, plus expressions of anger towards youth inequality and climate change. Chile was one of those countries that experienced civil disorder in late 2019; disorder initiated – as in Hong Kong and Lebanon – by the angry young taking to the streets.
Another important parallel between New Zealand and Chile was the neoliberal blitzkrieg each country faced, which took place in Chile following a brutal political coup in 1973, and which took place in New Zealand as the result of a bloodless democratic coup in 1984.
In New Zealand (at least for watchers of Freeview) you have to watch Al Jazeera to get the news stories – such as this – that New Zealanders need to hear. The two stories that took my attention on Monday were: Chile begins 'beautiful challenge' of drafting new constitution and Mapuche woman to lead body drafting Chile's new constitution. After watching these items, my thoughts turned to revolutionary France in 1790, and to republican Spain in 1936; and indeed to Chile in 1970 when a "coalition which included the Communists, Radicals, Social-Democrats, and dissident Christian Democrats" gained enough votes (about 35 percent of the popular vote) to form a 'pluralist' (ie First-Past-the-Post) government. In each of these three cases, the revolutions happened after periods of reform that were deemed too slow; this applies to New Zealand in 1984 as well. (I was reminded of the broad outlines of the French Revolution recently, from reading our own Mike Lee's excellent 2019 book, Navigators and Naturalists, about French exploration in the Pacific.)
This is not the place to discuss this further Chile's revolution in the making – and note Chris Trotter's Re-Writing The Rules of the Game – other than to note that the potent brew of a pre-existing revolutionary movement, the ravages of Covid19, and the absence of a China or Russia or Uncle Sam to intervene (as in Hong Kong) means that this is a story we need to watch closely. The stakes are very high. (Although Uncle Sam did intervene in Chile in 1973, and also in Australia in 1975.)