Analysis by Keith Rankin.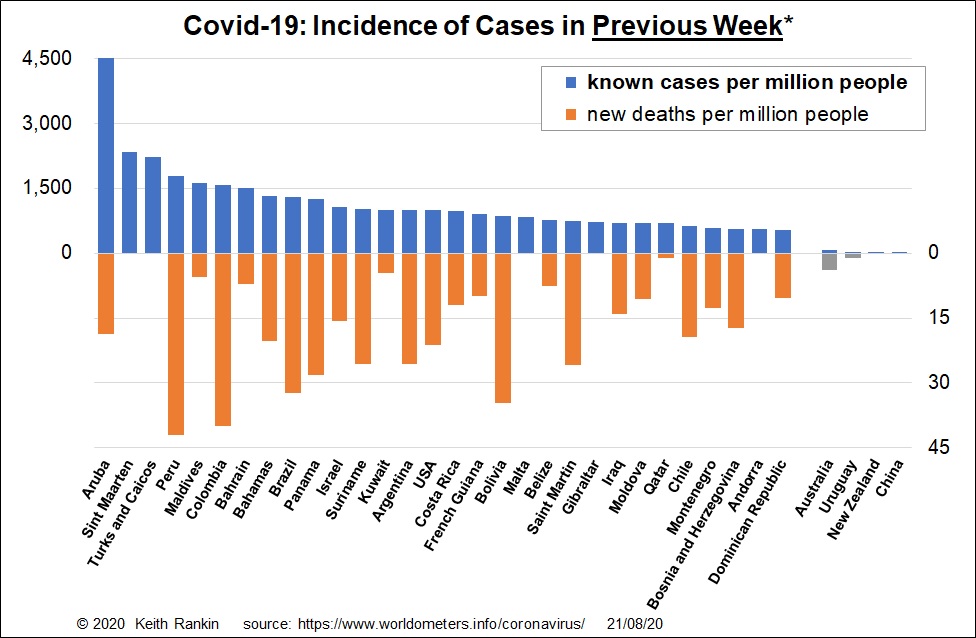 This week's chart shows the most current Covid19 outbreaks, including all the little countries. As in March 2020, some of these are the worst affected. It also gives lie to the claim that New Zealand is advantaged by being an island country.
In the gold and silver position are Aruba and Sint Maarten, both Caribbean overseas territories of the Netherlands. These two relate to the Netherlands much as the Cook Islands and Niue relate to New Zealand. Sint Maarten and Aruba were one of the worst affected places in the world back in March. Also badly affected then and now(and on my chart) – has been Saint Martin, the French neighbour of Sint Maarten.
Other places of note in this regard – and on the chart – are the nearby Turks and Caicos (a British overseas territory), Suriname, the Bahamas, the Maldives, French Guiana, Gibraltar. The Dominican Republic is possibly the most popular foreign destination for American holidaymakers; made possible after 1966 when the Americans invaded it to prevent it from becoming a second Cuba. And Belize – a former British Caribbean dependency – also has a fast-growing tourist industry.
These are places where Dutch, French, British and American jetsetters take their holidays, and pass on Covid19 to the locals engaged in the hospitality industries. Sint Maarten has more gaming machines per resident than any other country in the world. And the Netherlands (here and here) – like Sweden – has been one country that has not really taken Covid19 seriously. (My May 11 chart of 'excess deaths' showed that Netherlands was one of the worst culprits in underreporting Covid19 deaths. Since then, The Economist has undertaken a major analysis of the true impact of Covid19 on mortality.)
Another interesting case is the recent outbreak in Malta, a country in the European Union which had hitherto maintained very low rates of Covid19 despite its proximity to Italy. Again it's a tourist country, especially in July and August.
Costa Rica is also now showing up; a peaceful country in Central America, with a very different reputation from its neighbours. This very profile also makes it into a 'politically correct' tourist destination for first world travellers.
We also note that the Arabian Gulf countries continue to have high infection rates.
I finish this chart by showing how Australia, New Zealand and China are much less affected by Covid19 than the big and little guns for whom Covid19 really is a nightmare that refuses to go away. And I note that, within South America, Uruguay – a country that has been often compared to New Zealand – has managed so far to contain Covid19 despite the experience of the rest of its continent.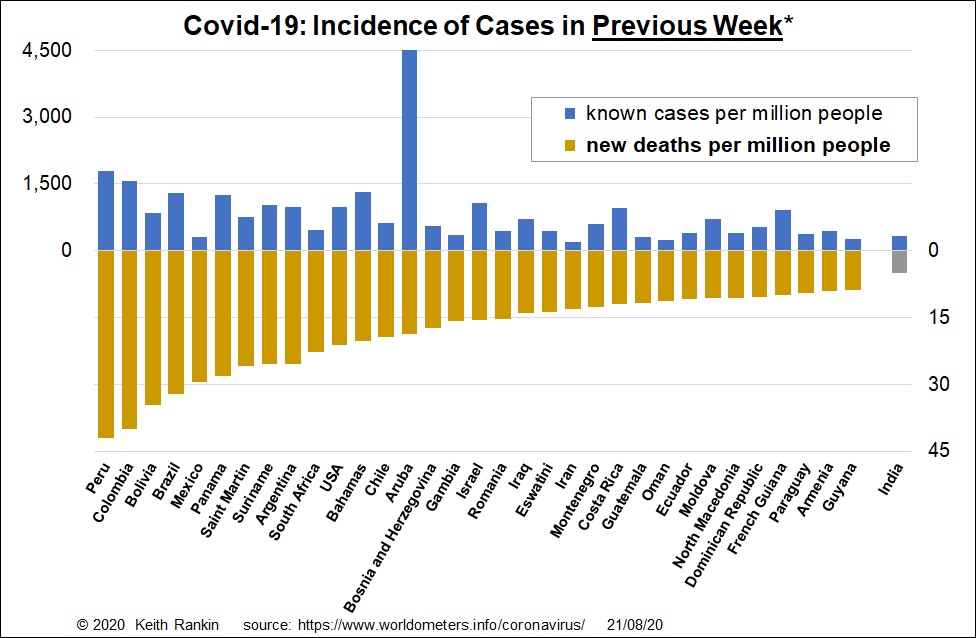 Once again, Latin America tops the league table for recent deaths. Peru, Colombia and Bolivia are worse than Brazil. (We may also note – though it is not shown here – that two countries in South America, Peru and Chile, have higher overall death rates than Brazil; this is despite their extensive lockdowns. It seems that Chile's and Peru's lockdowns were for nought, because they failed to secure their principal border – the airports of Santiago and Lima.)
The death statistics also highlight the Caribbean tourist destinations mentioned above. And it also shows that small countries in south-eastern Europe (plus Romania, which is not small) continue to be Covid19 hotspots. It is refreshing to see that Greece has never made it onto any of my charts.
India remains well short of the known Covid19 death rates of the worst affected countries. While Covid19 is clearly a huge problem in Maharashtra State (which includes Mumbai) and New Delhi. While it's likely that death rates are understated by India's official statistics, so are the death rates in many of the countries shown in the charts. (Just look for the true Mexico City death rate, in the Economist article.; much worse than Rio de Janeiro. Moscow, while not as bad as these two, is also a significant Covid19 deathspot, with much higher excess deaths than its official figures.)
One country which  features on both charts is South Africa. Up until June, the successful lockdown there produced a death rate much less than usual for that country. But since the lockdown was released, excess deaths grew exponentially, to an extent much greater than official data show. South Africa – like Chile and Peru – is a country with a failed lockdown. The problem with South Africa – it would seem – is that its testing rates were far too low. Success in containing Covid19 requires quick responses to outbreaks, tight border management, and a high extent of awareness of who has it and who does not. New Zealand knows that it has very high testing capacity, and has very high negative results – ie well over 99% of tests undertaken in New Zealand come out negative.