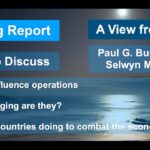 A View from Afar – In this podcast, political scientist Paul Buchanan and Selwyn Manning raise the question: If escalation of the Russian war against Ukraine will occur should NATO or European Union nations intervene to protect Ukraine, who or what can assist in bringing this war to a close?
For many of us around the world, Russia's war against Ukraine raises a philosophical dilemma. Is defence of the vulnerable the correct pathway toward reestablishing peace?
And specifically, Defence… what should it look like?
Do we, as members of an international community, stand by and allow innocent people to be murdered in the name of a geopolitical doctrine or ambition? Or, do we truly have a responsibility to protect the vulnerable?
In last week's episode we explored how Russia had advanced ahead of NATO and Europe in matters of deterrence. We also canvassed the Responsibility to Protect principles.
Today, we deep dive into how concerned nations may be able to come to Ukraine's aid, and under what circumstances could this be possible, and how will such resolutions be defined.
You can comment on this debate by clicking on one of these social media channels and interacting in the social media's comment area. Here are the links:
If you miss the LIVE Episode, you can see it as video-on-demand, and earlier episodes too, by checking out EveningReport.nz or, subscribe to the Evening Report podcast here.
The MIL Network's podcast A View from Afar was Nominated as a Top  Defence Security Podcast by Threat.Technology – a London-based cyber security news publication.
Threat.Technology placed A View from Afar at 9th in its 20 Best Defence Security Podcasts of 2021 category. You can follow A View from Afar via our affiliate syndicators.

***