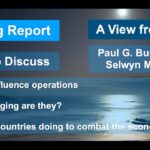 A View from Afar – In this podcast, political scientist Paul Buchanan and Selwyn Manning discuss the Covid-19 driven transition from Neo-liberal to Neo-Keynesian Economics.
In particular, Buchanan and Manning examine whether we are witnessing a fundamental change to global economics and consider:
How since the Covid-19 pandemic arrived even neo-liberal state economies have embraced an expansionist government strategy and significant degrees of stimulus.

It would appear that the excesses of small government, market driven economies have, at this time, run their course.

But what will replace the earlier systems?

From a political economy point of view, what can we expect to take shape as the Pandemic grinds on, even while we all have had a glimpse of what a post-Pandemic new normal may mean?
You can comment on this debate by clicking on one of these social media channels and interacting in the social media's comment area. Here are the links:
If you miss the LIVE Episode, you can see it as video-on-demand, and earlier episodes too, by checking out EveningReport.nz or, subscribe to the Evening Report podcast here.
The 
MIL Network's
 podcast 
A View from Afar
 was Nominated as a Top  Defence Security Podcast by 
Threat.Technology
 – a London-based cyber security news publication.
Threat.Technology placed A View from Afar at 9th in its 20 Best Defence Security Podcasts of 2021 category. You can follow A View from Afar via our affiliate syndicators.

***