Analysis by Keith Rankin.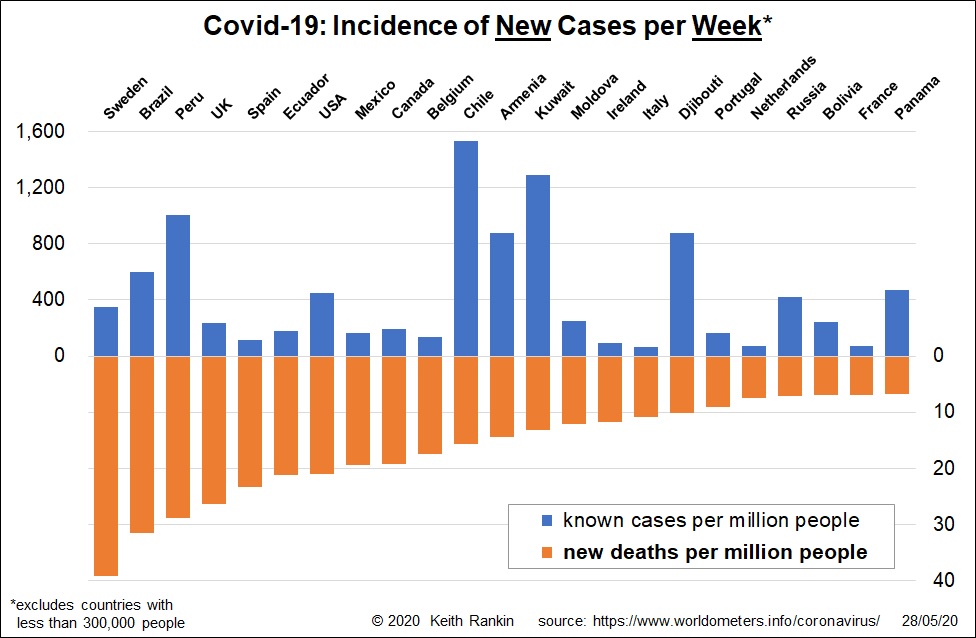 Sweden has lost 400 of its ten million people to Covid 19 in the week to 28 May. And there is little sign, yet, of a significant slowdown in deaths. Sweden's weekly death rate has been this high for the last eight weeks; ie since the beginning of April. It would be like New Zealand losing at least 200 people to Covid19 every week for two months. The media should be showing pictures of rows of coffins in Stockholm; as the did for Italy and Spain, and now do for Brazil just about every day.
The other usual suspects in Europe and North America continue to feature strongly in the recent deaths' chart. This disease is very stubborn.
The other obvious feature is Latin America, with Brazil now in second place for reported covid19 deaths per person. Indeed, with low rates of testing, it is likely that Brazil's deaths from covid 19 are greater than reported. While seven Latin American countries feature in the death chart for this week, it is interesting that Argentina and Uruguay do not. These two countries have been successful, so far, in trying circumstances, to keep their infection rates low. Not so Chile, which has a population of 20 million and now more total reported cases of covid19 than China.
This underreporting of deaths is likely to be true of Sweden as well as Brazil, because Sweden's testing rate was also lower than its Scandinavian neighbours. In other Scandinavian countries, there has been a clear fall in non-covid19 deaths; a fall that does not show up in Sweden. In light of the experiences of Norway and Denmark, it seems likely that some of Sweden's non-covid19 deaths are in fact due to covid19.
In Africa, only Djibouti features; that is almost certainly due to its close links with France.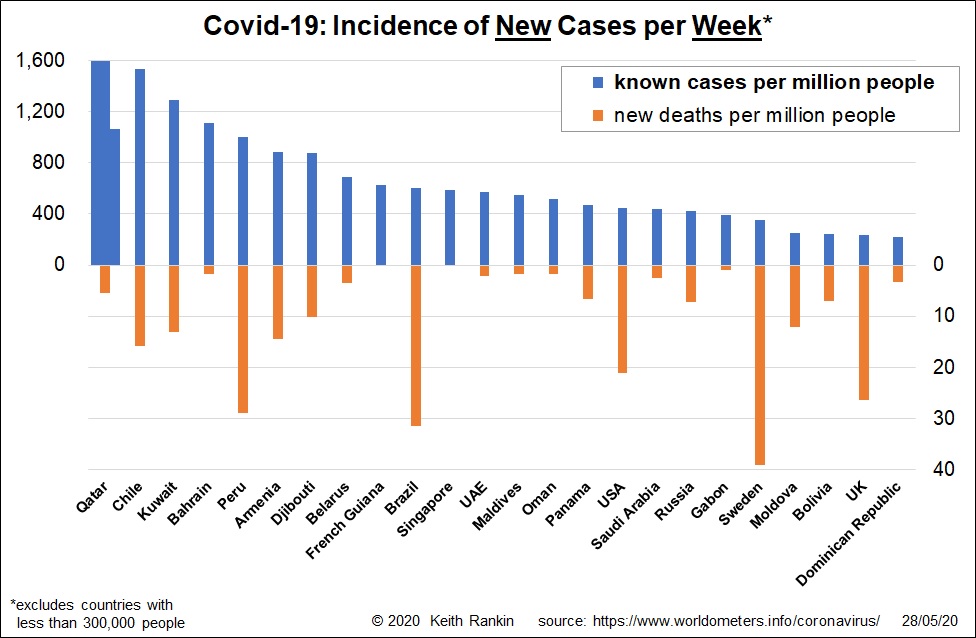 Qatar is now second in the world – to San Marino – for reported covid19 infections. It is easily the worst in the world for the month of May; Ramadan month this year. While five other Arabian countries are in the top 20 for recent infections, of these only Kuwait has a high death rate so far.
Chile is the country with the most rapid growth of cases, and which will most likely supplant Sweden in the deaths chart that I expect to post in three week's time. (Though I expect Peru and Brazil will be up there with Chile, and maybe Russia and Armenia as well.)
Singapore continues to have many new cases, reflecting its similarity in many ways to Arabian countries such at the UAE (United Arab Emirates).
The French empire – outside of the Pacific – still shows. This chart includes French Guiana and Gabon as well as Mayotte (not showing due to its population less than 300,000) and Gabon.
The Dominican Republic is also a new entrant to this table, with new cases occurring at about the same rate as the United Kingdom; the first independent Caribbean country to show. Hopefully, this does not indicate a coming wave of new cases in the West Indies.