<![CDATA[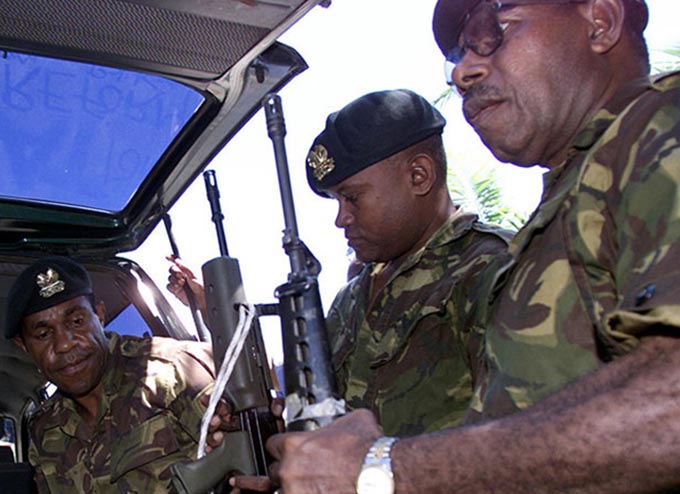 PNG soldiers in action in the Highlands … quelling the unrest. Image: PNG Mine Watch
BRIEFING: By Keith Jackson
This week turned out to be one of those only too frequent turbulent periods in Papua New Guinea when you never know what's going to happen and, for long periods, who might be in charge.
And the week ended with the deployment of half of the PNG Defence Force's ground troops to the region as the government has clearly decided to crush for once and for all a well armed, if disorganised, blend of angry landowner, disaffected tribal and criminal elements.
First angry supporters of losing candidates in last year's contentious national elections set alight an Air Niugini aircraft and burned down court buildings and the governor's residence in the Southern Highlands capital of Mendi.
READ MORE: 'Those of you who condemned the actions of the people of Southern Highlands in Mendi should have been more scared about the judiciary being compromised'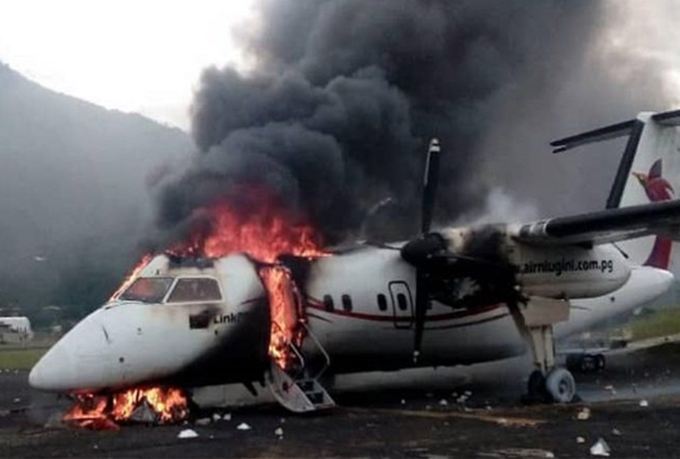 The blazing Air Niugini Link PNG aircraft at Mendi airport. Image: EMTV News
The entire nation watched attentively as for some days Prime Minister Peter O'Neill seemed to be reluctant to visit his troubled home area and use his authority to placate people whose aggression had reached boilover point.
Fortunately, in this incident there were no deaths recorded and just a few injuries.
O'Neill eventually flew to Mendi, touching fingers with some of his people through the mesh of a safety fence before flying out to Beijing where the action was more benign but could ultimately turn out to be just as precarious for a stable South Pacific.
Then more violence erupted in neighbouring Hela province where landowners protesting about the non-payment of gas royalties by the PNG government set fire to equipment and blockading and airstrip and roads leading to the major resource project operated by ExxonMobil.
Pipeline project damaged
ExxonMobil said heavy equipment had been damaged at its Angore gas pipeline construction project and the impact of the equipment damage on the project's schedule of work was being assessed.
As the noted commentator Martyn Namorong put it: "While PNG's prime minister is wined and dined in Beijing, landowners destroy ExxonMobil's PNG LNG assets in Hela Province. Shows how out of touch the ruling class are."
By now the PNG government had declared a state of emergency and begun to deploy the first of 440 Papua New Guinea Defence Force troops to the distressed region.
This is a huge number of troops for a PNG operation and is reminiscent of the then government's response to the Bougainville crisis of the 1990s when PNG soldiers were overcome by guerrilla and irregular forces of the Bougainville Revolutionary Army and forced into a humiliating and costly retreat.
Their commander, Brigadier-General Gilbert Toropo, was confident his soldiers would restore the rule of law.
"We will only use minimum force to contain the situation," he said.
Meanwhile Deputy Prime Minister Charles Abel tried to reassure landowners saying the government was working to release royalties from the LNG project but court disputes were holding up the release of funds.
Too many excuses
But landowners have heard too many excuses in the past and this one was unlikely to provide much comfort.
By yesterday, Mendi police commander Chief Inspector Gideon Kauke was able to say the town was operating normally with a 6am-6pm curfew in place.
"Police are working around the clock to collect the names of criminals who were involved in burning down of Link PNG DHC-8 plane and the buildings," Kauke said.
In Tari, tribal hostilities were also reported to have quietened down. Tari had been the focal point for deadly tribal fighting with about 20 people reported killed since March in and around the town.
But the police commander there, Thomas Levongo, said there was no guarantee fighting would not break out again.
"You know Tari, expect the unexpected. So now at the moment it's quiet but I don't know, anything could happen any time."
Chris Overland comments:
The 440 PNGDF members deployed to Mendi represent a full battalion of troops or about 50 percent of all PNGDF land forces.
This is, on the face of it, an extraordinary response by the government. Presumably, there is little confidence that the RPNGC (police) can handle the situation, possibly because it is out gunned in this case.
Moving such a large number of troops into the area is fraught with risk. While their rules of engagement aim to minimise the risk of conflict, it will only take one idiot on either side to open fire to ignite a conflagration.
Let us hope that the leadership on each side is wise enough and strong enough to prevent this.
Keith Jackson is the editor and publisher of the independent Noosa-based PNG Attitude website.

Video footage of Southern Highlands landowners protesting over the suspension of the provincial government by Prime Minister Peter O'Neill's government. Video: Tonny Maben/Cafe Pacific


Article by AsiaPacificReport.nz
]]>