<![CDATA[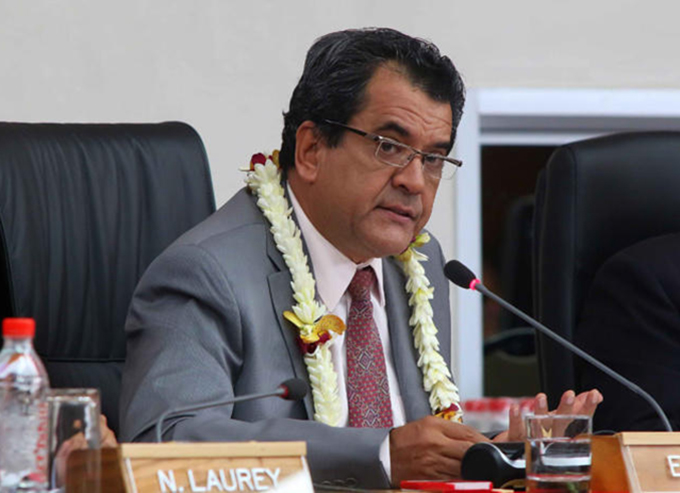 Tahitian President Edouard Fritch … increased majority as pro-independence groups take a hit. Image: Hawai'an Public Radio/Alchetron
Pacific Media Centre Newsdesk
In the elections held in French Polynesia over the weekend, the ruling party of President Edouard Fritch scored a decisive victory and will return to power with an expanded majority.
Neal Conan of Hawai'i Public Radio reports:
After a campaign where corruption emerged as a major issue, the party with no fewer than nine candidates convicted of corruption won easily.
President Edouard Fritch – a two-time convict – and his Tapura Huiraatira won just under 50 percent of the vote.
The rival Tāhōʻēraʻa Huiraʻatira received about 30 percent, while the pro-independence Tavini Huiraatira got 20 percent. Turnout was 67 percent.
French Polynesia's election law automatically awards 19 seats in the National Legislature to the party that comes first, which guarantees the winners a ruling majority. The legislature then elects one of its own as President.
Former President Gaston Flosse was barred from running because of his corruption convictions, but still campaigned as the leader of the Tāhōʻēraʻa and tried to label President Fritch as unacceptably corrupt and indifferent to high unemployment.
'Thieves and colonialists'
Veteran independence advocate Oscar Temaru described both Fritch and Flosse as "thieves and colonialists", but his pro-independence party will again be relegated to third place in the legislature.
At present, hopes to revive the independence movement in French Polynesia rest on the referendum to be held in New Caledonia on November 4.
But two opinion polls released six months ahead of that referendum show strong majorities opposed to independence from France.
President Emmanuel Macron on France visited the territory last week to bolster pro-French sentiments.

Article by AsiaPacificReport.nz
]]>