<![CDATA[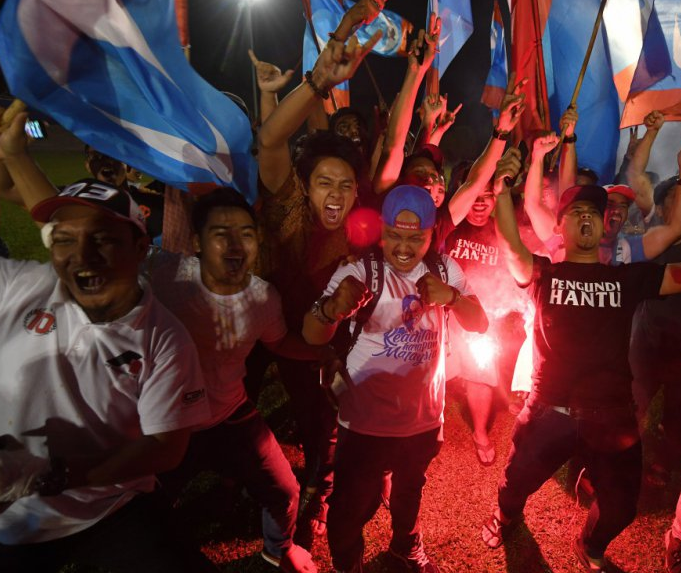 Supporters of former Malaysian prime minister and successful opposition candidate Dr Mahathir Mohamad celebrate in Kuala Lumpur. Image: Mohd Rasfan/Asian Correspondent/AFP
By Emma Richards of Asia Correspondent
In a truly historic vote, Malaysia for the first time since independence has fallen to the opposition coalition.
"The Palace has contacted us to tell us that we have achieved an unofficial majority," opposition leader Dr Mahathir Mohamad told reporters at a press conference in Petaling Jaya.
"PKR (People's Justice Party) achieved a simple majority a long time before the official announcement, but if you add the 14 from Warisan (Sabah Heritage Party), Pakatan Harapan now has a 'substantial majority.'"
READ ALSO: Malaysia decides today in 'Mother of all elections'
Pakatan Harapan (PH), the victorious coalition, is made up of several political parties forming an alliance – People's Justice Party (PKR), Democratic Action Party (DAP), Amanah, Warisan, and Parti Pribumi Bersatu Malaysia, known as Bersatu.
It is expected Mahathir will be sworn in as the new prime minister of Malaysia later today.
Dr Mahathir said the party would work on acquiring a pardon for PKR's official leader Anwar Ibrahim who is currently in prison on sodomy charges. He will require a royal pardon to be eligible to take the position of prime minister, as PH plan.
As polls opened at 8am on Wednesday, the mood was hopeful for change, but few expected it to come.
Spoilt ballot allegations
Allegations of spoilt ballots flooded social media, but that was not enough to hold back the wave of support for the opposition coalition.
After a close run race that had the nation on tenterhooks, the outcome started to take form when Barisan Nasional lost a number of key seats. Several party leaders lost their seats, including MIC president Dr S Subramaniam for the Segamat seat, MCA president Liow Tiong Lai in Bentong, and Gerakan president Mah Siew Keong in Teluk Intan.
Then the states started to fall. Negeri Sembilan and Johor – a frontline state and birthplace of Prime Minister Najib Razak's own party – fell to PH, and Terrenganu was lost to Pan-Islamic Party (PAS).
For the first time in 60 years, it looked like the mighty BN may fall.
The night took a dramatic turn when Dr Mahathir called a press conference just before midnight to announce an unofficial victory for PH.
Accusing the Election Commission of dragging their feet on signing off seats, he claimed PH had already reached the 112 parliamentary constituencies needed to form government.
While Mahathir was just falling short of a victory lap, Najib was showing signs of retreat, cancelling a long-awaited press conference to address the incoming results.
At 2.50am today, the Election Commission announced the 112nd seat in favour of PH, making it official – Barisan Nasional was out, Pakatan Harapan was in.
Dr Mahathir Mohamad will once again take his place as the prime minister of Malaysia, 15 years after he stepped down.
Najib's future uncertain
This leaves Najib's future uncertain. Plagued with corruption allegations and embroiled in the 1MDB scandal, people have been calling for the former PM to be investigated and charged.
"We are not seeking revenge," said DrvMahathir when asked whether he would pursue charges against Najib.
"All we want is to restore the rule of law."
The significance of today's result for the country cannot be understated.
"Both the system and the society will be shaken up," head of political studies at the Penang Institute Wong Chin Huat said when asked what can be expected from a PH victory.
"Voters will believe that their vote matters. Bureaucrats and police will ditch partisanship towards professionalism. Corruption will be curbed not least because the old rascals will get kicked out."
Emma Richards is a journalist with Asian Correspondent.


Article by AsiaPacificReport.nz
]]>