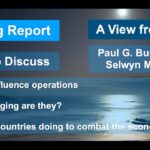 In this the eighth episode of A View from Afar for 2023, political scientist Dr Paul Buchanan and Selwyn Manning examine the risks of a 21st century nuclear war.
The movie Oppenheimer has renewed interest in the dawn of the nuclear era. Almost 80 years later, are we safer from nuclear war than we were in the years immediately after 1945?
The Bulletin of Atomic Scientists moved its Doomsday Clock hand to 90 seconds before midnight, the highest threat level since the Cuban Missile Crisis.What does that say about contemporary international security affairs?
No new nuclear arms limitation agreements have been signed in over a decade, several have lapsed and most nuclear armed countries are not signatories to them anyway.
Countries like China are rapidly expanding their arsenals and others like North Korea and Iran are seeking to join the nuclear armed club.
Has nuclear arms control failed?
What is the future of the Non-Proliferation Treaty?
Although conventions against the use of chemical and biological weapons are widely recognised, violations of the prohibitions have occurred regularly, most recently in Syria. Weapons like white phosphorus and cluster munitions continue to be used by many states.
The Questions include:
Has non-nuclear arms control failed as well?
Russia's Putin Regime has threatened to use nuclear weapons against Ukraine and NATO. Is the nuclear genie about to come out of the bottle, even in a tactical use?
Are we seeing the return of weapons of mass destruction (WMD)?
Are we on the brink of Oppenheimer's nightmare: nuclear Armageddon?
And importantly, what are the solutions to this most serious and dangerous threat?
INTERACTION:
Paul and Selwyn encourage their live audience to interact while they are live with questions and comments.
To interact during the live recording of this podcast, go to Youtube.com/c/EveningReport/
Remember to subscribe to the channel.
For the on-demand audience, you can also keep the conversation going on this debate by clicking on one of the social media channels below:
Facebook.com/selwyn.manning
Twitter.com/Selwyn_Manning
RECOGNITION: The MIL Network's podcast A View from Afar was Nominated as a Top Defence Security Podcast by Threat.Technology – a London-based cyber security news publication. Threat.Technology placed A View from Afar at 9th in its 20 Best Defence Security Podcasts of 2021 category.
You can follow A View from Afar via our affiliate syndicators.

***