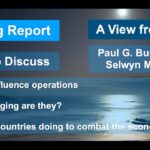 PODCAST: In this the second episode of A View from Afar podcast for 2023, political scientist Dr Paul Buchanan and Selwyn Manning analyse the question:
How stable is Russian Federation President Vladimir Putin's regime?
PAUL AND SELWYN look at this question from a number of angles, and, reveal shifts within the regime's control and structure that may surprise many in the West.
In this episode Paul deep dives into the dynamics between the mercenary Wagner Group's commander Yevgeny Prigozhin, his relationship with Putin, the Kremlin, and the estrangement from Russia's military generals and Putin appointees.
Paul and Selwyn consider: What is going on here? What is Prigozhin's end-game? Does he have the support of Putin? Or is that support conditional on successes on the Ukraine conflict frontline?
And Selwyn digs into the pillars of power in the Russian Federation, in particular:
Putin as the head of Russia's personalised autocracy

The Putin-era Oligarchs

Russia's State military

And the rise of Private armies and militia.
Then Paul take us, contextually and comparatively, through all of this complexity so we can more accurately assess the big question: How stable is Putin's regime?
INTERACTION WHILE LIVE: Paul and Selwyn encourage their live audience to interact while they are live with questions and comments.
They recommended the audience does so via EveningReport's YouTube channel, as Facebook has undergone significant changes. Here's the link: Youtube (remember to subscribe to the channel).
For the on-demand audience, you can also keep the conversation going on this debate by clicking on one of the social media channels below:
If you miss the LIVE Episode, you can see it as video-on-demand, and earlier episodes too, by checking out EveningReport.nz or, subscribe to the Evening Report podcast here, also YouTube podcasts and the Podcast hosts below.
RECOGNITION:
The MIL Network's podcast A View from Afar was Nominated as a Top  Defence Security Podcast by Threat.Technology – a London-based cyber security news publication.
Threat.Technology placed A View from Afar at 9th in its 20 Best Defence Security Podcasts of 2021 category. You can follow A View from Afar via our affiliate syndicators.

***