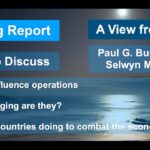 PODCAST – In this, the 25th episode of A View from Afar for 2022 political scientist Dr Paul Buchanan and host Selwyn Manning examine how hostage taking, prisoner exchanges, and establishing diplomatic back-channels work and how they are used by states during times of conflict.
Specifically, Paul and Selwyn examine:
How hostage diplomacy appears to increase where authoritarians rise and are emboldened to challenge international norms

How states use prisoner exchanges to establish two-way common-ground

How back-channels can also be established through prisoner exchanges.
Is this what we are seeing in the Russian-Ukraine conflict?
What dangers arise when warring opponents reach a deadly stalemate in the battlefield?
INTERACTION WHILE LIVE: Paul and Selwyn invite and encourage you to interact while they are live with questions and comments. They recommend you do so via EveningReport's YouTube channel, as Facebook is undergoing significant changes. Here's the link: Youtube (remember to subscribe to the channel).
You can also keep the conversation going on this debate by clicking on one of the social media channels below:
If you miss the LIVE Episode, you can see it as video-on-demand, and earlier episodes too, by checking out EveningReport.nz or, subscribe to the Evening Report podcast here.
RECOGNITION:
The MIL Network's podcast A View from Afar was Nominated as a Top  Defence Security Podcast by Threat.Technology – a London-based cyber security news publication.
Threat.Technology placed A View from Afar at 9th in its 20 Best Defence Security Podcasts of 2021 category. You can follow A View from Afar via our affiliate syndicators.

***