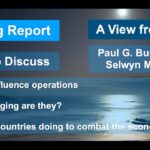 In this, the 22nd episode of A View from Afar for 2022 political scientist Dr Paul Buchanan and host Selwyn Manning deep dive into the consequences of the United States midterm elections.
In particular Paul and Selwyn examine how an historically strong performance by the Democrats bolsters the reputation and abilities of US President Joe Biden on the world stage and domestically.
Also, they examine what does the GOP's poor performance in the midterm elections mean for Trumpism, Trump, the Republican Party, and the MAGA faction that has, for quite a time now, stifled conservative voices within the Grand Old Party.
And, of course, Paul and Selwyn examine Donald Trump's announcement that he will seek to be the GOP's candidate to take back the presidency in 2024.
You can also keep the conversation going on this debate by clicking on one of the social media channels below:
If you miss the LIVE Episode, you can see it as video-on-demand, and earlier episodes too, by checking out EveningReport.nz or, subscribe to the Evening Report podcast here.
RECOGNITION:
The MIL Network's podcast A View from Afar was Nominated as a Top  Defence Security Podcast by Threat.Technology – a London-based cyber security news publication.
Threat.Technology placed A View from Afar at 9th in its 20 Best Defence Security Podcasts of 2021 category. You can follow A View from Afar via our affiliate syndicators.

***