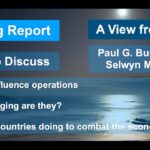 A View from Afar – In this podcast, political scientist Paul Buchanan and Selwyn Manning discuss the ongoing Russian attacks against Ukraine, including:
Whether the Russian Federation's president Vladimir Putin has lost the support of significant leaders of allied nations, and if so what does this mean for Russia as a global power?
We also discuss the enduring impact of Oligarch wealth being frozen in Switzerland and the SWIFT international banking system blocking funds transfers to and from Russia.
And finally, we examine the status of the European Union and NATO as a military force opposing Putin's Russia, and whether Russian generals eventually confront Putin's power.
Join Paul and Selwyn for this LIVE recording of this podcast while they consider these big issues, and remember any comments you make while live can be included in this programme.
You can comment on this debate by clicking on one of these social media channels and interacting in the social media's comment area. Here are the links:
If you miss the LIVE Episode, you can see it as video-on-demand, and earlier episodes too, by checking out EveningReport.nz or, subscribe to the Evening Report podcast here.
The MIL Network's podcast A View from Afar was Nominated as a Top  Defence Security Podcast by Threat.Technology – a London-based cyber security news publication.
Threat.Technology placed A View from Afar at 9th in its 20 Best Defence Security Podcasts of 2021 category. You can follow A View from Afar via our affiliate syndicators.

***