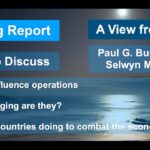 A View from Afar – In this podcast, political scientist Paul Buchanan and Selwyn Manning deep-dive into the latest events emerging from the Russia/Ukraine crisis, and they consider:
What does Russia's Vladimir Putin want from NATO and the US in a negotiated diplomatic solution to the Ukraine issue?

And what, from Ukraine's perspective, is the most favourable outcome from the threat of the Russian military build-up on its border.

Also, in the US there are concerns that once the Beijing Winter Olympics concludes, the Peoples Republic of China may assert a renewed diplomatic crisis with Taiwan.

But, does this fit with a

renewed Russia-PRC strategic partnership? And what does such a strategic partnership look like?
You can comment on this debate by clicking on one of these social media channels and interacting in the social media's comment area. Here are the links:
If you miss the LIVE Episode, you can see it as video-on-demand, and earlier episodes too, by checking out EveningReport.nz or, subscribe to the Evening Report podcast here.
The 
MIL Network's
 podcast 
A View from Afar
 was Nominated as a Top  Defence Security Podcast by 
Threat.Technology
 – a London-based cyber security news publication.
Threat.Technology placed A View from Afar at 9th in its 20 Best Defence Security Podcasts of 2021 category. You can follow A View from Afar via our affiliate syndicators.

***