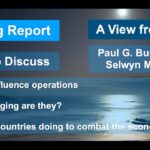 A View from Afar – In this podcast, Paul G. Buchanan and Selwyn Manning analyse the AUKUS Alliance and deep-dive into:
How the AUKUS Alliance has triggered a geopolitical realignment.
Why has this Anglophone AUKUS alliance formed? And what's the fallout?
What does China do now?
How will Australia assert itself as the Southern Hemisphere's military great power?
How does the AUKUS Alliance impact on the applied foreign policies of regional independent nations like New Zealand and indeed the ASEAN economies?
Where to from here for France and Europe, China and South East Asian nations, and New Zealand?
You can comment on this debate by clicking on one of these social media channels and interacting in the social media's comment area. Here are the links:
If you miss the LIVE Episode, you can see it as video-on-demand, and earlier episodes too, by checking out EveningReport.nz or, subscribe to the Evening Report podcast here.
The 
MIL Network's
 podcast 
A View from Afar
 was Nominated as a Top  Defence Security Podcast by 
Threat.Technology
 – a London-based cyber security news publication.
Threat.Technology placed A View from Afar at 9th in its 20 Best Defence Security Podcasts of 2021 category. You can follow A View from Afar via our affiliate syndicators.

***