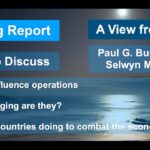 A VIEW FROM AFAR: In this episode, Paul Buchanan and Selwyn Manning are joined by Dr David Robie to discuss how Covid-19 has become a trigger of instability in the wider Pacific Region.
Dr David Robie is editor of AsiaPacificReport.nz and a renowned expert on Melanesian and Pacific affairs.
In this, the first of a two-part SPECIAL, we analyse how Covid-19 has been a trigger of instability across the Pacific region.
And specifically, for this episode, we deep dive into instability in Melanesia focusing on:
Security issues in Papua New Guinea
Indonesia's interests in dividing regional groups such as the Melanesian Spearhead Group
a security crisis that has developed in Fiji, after the recent detention of nine politicians and activists who dared to criticise former military coup leader, Frank Bainimarama's government.
Please do join the conversation via:
You can also see this podcast as video-on-demand, and earlier episodes too, by checking out EveningReport.nz or, subscribe to the Evening Report podcast here.
Or, subscribe to A View form Afar via your favourite podcast syndicator below:

NOMINATIONS: The MIL Network's podcast A View from Afar was Nominated as a Top  Defence Security Podcast by Threat.Technology – a London-based cyber security news publication.
Threat.Technology placed 
A View from Afar
 at 9th in its 20 Best Defence Security Podcasts of 2021 category. You can follow A View from Afar via our affiliate syndicators.