Video we cross LIVE to author and film-maker Barbara Sumner to discuss her new book Tree of Strangers.
But first, in this book, Barbara has laid bare her own life experiences to illustrate why New Zealand's 65 year-old adoption laws must be fixed.
It's a beautifully written story of a child's journey through the early years to motherhood, to adulthood. It reveals how Barbara was always aware that her identity was denied her, of how she tried to answer the unanswered questions of who she was, who she is. It's sometimes sad, it's wonderful, it's often tragic, it's intimate, it is brave. And, this book has a purpose. Legislative reform.
So join us at 8pm tonight (Wednesday September 23) to hear from Barbara about this most important work – about her commitment to make sure any new laws on adoption place children and adults (who were adopted) at the forefront of positive change.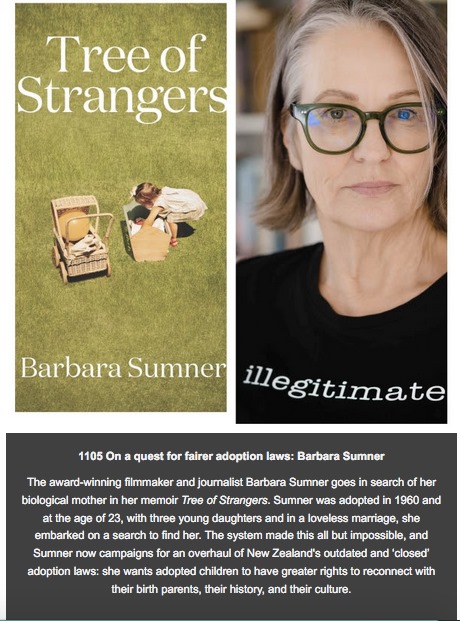 HIGHLY RECOMMENDED: You can buy Barbara Sumner's book Tree of Strangers via her website BarbaraSumner.nz (both hard copy and digital).
INTERACTION: Remember, if you are joining Evening Report via social media (SEE LINKS BELOW), you can make comments and include questions. We will be able to see your interaction, and include this in our LIVE shows.
You can interact with the LIVE programme by joining these social media channels. Here are the links:
And, you can see video-on-demand of this show, and earlier episodes too, by checking out EveningReport.nz