Editor's Note: Here below is a list of the main issues currently under discussion in New Zealand and links to media coverage.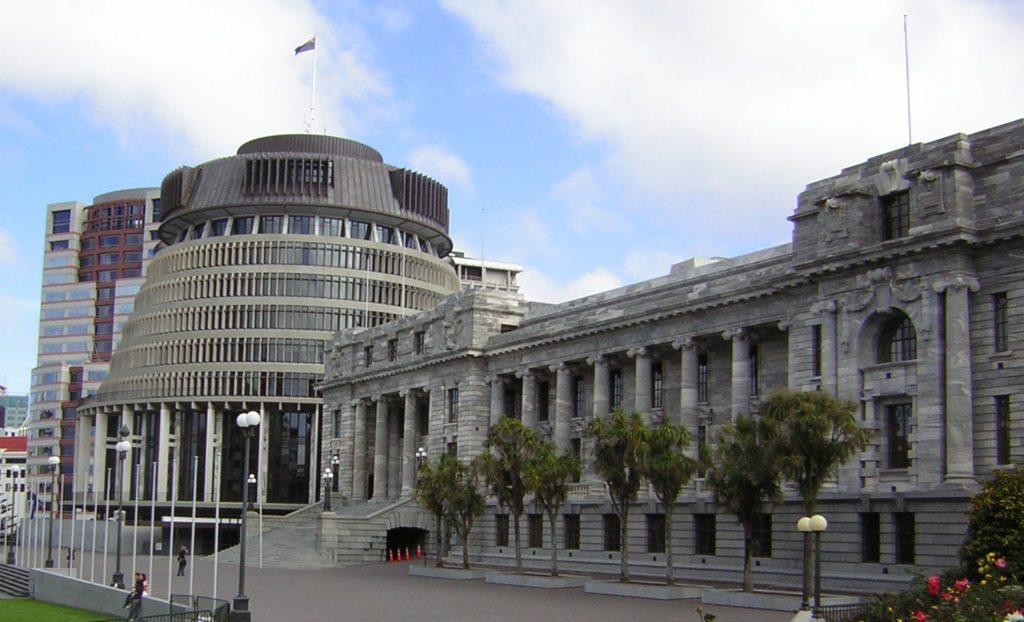 Today's content
Pandemic preparedness, "eliminating" Covid-19, contact tracing
Marc Daalder (Newsroom): Long read: NZ wasn't ready for a pandemic
Gordon Campbell: On living at Level Three with residual anxiety
Emma Russell (Herald): New Zealand 'currently eliminated' virus. So why are we still seeing new cases? (paywalled)
Barry Soper (Newstalk ZB): Reinventing elimination shows PM has lost count
Amelia Wade (Herald): Virus won't be eliminated until there's a vaccine, says PM
Jo Moir (RNZ): Jargon to blame for confusion over Covid-19 'elimination' – PM
Katarina Williams (Stuff): Dr Ashley Bloomfield says NZ 'hasn't eliminated or eradicated' Covid-19
RNZ: New Zealand yet to define elimination despite officials' comments
Eleanor Ainge Roy (Guardian): New Zealand starts gradual exit from coronavirus lockdown
Jamie Ensor (Newshub): Level 2 possible within weeks if New Zealand stays on top of COVID-19 – Jacinda Ardern
Derek Cheng (Herald): Revealed – the data showing the success of NZ's lockdown over Australia's
Herald: Aussies have done better at eliminating covid than Kiwis; and without as much economic impact – professor
Jake Kenny (Stuff): Expert claims Covid-19 vaccine at least a year away
ODT: Jab at least a year away
Andrew Chen (Spinoff): Covid-19: The tough questions on a digital contact-tracing app
Newstalk ZB: Professor Michael Baker calls for digital monitoring of Kiwis to tackle virus
Ireland Hendry-Tennant (Newshub): Kiwis share how lockdown has improved their lives
Parliament
Brent Edwards (NBR): National worries about parties' campaigning for September election (paywalled)
Henry Cooke and Thomas Coughlan (Stuff): Parliament returns without a bang, makes for pretty boring TV
Sam Sachdeva (Newsroom): Odd scenes in a Parliament stripped of its audience
Claire Trevett (Herald): Simon Bridges' redemption test and David Seymour's big hair (paywalled)
Herald: PM Jacinda Ardern and National's Simon Bridges face off as Parliament returns
Rachel Sadler (Newshub): David Seymour calls on Government to explain ministerial pay cut plan following veto to proposed Bill
Anna Whyte (1News): David Seymour's attempt to cut pay for all MPs fails in Parliament
Zane Small (Newshub): ACT leader David Seymour wants international travel resumed 'as soon as possible'
Chlöe Swarbrick (Spinoff): We're back at parliament. But let's not go back to politics as usual
National Party
Tova O'Brien (Newshub): National MPs leaking: Internal polling number not shown to caucus since February
1News: Simon Bridges steadfast in belief that he'll remain National leader for the election
Jason Walls (Herald): Simon Bridges says it's 'quite clear' he will be National Party leader come election day
Zane Small (Newshub): National leader Simon Bridges stands by divisive Facebook post that sparked leadership concerns
Jane Patterson (RNZ): Simon Bridges adamant his leadership is not under threat
Media
Chris Trotter: The People vs The Media
Pete George: Are the media critical enough of the Government?
Anuja Nadkarni (Stuff): NZ Listener magazine publisher tells readers 'sale is progressing well'
Schools
RNZ: Auckland schools to see high number of students return in level 3
Simon Collins (Herald): Schools reopen after lockdown – but one in six don't expect any students
Tom McRae (Newshub): Concern over how kids from low decile schools have coped through lockdown
John Lewis and Laura Smith (ODT): Few pupils expected to return to schools today
James Fyfe (Newshub): Principal urges teachers to 'be positive and get on with it' as schools set to reopen
Universities
John Gerritsen (RNZ): Victoria University considers 20% pay cuts due to Covid-19 losses
Rachel Thomas (RNZ): Charging students for accommodation could breach new law
Elliot Harris (Spinoff): Making students pay for empty rooms shows a disdain for duty of care
Vita Molyneux (Newshub): Nikki Kaye calls out 'unethical' treatment of university students in halls of residence
Laura Wiltshire (Stuff): Victoria University delays charging students $150 for empty Covid-19 accommodation
Lincoln Tan (Herald): Halls of residence students asked to contact University of Auckland to work a way forward
Amber-Leigh Woolf (Stuff): Victoria University cancels all face-to-face exams in 2020
Hannah Martin (Stuff): 'Raw deal' for paramedic students unable to work in ambulances during Covid-19 outbreak
Foreign affairs, WHO politics
Thomas Coughlan (Stuff): Donald Trump's attack on the WHO might be the right thing done for the wrong reason
Robert Ayson and David Capie (Newsroom): Geopolitics after Covid-19: Who can NZ trust?
Karl du Fresne (Stuff): Virus exposes the real China and its lack of transparency and openness
1News: 'Put a kangaroo on your flag and go your own way' – Winston Peters enjoys hearty dig in Aussie TV interview
news.com.au: Kiwis on the Gold Coast fume at getting marching orders from Australia
Phil Pennington (RNZ): Apec security bill amended after privacy concerns
Economy
Fran O'Sullivan (Herald): Winston Peters turns to Donald Trump playbook (paywalled)
Alan Kenyon (1News): Winston Peters says 'if NZ can grow it, or make it' then we should do so in Covid-19 hit economy
Richard Harman: Robertson's revival plan
Chris Trotter (Interest): Hartwich's version of West Germany's post-war economic miracle involved a more hands-on and less laissez faire government than he touted
David Hargreaves (Interest): HOLD your helicopters!
Tim Hazledine (ODT): Many 'shovel-ready' projects ill-suited for new normal
John Minto (Daily Blog): Will the need for election campaign funding be allowed to direct the post Covid 19 government spend?
Jame Fyfe (Newshub): High credit rating shows NZ in strong position to bounce back from COVID-19 – Finance Minister Grant Robertson
Richard Prebble (NBR): A government-led economic recovery is really scary (paywalled)
Liam Dann (Herald): Negative interest rates likely this year – Westpac
Susan Edmunds (Stuff): Negative cash rate in November, Westpac chief economist predicts
RNZ: OCR predicted to fall below 0 percent by end of 2020
Business
Charlie Dreaver (RNZ): Government weighs commercial rent solution for small businesses
Rachel Sadler (Newshub): Sir John Key calls on Government to open the economy more while in lockdown
1News: Up to 80% of businesses open at Level 3, but closures and further job losses likely
Jenna Lynch (Newshub): Small businesses plead for Government assistance as New Zealand moves into alert level 3
Zane Small (Newshub): Glenfield Mall owner rages at 'naïve' Government over retail restrictions under COVID-19 alert level 3
1News: 'Compassion doesn't pay our bills' – Mall owner says Government naïve about small business hardship
1News: Business recovery will take 'many years to get to pre-Covid position', BNZ CEO says
RNZ: BNZ says hospitality, tourism weakest sectors as net profit drops
Anna Whyte (1News): Industry leader 'begged' Government to help struggling businesses with rent
Anna Whyte (1News): National MP asks about predicted 's**t fight' over commercial rents
Wage subsidy, employment
Richard Harman: From the hotel to the cowshed
Marta Steeman (Stuff): Metlifecare should not have applied for the wage subsidy, overseas bidder claims
Susan Hornsby-Geluk (Stuff): Workers 'can't be bullied' into pay cuts to avoid redundancy
Jacob McSweeny (ODT): Farmers' plan for staff: staggered pay cuts
RNZ: Govt announces new tools to assist job seekers
Thomas Coughlan (Stuff): Government launches new tools to find jobs for Kiwis
Quentin Finlay: Falling down the Rabbit Hole – Don't Scrimp on Wages
Steven Cowan: We're all in this together? No, we're not
Matt Lawrey (Stuff): Chance for employers to help secure lockdown gains
Community checkpoints
Denise Piper (Stuff): Northland iwi turns one in 10 drivers back on first day of level 3
Peter de Graaf (Northern Age): Kaikohe checkpoint takes a step back
RNZ: Checkpoint: Most travellers through iwi checkpoints flouting level 3 rules
Tara Shaskey (Taranaki Daily News): International, campervan and local travellers caught at checkpoints breaking rules
Christina Persico (Taranaki Daily News): New Plymouth MP says community checkpoints not necessary
David Clark
Tova O'Brien (Newshub): Health Minister David Clark moves house during COVID-19 lockdown
Benedict Collins (1News): Health Minister David Clark confident he didn't break Alert Level 4 lockdown for third time despite moving between homes
RNZ: David Clark says house move was done before lockdown
Herald: Health Minister David Clark says house move was done before lockdown
Lockdown breaches
Mark Quinlivan (Newshub): Worst districts for lockdown breaches revealed by police
ODT: South has 371 lockdown breaches
Rural broadband and the digital divide
Robyn Kamira (Spinoff): How Māori can bridge the digital divide in the post-Covid world
Rob Stock (Stuff): Government accelerates plan to reduce rural broadband poverty
1News: Government announces $15 million investment to improve rural broadband
Banks
David Hargreaves (Interest): How are our 'courageous' banks going?
Simon Thompson (Herald): Banks must lend beyond what traditional collateral allows (paywalled)
Health system
1News: Calls for DHBs to address screening backlog or risk hundreds of 'cancer casualties of Covid'
Meriana Johnsen (RNZ): Concerns Māori are missing vital appointments due to Covid-19
Matthew Tso (Stuff): Hospitals write off 100,000 incorrectly stored masks during Covid-19 emergency
Aaron van Delden (RNZ): DHB expects higher demand for services under alert level 3
Regan Paranihi (Māori TV): Meningococcal, strep throat season is approaching
Housing
1News: Majority of renters in financial hardship despite Government support, according to survey
Dave Goosselink (Newshub): Tenants gaining upper hand in Queenstown as landlords cut rents
Benn Bathgate (Stuff): Rotorua homeless transformed from '24/7 wasted' to Covid lockdown clean
Catherine Smith (Herald): Did the LVR save NZ housing market from Covid-19 collapse?
Local government
Susan Botting: Whangārei likely to more than halve 2020/2021 rates rise
Susan Botting: Cost-cutting council expects to avoid staff redundancies
Aaron Leaman (Waikato Times): Hamilton's Covid-19 tab $45m and growing
Anna Radford (Herald): Playing the 'racist' card to stifle debate (paywalled)
Immigration, refugees
Eva Corlett (RNZ): Red Cross fears for safety of refugees waiting to be resettled in NZ
Gill Bonnett (RNZ): Visa issues: Government delays 'playing with people's lives'
Tourism
Nicky Snoyink (ODT): It's time to align tourism with conservation
Tess Bruton (RNZ): Long winter ahead for Fiordland tourism operators
Transport
Matthew Mckew (ODT): Queenstown Airport – No demand so no flights, Govt says
Stuff: Wellington to Palmerston North trains resume as part of Covid-19 alert level 3
Bernard Orsman (Herald): Auckland's $4.4 billion City Rail Link facing extra costs
Tom Pullar-Strecker (Stuff): Car prices tipped to fall as demand drops and rental firms are driven to the wall
1News: AA asks members to only request roadside assistance if it's urgent after busiest day on record
Brad Flahive (Stuff): Auckland Harbour Bridge: 78 per cent in favour of new Northern Pathway design
Building and construction
Jordan Bond (RNZ): Construction sector appeals for government financial backing
Amanda Cropp (Stuff): Workers wear tracking tags to avoid construction chaos
Primary industries
Eric Frykberg (RNZ): Farmers ask government to align domestic, international emissions target
Tracy Neal (RNZ): Covid-19 prompts iwi-owned producer to speed new planting projects
Police
Steph Rangi (Stuff): IPCA says officer's force was 'unjustified and unreasonable' following Taupō/Rotorua pursuit
RNZ: Police officer's kicking of handcuffed man not justified – IPCA
Hannay Kronast (Newshub): Bay of Plenty cop stood down for assault, holding gun to man's head
Pacific
Teuila Fuatai (Newsroom): Pacific hurt by drop in money being sent home
RNZ: Thousands in Pacific at risk of missing vaccines
RNZ: WHO Covid-19 test kits to Samoa delayed
RNZ: Pacific tourism industry wiped out by Covid-19
Kelvin Anthony (Guardian): Fijian military leader defends government's right to 'stifle' press during Covid crisis
PM speaks with Queen Elizabeth
Jamie Ensor (Newshub): Queen Elizabeth asks for 'catch up' with Jacinda Ardern, pair speak about COVID-19
Stuff: PM Jacinda Ardern has a 'catch up' with the Queen
Kim Moodie (Herald): Jacinda Ardern's audience with the Queen
Other
Rob Stock (Stuff): Redundant man begs Government to be allowed to use his KiwiSaver to repay debt
Donna-Lee Biddle and Hannah Martin (Stuff): Two-day wait for walks at Auckland's Novotel quarantine hotel
Georgia-May Gilbertson (Stuff): Third healthcare worker tests positive for Covid-19 after working in Hawke's Bay rest home
Kirsty Lawrence (Stuff): Gangs deliver food in lockdown but confusion remains over their status
Te Kuru o te Marama Dewes (Māori TV): Unhealthy takeaways have no mauri – Māori health agency
1News: Challenges ahead for Pacific community in New Zealand, Pacific doctor warns
RNZ: Whānau Ora aims for financial stability of whānau
Rachael Kelly (Southland Times): Mataura's hazardous substance can be moved again
Spinoff: Politics in pubs podcast: Danyl Mclauchlan, Andrea Vance and Neale Jones
Anna Campbell (ODT): Changing patterns in food supply must be addressed
Laura Mills (Greymouth Star): Cave Creek anniversary quietly observed
Charlotte Cook (RNZ): Covid-19 rules postpones Cave Creek remembrance
Bronson Perich (Māori TV): 50,000 court proceedings affected by COVID-19
RNZ: Queenstown businesses: 'We were on a roll, now, who knows?'
Stuff: Colin Craig appeals against 'Enough is enough' ruling on harassment evidence
Esther Taunton (Stuff): Power companies, telcos won't disconnect customers during Covid-19 outbreak
Katie Kenny (Stuff): Online harm increased during lockdown before levelling off
Felicity Reid (RNZ): Sports' survival in NZ may depend on higher fees