<![CDATA[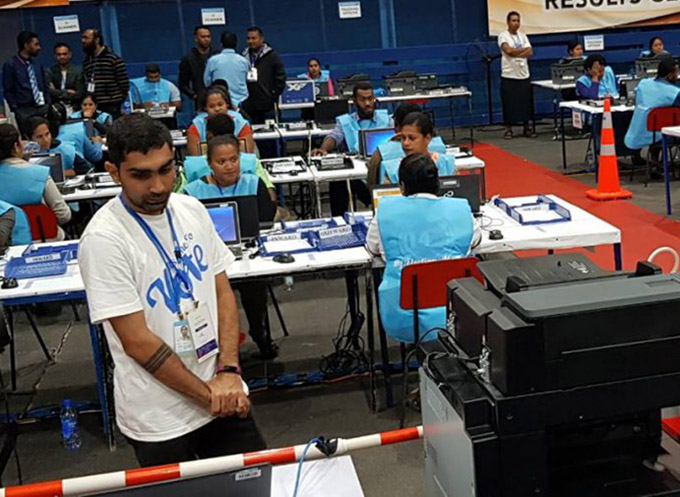 Election officials at the National Results Centre in Suva tonight. Image: Semi Malaki/Wansolwara
By Wansolwara Staff
The count is on in the Fiji general election and early indications tonight point to a close race between the opposition Social Democratic Liberal Party (SODELPA) and the ruling FijiFirst Party.
As the 2018 election came to a close 6pm today, all eyes were on the announcements being made from the National Results Centre at the FMF Gymnasium in Suva.
At 8.36pm, Supervisor of Elections Mohammed Saneem announced the first set of provisional results, which were also available for public viewing via the FEO App for smartphones.
Saneem said the FEO App could be downloaded from Google Play or Apple Store and accessed on smartphones.
The first set of provisional results were released from 11 out of 2170 stations counted and saw SODELPA's Sitiveni Rabuka taking the lead with 236 votes followed by Atonio Lalabalavu with 155, Jone Seniloli with 144, Mitieli Bulanauca with 117 and Prime Minister Voreqe Bainimarama on 108.
Around 9pm, Deputy Supervisor of Elections Karyl Winter provided the second update on the provisional results for the 2018 General Election.
From the 39 stations counted, provisional results by parties were:
Social Democratic Liberal Party – 2275 (47.39%)
FijiFirst – 2204 (45.91%)
National Federation Party – 209 (4.35%)
Unity Fiji – 51 (1.06%)
Fiji Labour Party – 35 (0.73%)
Humanity Opportunity Prosperity Equality – 156 (0.70%)
At the third provisional update at 9.26pm with 213 of 2170 polling stations processed, SODELPA was still slightly in the lead on 45.8 percent followed by FijiFirst on 45.4 percent: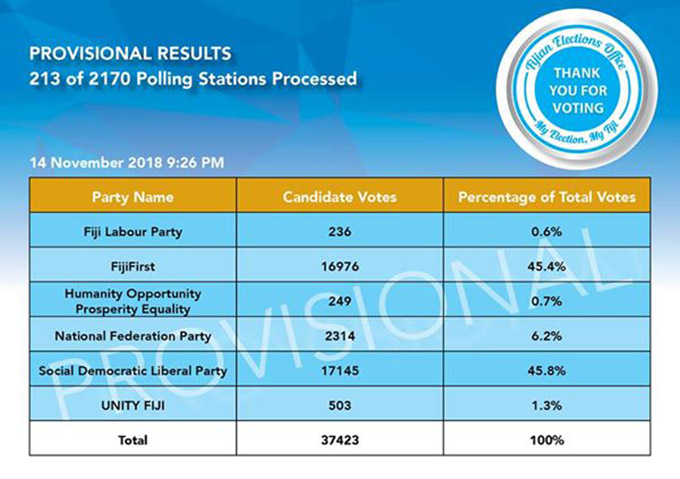 The third provisional results update in the Fiji general election. Source: FEO
The Fijian Elections Office will provide updates of provisional results every half hour until midnight, and every hour from then on until 7am tomorrow.

Article by AsiaPacificReport.nz
]]>