<![CDATA[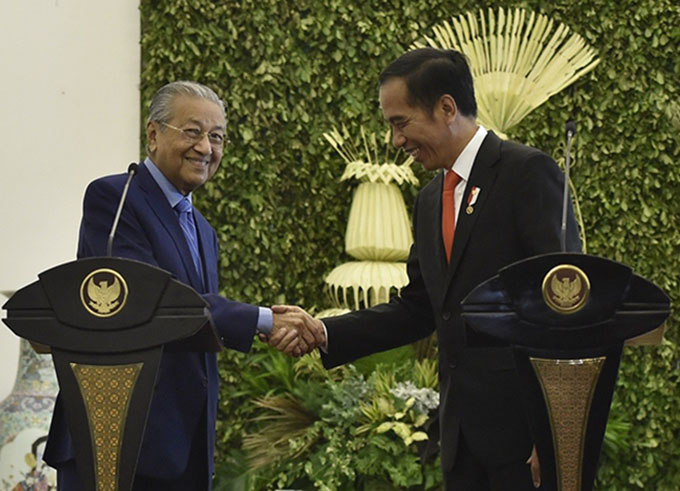 President Joko "Jokowi" Widodo (right) shakes hands with Malaysian Prime Minister Mahathir Mohamad after giving a joint statement at the Bogor Palace. Image: Puspa Perwitasari/Antara/Jakarta Post
By Marguerite Afra Sapiie in Jakarta
President Joko "Jokowi" Widodo and Malaysian Prime Minister Mahathir Mohamad have met for a bilateral talk, exploring issues ranging from education for Indonesian children in Malaysia to border negotiations.
Jokowi welcomed Mahathir at the Bogor Palace on Friday. This marked the first foreign visit of Mahathir, the world's oldest elected leader, to an ASEAN country since he was sworn in as prime minister for the sixth time on May 10.
The two leaders held a tete-a-tete followed by a closed meeting between Indonesian and Malaysian delegations, during which they discussed various issues, such as strengthening bilateral relations.
Speaking in a joint statement, Jokowi said Indonesia and Malaysia shared the same commitment to promoting good governance and combating corruption.
They both agreed on the importance of connectivity and the settlement of unresolved border problems.
"[Indonesia] in particular called for the protection of Indonesian migrant workers in Malaysia, as well as the development of schools for Indonesian children in Malaysia," Jokowi said.
Almost 2 million Indonesian migrant workers currently work in Malaysia.
Mahathir acknowledged the need for the children of Indonesian migrant workers in Malaysia to have their rights to education fulfilled. A number of schools had been established in Peninsular Malaysia, though more were needed, he said.
"However, schools for Indonesian children are not yet established in Sabah and Serawak and, therefore, we will improve this [situation]," Mahathir said, adding that his government was committed to working with Jakarta to resolve border issues.
Marguerite Afra Sapiie is a journalist with the Jakarta Post.

Article by AsiaPacificReport.nz
]]>