<![CDATA[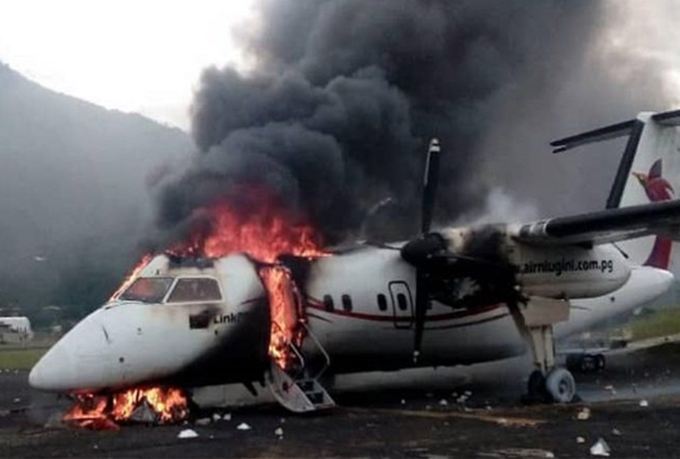 The blazing Air Niugini Link PNG aircraft at Mendi airport. Image: EMTV News
By Sally Pokiton in Port Moresby
Papua New Guinea's mayhem in the Southern Highlands capital of Mendi earlier this month caused destruction of 42,000 vaccine innoculations meant for children aged under 5.
The innoculations were ruined when the Air Niugini Dash 8 aircraft was set alight at Mendi airport.
A disgusted Emergency Controller of the Emergency Disaster Restoration Team, Dr Bill Hamblin, said the rampage also saw supplies stored in two warehouse in Mendi looted.
"Not only were supplies stolen up there and resold on the streets, but the plane that was destroyed was carrying vaccines for under 5-year-old children – 42,000 vaccines destroyed," he said.
"Now we have no replacement for those in the country where UNICEF is trying to replace those at the moment.
"The people who do those sorts of acts don't belong in our society, they belong behind bars," Dr Hamblin said.
"I' m looking forward to the arrest of those people and that they get to see the full force of the law."
He thanked all development partners and countries in the region which supported the Emergency Disaster Restoration Team.
"We wholeheartedly thank them for the support they've put in, without them, the scale of disaster would have been much worse, people could have died needlessly," Dr Hamblin added.
Sally Pokiton is a reporter for Loop PNG.

Article by AsiaPacificReport.nz
]]>