<![CDATA[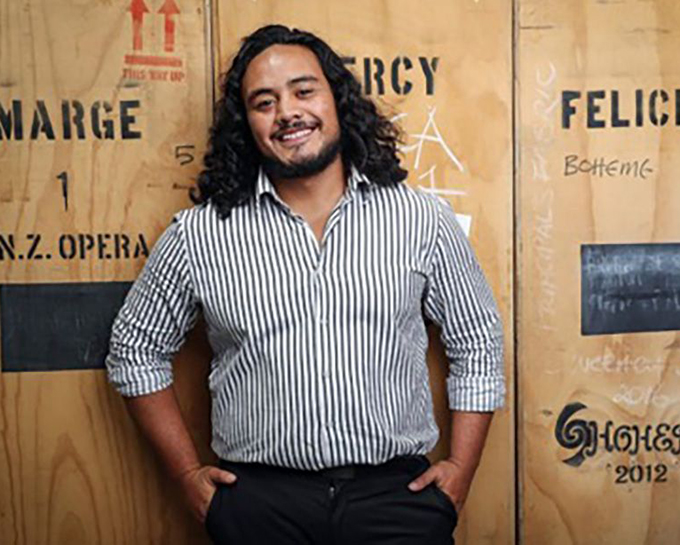 Proud Samoan baritone Samson Setu … encouraging young students to choose opera. Image: Te Waha Nui
By Leilani Sitagata in Auckland
A baritone studying at Auckland University has been touring New Zealand singing the praises of opera to teenagers.
The fourth-year music student, Samson Setu, says he was "dragged" into opera by a teacher who loved the sound of his voice.
"When I sang in the school choir my teacher pulled me aside because she thought I sounded like a 30-year-old man," he says.
He is one of the 2018 Dame Malvina Major emerging artists working with New Zealand Opera.
The programme includes an opera-in-schools tour, where he has been visiting schools in New Zealand to inspire students in pursuing a passion in the music industry.
The head of education at NZ Opera, Joanne Cole, says Opera in Schools is part of its wider education and outreach programme.
"It has been designed to break down the barriers that exist around opera and to bring new audiences to the genre."
Setu says opera is not such a popular genre with youth-targeted stations as it's not often on the radio so they don't get the opportunity to hear it.
'Looks elitist'
"From the outside it looks like an elitist art form and you don't see many Pacific Islanders doing it.
"Sol3 Mio have made [opera] a bit more mainstream, they've opened the doors to this sort of music."
He says the schools that are predominantly Pasifika have been extremely responsive to the tour so far.
Another University of Auckland music student, Denzel Panama, says opera is an amazing art form and sharing it with a young audience is special.
"I think a tour of this nature can only do good. It exposes so many young people to something that they might have never really experienced."
The Opera in Schools programme is in its sixth year and travels to Wellington and Christchurch in July.
This article was first published on the AUT journalism studies website Te Waha Nui.

Article by AsiaPacificReport.nz
]]>