<![CDATA[
A Jakarta Post video collage of images from the bomb attack has been reported at Surabaya police headquarters on Sunday just hours after bomb attacks on three churches in the city earlier in the day.
Karina M. Tehusijarana and Moses Ompusunggu in Jakarta
Multiple deadly bombings in East Java and the brutal killing of six Indonesian police officers at the Mobile Brigade headquarters (Mako Brimob) in Depok, West Java, which took place within less than a week, have catapulted Jamaah Ansharud Daulah (JAD) into notoriety.
JAD, the largest Indonesian terror group pledging allegiance to the Islamic State (IS) group, has played a significant role in the terror attacks.
"[The attacks] are connected to JAD, which is the main supporter of ISIS in Indonesia and was founded by Aman Abdurrahman," National Police chief General Tito Karnavian has confirmed.
A family of suicide bombers linked to JAD attacked three churches across Surabaya on Sunday morning, killing at least 12 people and injuring 41 others.
Two attempted bombings were reported at two other churches in the East Java capital.
Later the same day, another explosion was reported at a low-cost apartment in the neighboring city of Sidoarjo. The latest attack took place on Monday morning, when a bomb exploded at the Surabaya Police headquarters.
In total, 25 people, including 13 suicide bombers, were killed and dozens injured in the series of bombings in Surabaya, which resembled the pattern of attacks carried out by the Jamaah Islamiyah (JI) movement at dozens of churches across Indonesia at the start of the millennium.
JI is said to have renounced violent jihad, leaving pro-IS group JAD as the most lethal terror group in the archipelago.
But what is JAD? And how influential is its founder, Aman?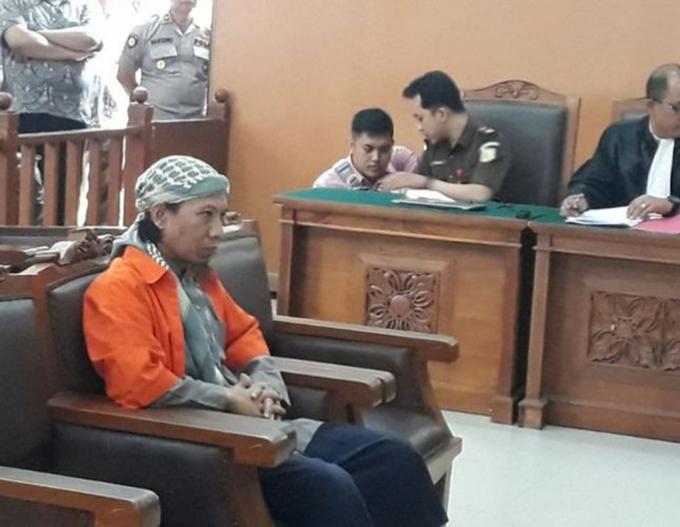 Aman Abdurrahman, the alleged mastermind of the January 14, 2016, suicide bombings and gun attacks on Jl. MH Thamrin, Central Jakarta, during a court hearing in South Jakarta District Court on February 15. Image: Nursita Sari/kompas.com
ISIS supporters
But what is JAD? And how influential is its founder, Aman?
The Jakarta-based Institute for Policy Analysis of Conflict (IPAC) calls JAD "the largest faction of ISIS supporters in Indonesia," consisting of followers of pro-IS ideologue Aman and Jamaah Anshorul Tauhid (JAT) leader Abu Bakar Baasyir.
The term JAD, which means "Partisans of the [Islamic] State Group," was previously a generic term referring to anyone who had sworn allegiance to IS leader Abu Bakr al-Baghdadi, but is now specifically used by a group that was formed in Malang in November 2015 and has chosen Aman as its ideological head.
Aman was sentenced to seven years in prison in 2004 after a failed terror plot in Depok, West Java, and was released for good behavior in 2008.
Soon after his release, Aman collaborated with Ba'asyir to form a joint terrorism training camp in Aceh in 2010 that united the different terrorist groups, leading to another prison sentence of nine years.
Despite being behind bars, Aman has been accused of involvement in several other terrorist attacks across Indonesia, including masterminding the deadly January 14, 2016, Thamrin attacks in Central Jakarta.
The firebrand cleric, who graduated from the Institute for Islamic and Arabic Studies (LIPIA), was also allegedly involved in the May 25, 2017, bombings in Kampung Melayu, East Jakarta, that killed three policemen.
Aman and his followers believe that all security forces of an ansharut thoghut (idolatrous state) should be considered kafir (non-believers), whose property can be seized and blood can be shed.
Syrian obligation
After the declaration of the Islamic State by al-Baghdadi at Mosul, Iraq in June 2014, Aman believed that the Hegira, or emigration to Syria, was the obligation of all ISIS supporters.
Shortly before the 2016 Thamrin attacks Aman issued a fatwa that was widely circulated among extremist groups:
"Emigrate to the Islamic State and if you cannot emigrate, then wage jihad with spirit wherever you are, and if you cannot wage war or you lack the courage to do so, then contribute your wealth to those who are willing to do so. And if you cannot contribute, then urge others to undertake jihad. And if you cannot do that, then what is the meaning of your loyalty oath [bai'at]?"
The terror inmates who rioted last Tuesday evening at the Mako Brimob detention center reportedly demanded to speak with Aman, who is being held at the facility, during initial negotiations with police officers, a demand that the police later met.
The police, Tito said, suspected that the Surabaya bombings were motivated by the police's actions in arresting leaders of JAD.
"They reacted [to the arrests] by carrying out retaliatory attacks, such as that which occurred at Mako Brimob."
The terrorists' decision to launch the attacks in Surabaya, Tito said, may have been related to the recent conviction of the leader of JAD's East Java chapter, Zaenal Anshari, for smuggling weapons to Indonesian militants in the southern Philippines.
Zaenal is the second-in-command in JAD after Aman.
Orchestrated attacks
The incidents in Depok and Surabaya were part of a number of recent terror attacks or attempted attacks allegedly orchestrated by JAD-linked militants.
Residents stand next to human body parts at a scene where two bombers launched an attack at Kampung Melayu bus terminal in East Jakarta on May 25, 2017. ADEK BERRY / AFPResidents stand next to human body parts at a scene where two bombers launched an attack at Kampung Melayu bus terminal in East Jakarta on May 25, 2017. ADEK BERRY / AFP (AFP/Adek Berry)
Since the Thamrin bombings in January 2016, counterterror officials have thwarted numerous attempted attacks by suspects affiliated with JAD in various regions across Indonesia.
In January 2017, the US State Department said it had designated JAD as a terrorist group, which in practice prohibits US citizens from being involved with it.
The deadly riot at Mako Brimob, which led to a 36-hour standoff between terror inmates and security forces, and the string of bombings in East Java, may have shown that the group has ramped up its capability to launch terror attacks.
Karina M. Tehusijarana and Moses Ompusunggu are reporters of The Jakarta Post.


Article by AsiaPacificReport.nz
]]>