By Lydia Lewis, RNZ Pacific journalist
The New Zealand government has given its full blessing to Cook Islands and Niue establishing diplomatic relations with the United States.
At the US-Pacific summit on Monday (Washington time), President Joe Biden said he recognised the two island nations as sovereign and independent states, an announcement which the US Embassy in Aotearoa has labelled as "historic".
Both countries are self-governing in 'free association' with New Zealand.  
Prime Minister Chris Hipkins acknowledged that and responded to questions around what the US's move means for both countries' relationship with Aotearoa.
"That's the way that the American system works," Hipkins said.
"So in order to recognise those specific countries, the wording that they use is they recognise their sovereignty but actually they also recognise, through diplomatic channels, the unique constitutional relationship that those countries have with New Zealand as well."
The establishment of diplomatic relations does not change the constitutional relationship Aotearoa New Zealand has with either the Cook Islands or Niue, a Ministry of Foreign Affairs and Trade spokesperson said.
"Aotearoa New Zealand welcomes the establishment of diplomatic relations between US, Cook Islands and Niue," the MFAT spokesperson said.
Diplomatic relations
"The Cook Islands has diplomatic relations with 61 countries, and Niue has diplomatic relations with 21 countries.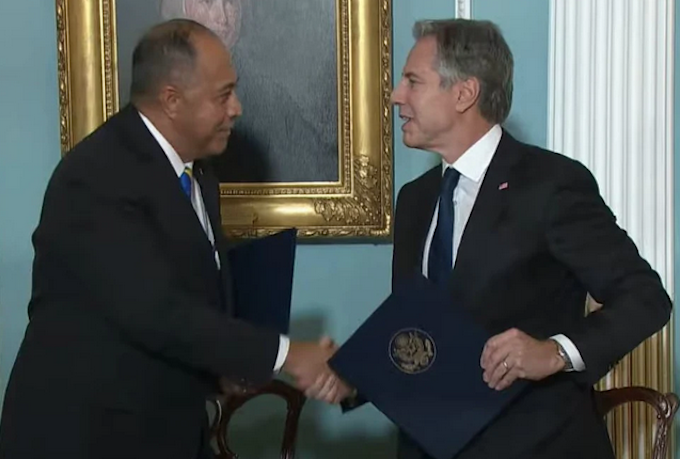 "[The NZ government] expects that the establishment of diplomatic relations[with the US] will better enable close engagement."
In his speech, Biden said building a better world started with stronger partnerships.
"And that's why the United States is formally establishing relations with the Cook Island's . . .  and Niue," Biden said.
Pacific Islands Forum chair and Cook Islands Prime Minister Mark Brown has hailed the move as a milestone that marks an "era of change".
He said Niue and the Cook Islands were "celebrating".
"These milestones celebrate era's of change and demonstrate that with unshakable resolve and leadership, remarkable achievements are possible," Brown said.
Brown thanked the US President for his elevated level of engagement with the Pacific over the last year.
Development funding
Massey University's defence and security analyst Dr Anna Powles said formalising diplomatic ties was "very much about ensuring that Cook Islands and Niue are able to receive development assistance funding".
"There's obviously also a strategic benefit from the United States perspective to have diplomatic presence, or at least diplomatic reach, into both of those countries."
On top of the diplomatic ties talk, Biden also announced climate assistance at the summit.
He told Pacific leaders more than US$20 million is being injected into climate assistance.
The announcement for climate support and affirming the US's commitment to climate action comes just days days after he was slammed by Pacific youth climate activist Suluafi Brianna Freuan following the UN Climate Ambition Summit.
Suluafi said not all nations were being ambitious enough when it came to climate ambition.
"What are the commitments that they will make to financing those most vulnerable to climate change, including those in their, their very ocean, their neighbours in the Pacific," Suluafi said.
"[Countries] really need to talk about how they will phase out fossil fuels."
But President Biden wanted to be clear that the Pacific's stance on the climate crisis was the US's position too.
'I hear you' – Biden on climate crisis
"I want you to know I hear you, the people in the United States and around the world hear you," Biden said.
"We hear your warnings of a rising sea that they pose an existential threat to your nations. We hear your calls for reassurance that you never, never, never will lose your statehood, or membership of the UN as a result of the climate crisis."
The President also announced the doubling of US-Pacific exchange student spots.
He committed to a free, open, prosperous and secure Indo-Pacific region.
Biden also plans on investing US$5 million into co-funding a fisheries and ocean science vessel.
It is expected to be used to manage the region's tuna resources and for ocean science research.
This article is republished under a community partnership agreement with RNZ.