By Doddy Morris in Port Vila
French President Emmanuel Macron and Vanuatu Prime Minister Ishmael Kalsakau have reached an agreement to settle the "land problem" in the southern region of Vanuatu before the end of this year.
Prime Minister Kalsakau made this declaration during his speech at the 7th Melanesian Arts and Cultural Festival (MACFEST) in Saralana Park yesterday afternoon, coinciding with President Macron's visit to the festival.
"We have talked about a topic that is important to the people of Vanuatu in relation to the problem for us in the Southern Islands. The President has said that we will resolve the land problem between now and December," he said.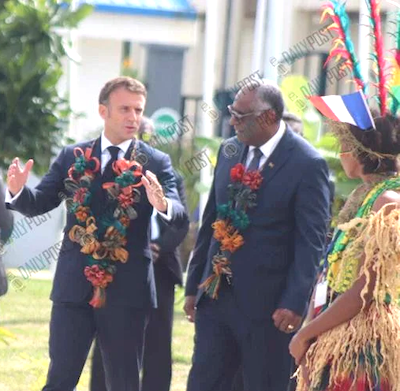 Though not explicitly naming them, it is evident that the southern land problem mentioned refers to the islands of Matthew and Hunter, located in the southern portion of Vanuatu, over which significant demands have been made.
In addition to this issue, the boundary between New Caledonia and Vanuatu remains unresolved.
The hope was that during President Macron's visit, Prime Minister Kalsakau — carried in a traditional basket by Aneityum bearers during the opening of MACFEST 2023 — would address the Matthew and Hunter issue with the French leader.
As part of Vanuatu's traditional practice, Kalsakau and President Macron participated in a kava-drinking ceremony, expressing their wish for the fruitful resolution of the discussed matters.
Matthew and Hunter are two small and uninhabited volcanic islands in the South Pacific, located 300 kilometres east of New Caledonia and south-east of Vanuatu.
Both islands are claimed by Vanuatu as part of Tafea province, and considered by the people of Aneityum to be part of their custom ownership. However, since 2007 they had also been claimed by France as part of New Caledonia.
Elation over statement
The announcement of the two leaders' commitment to resolving the southern land issue was met with elation among the people of Vanuatu, particularly in the Tafea province.
"France has come back to Vanuatu; President Macron has told me that it has been a long time, but he has come back today with huge support to help us more," said Prime Minister Kalsakau, expressing gratitude.
The Vanuatu government head revealed that France had allocated a "substantial sum" of money to be signed-off soon, which would lead to significant development in Vanuatu.
This would include the reconstruction of French schools and hospitals, such as the Melsisi Hospital in Pentecost, which had been damaged by past cyclones.
In response to the requests made by PM Kalsakau and President Macron, the chiefs of the Tafea province conducted another customary ceremony to acknowledge and honour the visiting leaders.
President Macron at MACFEST 2023
More than 4000 people gathered yesterday at Saralana Park to witness the presence of President Macron and warmly welcome him to MACFEST 2023.
He delighted the crowd by delivering a speech in Bislama language, noting the significance of Vanuatu's relationship with France and highlighting its special and historical nature.
"Let me tell you how pleased I am to be with you, not only as a foreign head of state but as a neighbour, coming directly from Noumea," President Macron said.
He praised Prime Minister Kalsakau for fostering a strong bond between the two countries amid "various challenges and foreign interactions", emphasising that their connection went beyond bilateral relations, rooted in their shared history.
President Macron further shared his satisfaction with the discussions he had with Kalsakau, expressing joy that his day could culminate with the celebration of MACFEST, symbolising the exchange between himself and Vanuatu's PM.
"My delegation is thrilled to participate in the dances and demonstrations that bring together delegations from across the region, celebrating the strength and vitality of Melanesia and the spirit of exchange and sharing," he said.
The President expressed his pride in being part of the region, particularly in New Caledonia, and witnessing the young teenagers of Melanesia coming together, dancing, and singing, driven by the belief that they will overcome the challenges of today and tomorrow.
Last night, President Macron departed for Papua New Guinea to continue his historic Pacific visit. He expressed his happiness in meeting members from PNG, Solomon Islands, Fiji, and other participating nations during MACFEST.
Doddy Morris is a Vanuatu Daily Post journalist. Republished with permission.
Article by AsiaPacificReport.nz