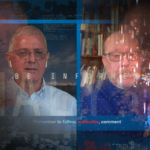 A View from Afar: Political scientist Paul G. Buchanan and journalist/analyst Selwyn Manning deliver their latest podcast A View from Afar. This episode: AUKUS, should New Zealand and other Asia Pacific nations join this security pact? And if not, why not?
In this the first episode of A View from Afar for 2023 political scientist Dr Paul Buchanan and host Selwyn Manning examine the pros and cons of New Zealand, and other APAC nations, joining the AUKUS security defence pact.
Specifically, Paul and Selwyn examine the following questions:
* What is AUKUS's purpose?
* What are the risks to New Zealand's national and public interest?
* What does AUKUS 'success' look like? What could its failure look like?
Paul presents the reasons why he believes New Zealand will not join AUKUS, and Selwyn delivers his assessment of why New Zealand must not join the Anglophile security pact.
ALSO, Paul and Selwyn will headline:
* The latest on the US Pentagon leaks. What really is happening here?
* The Global Geopolitical Theatre and how stable is Russian Federation's president, Vladimir Putin's regime?
INTERACTION: Paul and Selwyn invite and encourage you to interact with your questions and comments.
They recommend you do so via EveningReport's YouTube channel, or via Facebook. Here's the link: Youtube (remember to subscribe to the channel).
You can also keep the conversation going on this debate by clicking on one of the social media channels below:
You can see this episode as video-on-demand, and engage with earlier episodes too, by checking out EveningReport.nz or, subscribe to the Evening Report podcast here.
RECOGNITION:
The MIL Network's podcast A View from Afar was Nominated as a Top  Defence Security Podcast by Threat.Technology – a London-based cyber security news publication.
Threat.Technology placed A View from Afar at 9th in its 20 Best Defence Security Podcasts of 2021 category. You can follow A View from Afar via our affiliate syndicators.

***