Source: The Conversation (Au and NZ) – By Lisa French, Professor & Dean, School of Media and Communication, RMIT University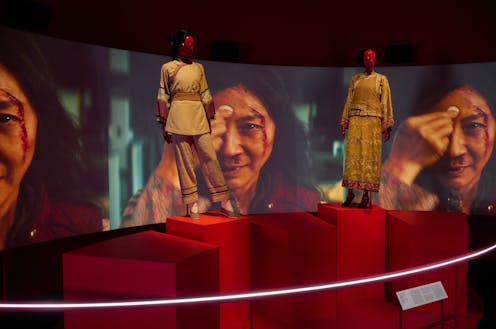 The most fascinating aspect of screen museum ACMI's new exhibition Goddess: Power, Glamour, Rebellion, and the major contribution it makes, is the way it generates fresh understandings of women on screen, including in relation to Australia.
Goddess has been in planning for five years, celebrating 120 years of women and the moving image. Curated in Australia by Bethan Johnson for ACMI, the museum will eventually travel it globally.
Geena Davis and her institute on Gender in the Media are the perfect partners for the new show; not only because Davis is a screen goddess herself, but because of her leadership. Gender in the Media is a research and advocacy organisation which looks at the representation of gender and sexuality, race, disability, age and body types on screen.
"You cannot be what you cannot see" frames not just the mission of Davis' institute, but points to the key message of the show: the power and significance of representation.
The exhibition features cinematic moments, iconic costumes, sketches, posters, photographs, magazines and interactive experiences. You can even make a goddess image of yourself to take home.
Stars we ordinarily think of as goddesses are showcased, such as Marilyn Monroe, Pam Grier and Davis in clips and costumes of their iconic roles.
But the show also asks audiences to rethink what a "goddess" might be understood to be, do and mean.
---


Read more:
Where are the women scientists, tech gurus and engineers in our films?


---
Aussie goddesses
Curators draw their inspiration and vision from the culture within which they operate. The exhibition, therefore, has something to say about – or from – this country and its talent.
The Australian lens shaping the selection, presentation and commentary about characters, stories and experiences is initially invoked by the soundscapes created by Melbourne-based composer, DJ and musician Chiara Kickdrum.
This continues further inside, in a darkened room where audiences see a montage of clips of stars speaking at awards and events about industry ageism, sexism, racism, advocacy for women and female courage. First Nations filmmaker Leah Purcell, in full regalia at the AACTA awards, says:
It's truth telling that this country needs to hear [so] we can move to the future with better understanding of who we are as a nation.
Elsewhere, the exhibition features "Fearless Nadia" (Mary Ann Evans), an Australian actor who became Bollywood's leading stunt woman in the 1930s, swinging from chandeliers, leaping from speeding trains and taming lions. She was one of the earliest female leads of Hindi cinema.
Australian Hollywood costume designer Orry-Kelly won three Academy Awards and the show includes the iconic costume he created for Marilyn Monroe for Billy Wilder's Some Like It Hot (1959).
In the book that accompanies the exhibition, a quote from Monroe gives an insight into being typecast by her body:
I am tired of the same old sex roles. I want to do better things. People have scope, you know.
The body of the goddess
A key element of this exhibition is the spectacular display of the body of the screen goddess – from classical Hollywood to contemporary popular culture.
ACMI is framing the goddess not just by the tired "starlet" and "bombshell" tropes, but as a woman who pushes boundaries, questions norms and stereotypes.
At the beginning of the exhibition we encounter fashion model Winnie Harlow in Monroe's iconic pink dress from Diamonds are a Girl's Best Friend, a performance in the 1953 film Gentlemen Prefer Blondes.
The beautiful Harlow is a spokesperson for the skin condition vitiligo (where her skin has lost colour in parts). Her gaze is confident: she invites our gaze in return, challenging notions of perfection. Her flesh becomes costume, and I think of the idea "it is not what you wear, but how you wear it" — a kind of mantra for individualism (although what she wears also has its own meanings and legacy). We are all unique, but her skin conveys this idea.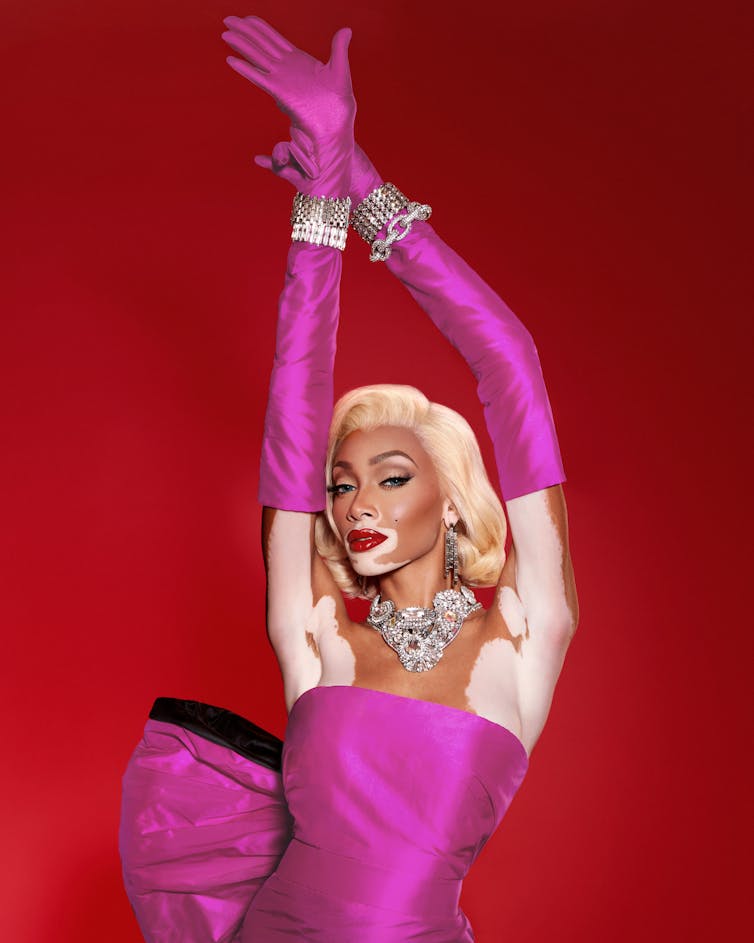 In clips we see the pressure on female actors to achieve an impossible standard of beauty.
Olivia Colman argues for the messy, imperfect body:
I'm an actor, not a model and I think you should be able to look horrendous […] that's what I love doing.
A young Helen Mirren asks a journalist whether he means "serious actors cannot have big bosoms?"
Speaking across the decades Audrey Hepburn, Kate Winslet, Michelle Yeoh and Ellen DeGeneres all offer commentaries about how their ageing bodies have influenced their selfhood and careers.
A youthful Jane Fonda alludes to her experience of being a body and not a mind:
people seem to think that if you're a girl, you have to behave in a way that is not militant or political, especially if you're an actress […] how dare an actress think or be political!
---
---
Gender fluidity, women of colour, queer women, culturally diverse goddesses, and high-kicking action heroines all have something to say about the myriad of ways that we can understand a goddess in 2023.
As this exhibition has it, the goddess can be anything she wants to: not just swing from chandeliers, leap from speeding trains or the backs of lions (while being drop dead gorgeous).
In the battle to be represented, she has been seen, she has offered a female gaze — one where they are individuals rather than ideals or icons. Goddess asks us to rethink our own gaze, and the bias it contains, to see the ways in which identities are constructed in media, according to the belief systems of the culture that created them. In this, the exhibition admirably succeeds.
Goddess: Power, Glamour, Rebellion is at ACMI, Melbourne, until October 1.
---


Read more:
Changing the portrayal of women in film means getting more women behind the lens


---

Lisa French was a guest speaker for ACMI's Public Program aligned to the Goddess exhibition: 'Being Seen on Screen: The Importance of Representation'.
RMIT University, ACMI's Major Research Partner.
– ref. ACMI's Goddess asks us rethink our gaze – and the bias it contains – when we look upon women on the screen – https://theconversation.com/acmis-goddess-asks-us-rethink-our-gaze-and-the-bias-it-contains-when-we-look-upon-women-on-the-screen-203930