Source: The Conversation (Au and NZ) – By Kathleen McPhillips, Senior Lecturer, School of Humanities and Social Science, University of Newcastle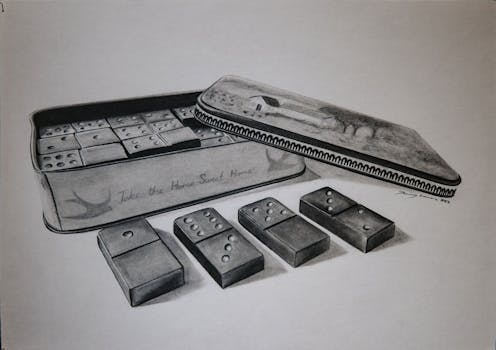 On entry to Newcastle's The Lock-Up contemporary art space is a textile artwork by institutional child sexual abuse survivor and artist Elizabeth Seysener.
Produced as part of the community arts program running alongside the Loud Sky exhibition, the triptych depicts the three major events in her story of recovery: carrying the burden of shame for over 50 years, the traumatising year of disclosure to the Catholic Church, and finding a place of being free to speak out.
In the entry to the next room, a loop of primary school photos of survivors reminds us it is children who were harmed.
Another room features a large timeline produced by graphic design students at the University of Newcastle. It depicts the central events of two public inquiries and court cases as they unfolded between 1995 and 2022.
Television footage captures the major events. A framed document expresses the heartfelt responses of family members of survivors, whose voices are rarely heard.
This exhibition, titled Loud Sky, addresses institutional child sexual abuse through the eyes of five professional artists commissioned to work with the local survivor community.
"Loud Sky" is a riff on the Loud Fence Movement, which began in 2015 in Ballarat as a community response to the harrowing details emerging from the hearings. Community members tied coloured ribbons on the fences of Catholic churches and schools where children had been harmed.
This has since become an international movement.
---


Read more:
Royal commission recommends sweeping reforms for Catholic Church to end child abuse


---
Community art works
The Newcastle region is recognised as an epicentre in the ongoing catastrophe of church-based institutional child sexual abuse.
From the 1950s, schools and parishes harboured clerical perpetrators who were constantly moved around to avoid detection. Families of devout Catholics were socialised not to question priests and brothers. Local Catholic managers put protection of perpetrators and the reputation of the church above the safety of children.
In 2022, the Loud Sky project ran community art workshops for anyone impacted by institutional child sexual abuse. Participants enrolled in painting, drawing and photography classes with experienced art therapists. The resulting artworks range from photographs of precious objects to paintings of the safety of home, and are on display at Belmont Library.
A second community arts program, the Field of Flowers, has been "planted" at Christ Church Cathedral and Sacred Heart Cathedral. School students, survivors, supporters and parishioners made over 8,000 ribbon flowers. The field is an act of remembrance and signals the hope for healing.
Loud Sky visitors have the option to sit in the gallery and make a ribbon flower to be "planted" in one of the cathedral fields.
Listening to survivors
These community programs complement the artwork from five commissioned artists. These artists began their commission with training in trauma-informed art practice to prepare for hearing the stories from the royal commission documents and the survivor community.
Each artist worked in collaboration with the survivor community, mostly members of the Clergy Abused Network, the central survivor support group in the Hunter region.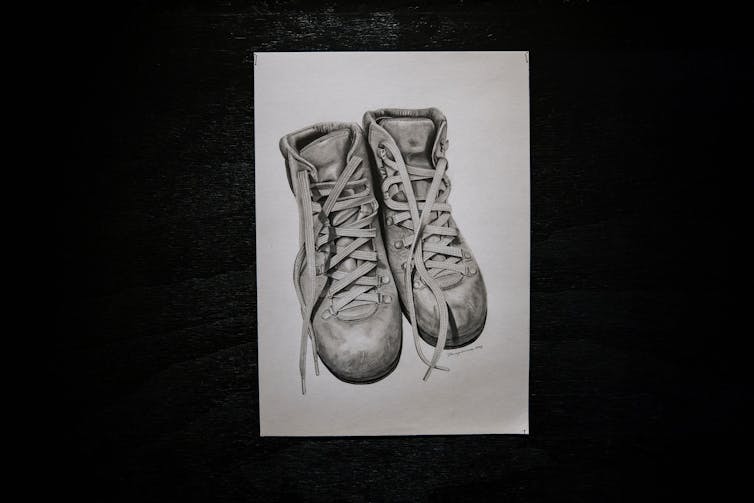 Damien Linnane asked survivors to bring in a treasured object accompanied by a story of the object. His detailed, beautiful drawings focus on the power of memory to evoke the resilience of survival.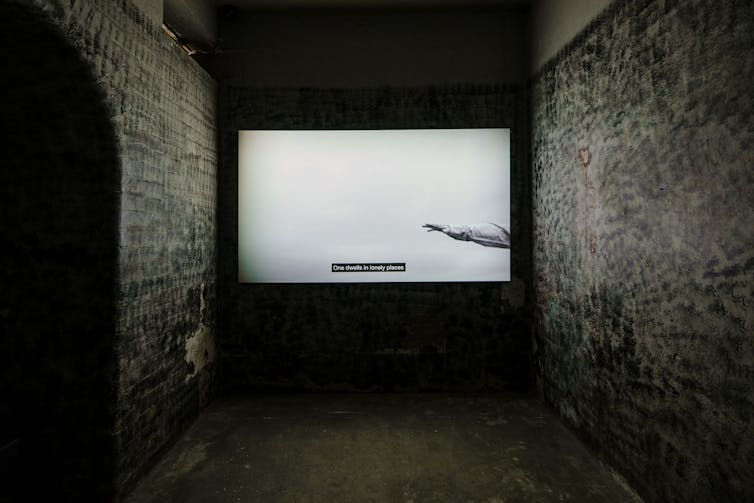 Lottie Consalvo worked with a survivor and his partner to produce a beautiful video around the small everyday gestures that had sustained their lives through years of pain. The slow-moving, deeply contemplative silent film evokes the power of stillness and beauty.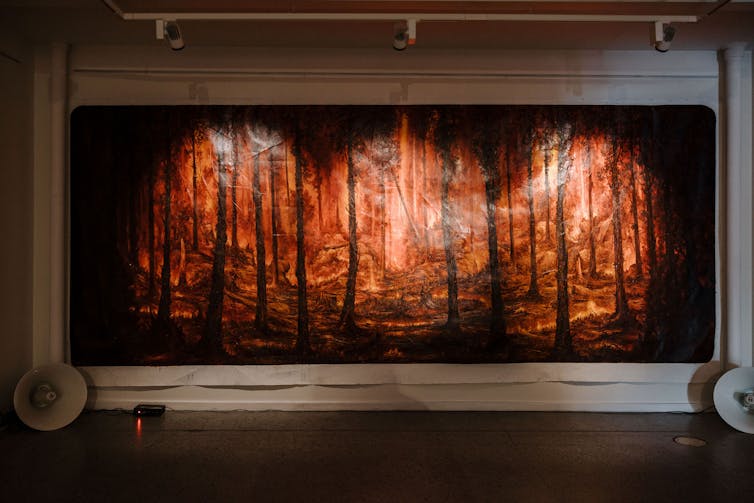 Peter Gardiner's epic oil paintings depict the power of fire to both destroy and recreate, following his reading of the stories of survival from the royal commission transcripts.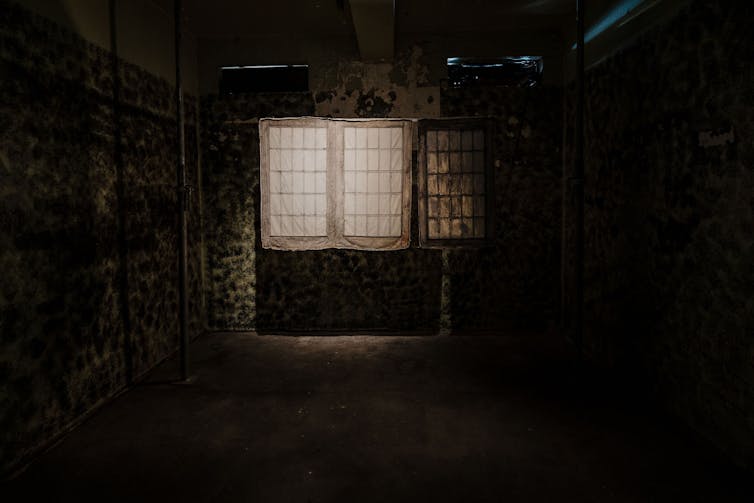 Fiona Lee's three casement windows evoke being both inside and outside, born from Lee asking survivors what motivated them to get up in the morning and find the courage of facing each new day and reaching out to connect with others.
Clare Weeks invited survivors to take a piece of paper and imagine a word that reflected their sense of resilience and hope. Each piece of blank paper was folded and scanned, the surface revealing idiosyncratic features. Large images of these scans span the walls. We are invited to take our own square of paper and imagine our own response before placing it in a large glass bowl.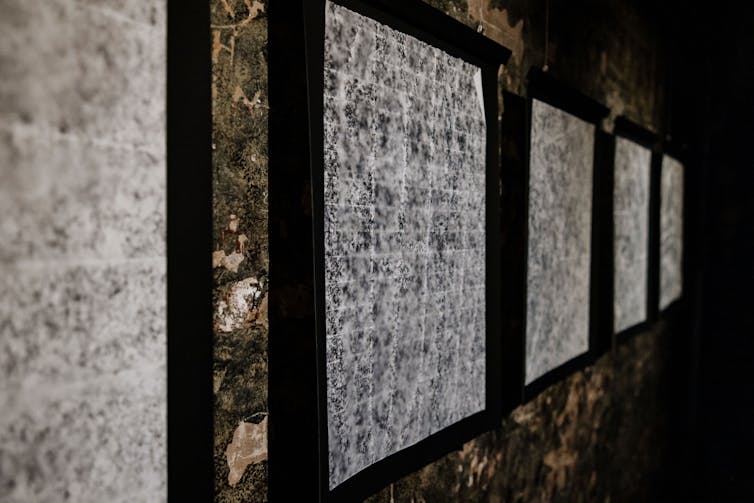 The power of art
Visual art can be an important means by which affected communities come to understand the impacts of harmful events in creative and regenerative ways.
Art helps process trauma and plays a vital role in restorative justice and truth telling.
It is a powerful corrective to dominant narratives often told by influential institutions with investments in protecting corporate reputations.
How we represent these stories of injustice and pain reflects our humanity and commitment to changing damaging social practices.
Through art, we can remain awake to the impacts of child sexual abuse and listen to the stories of those who survived such harm as children.
Perhaps the final words can be given to the visitor who wrote in the exhibition logbook: "We see you, we hear you, we believe you."
The Loud Sky is at The Lock-Up, Newcastle, until May 21.
---


Read more:
The Altar Boys: new questions about suicides of clergy abuse survivors should spark another inquiry


---

Kathleen McPhillips receives funding from the Marist Brothers, Australia.
– ref. How can art respond to stories on institutional child sexual abuse? – https://theconversation.com/how-can-art-respond-to-stories-on-institutional-child-sexual-abuse-203914