Source: The Conversation (Au and NZ) – By Kate Hunter, Lecturer in Art and Performance, Deakin University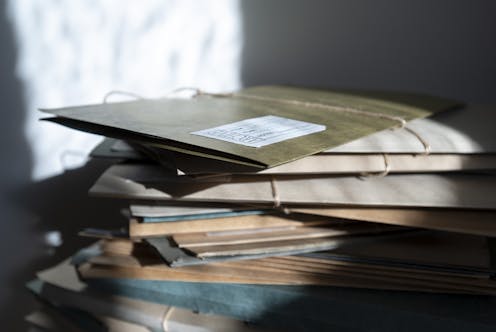 Leisa Shelton/Abbotsford Convent
Live performance exists only in the moment it is being performed. Its ephemeral nature means it is transient and impermanent, and cannot be experienced again in precisely the same way.
How do artists hold on to the works that they make? What of the invisible labour that is rarely acknowledged or named?
Over the last ten years, performance artist Leisa Shelton has completed a series of participatory artworks which focus on the mutability of the archive: gathering audience testimonies and mapping artistic lineages.
Now her new show, Archiving the Ephemeral, brings five works together in a beautifully curated installation.
Archiving the Ephemeral is a celebration of the artist, the artistic process and the audience experience.
Shelton's expansive career, built on collaboration, care and conversation, grounds the exhibition. The show reflects her focus on curating and re-framing interdisciplinary work to address the limited opportunities for recognition of contemporary independent Australian performance.
---


Read more:
Politics, pioneers, performance: 50 years of Australian women's art and feminist ideas


---
Meticulous design
Marked by a spare, distinctive design, Archiving the Ephemeral is located in the Magdalen Laundry at the Abbotsford Convent.
Rich with a bright green wooden industrial interior and aged painted walls, the laundry is a perfect background for the specifically placed items, the carefully lit tables and the long lines of patterned artefacts.
Fragile ideas are framed and held within a crafted, artisan aesthetic. Objects are carefully made and remnants are meticulously gathered.
Along one side of the space, 132 brown paper packets are laid out in a continuous line on the floor. Each package contains a set of archival materials, burned to ash, which corresponds to an artistic project from Shelton's career.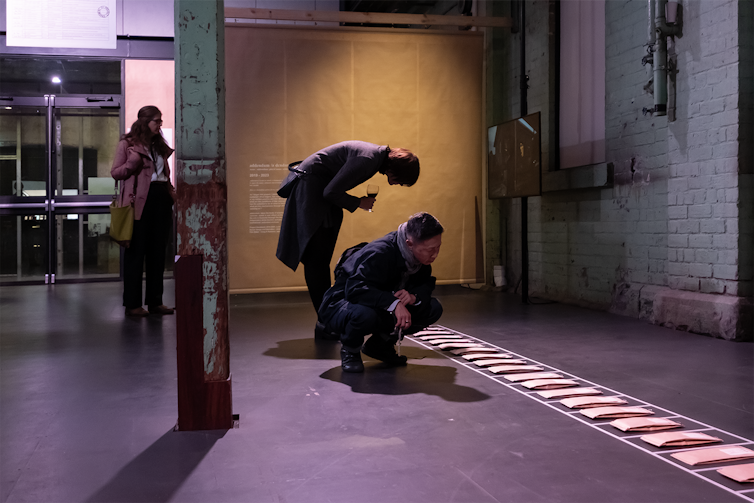 An accompanying video depicts Shelton's meticulous process of burning, piece by piece, her entire performance archive to ash.
In a methodical and meditative process, the ash is sifted and packaged into the hand-crafted paper bags. The bags are then hand-punched and sewn with twine, typed, labelled and categorised: a kind of devotional honouring of the materials even as they are brought to dust.
A living archive
The exhibition includes an opportunity for each of us to become part of the living archive through conversations with two ground-breaking elders of Australia's performance art scene, Jill Orr and Stelarc.
On the night I attend, I sit with Stelarc. We discuss Kantian notions of time as he tells me about his Re-Wired/Re-Mixed Event for Dismembered Body (2015). It's a delightful moment of personal connection with an artist I've admired for years.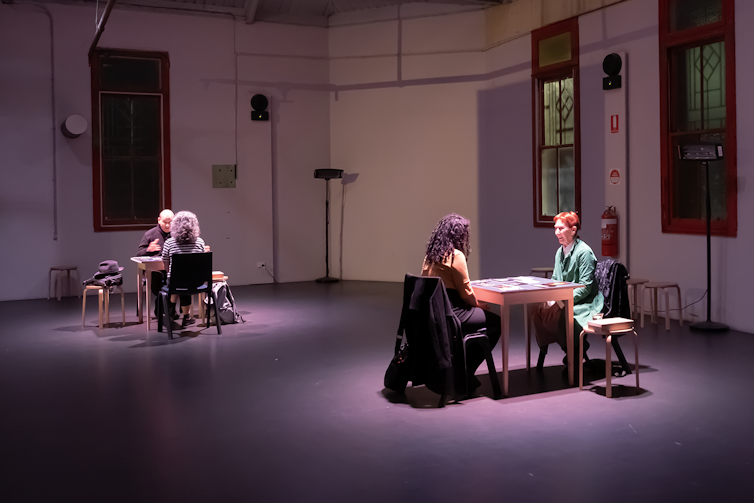 Across one wall are four large hanging papers listing the name of every artist on every Arts House program from 2006-2016, laboriously typed.
On the night I attend, these lists elicit lively conversations among the artists present as we study the names and dates (in my case, slightly desperately searching to see if my own name is there), and recall shows, people, events, stories and collaborations.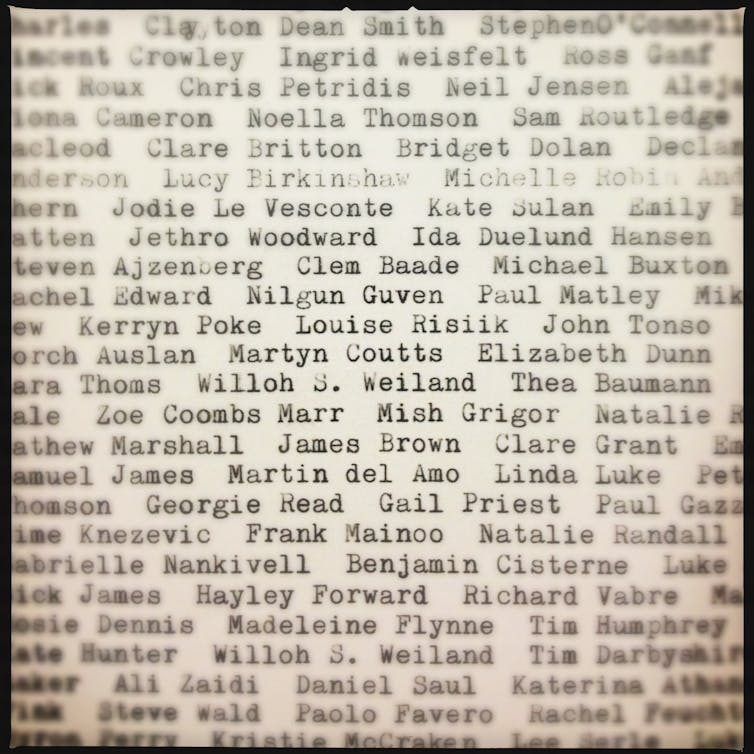 Much of Shelton's work is gathered from conversations with audience members about art and artists.
In Mapping, a set of burnished stainless-steel canisters, beautifully marked with engraved identifications, sit on a bench underneath a suspended video screen on which artist names appear and disappear in an endless, floating loop.
The canisters contain details of profoundly memorable artists and performances collected from 1,000 interviews, dated and stamped. They are hand-welded, sumptuous objects which hold the interview cards securely locked under fireproof glass designed to withstand cyclones, fires and floods.
The many hand-written files of Scribe contain multiple documents which can be taken out and read. The sheer number of pages is overwhelming, and the breadth of audience commentary – joyful, moved, connected, inspired – is breathtaking.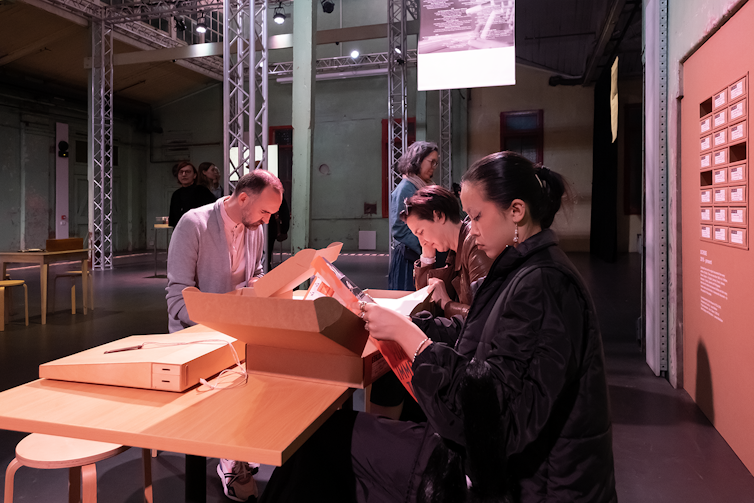 It's a poignant reminder of the traces borne out beyond the artist's own experience of performing a work: an often surreal and lonely moment once the audience has left the room.
A practice of care
Archiving the Ephemeral fosters a practice of care and acknowledgement which extends to the practical ways in which our trajectory through the room and engagement with the artworks is enabled.
The Convent is an apt site for such a careful collection. Analogue processes and objects are foregrounded. Typewriters, brown paper, string, awls and aprons are part of the painstaking construction process. Attendants and scribes act as custodians in the space, facilitating a gentle holding of the material.
We are given the opportunity to continue the archive as it evolves and devolves around us. As I make my way through the space, I notice my own embodied archival actions – taking notes, speaking to others – as I continue the trajectory of documenting the documents.
We are not just witnessing one artist's body of work. Archiving the Ephemeral focuses on the need for greater visibility, recognition and honouring of Australia's experimental and independent artists, and speaks to the many collaborations, associations, and intricate connections that mark a significant – if unacknowledged – cultural legacy.
Archiving the Ephemeral is at the Abbotsford Convent, Melbourne, until April 22.
---


Read more:
A litany of losses: a new project maps our abandoned arts events of 2020


---

Kate Hunter has participated in Leisa Shelton's workshops in the past.
– ref. Live art exists only while it is being performed, and then it disappears. How do we create an archive of the ephemeral? – https://theconversation.com/live-art-exists-only-while-it-is-being-performed-and-then-it-disappears-how-do-we-create-an-archive-of-the-ephemeral-201939