A recent cash payment by the state for the release of three hostages held captive by armed gunmen in Papua New Guinea's Southern Highlands province has set a "dangerous precedent", says the opposition.
Deputy opposition leader Douglas Tomuriesa said in a statement that the Marape government had set a bad precedent in allowing ransom money to be paid to the kidnappers for the release of the three hostages late last month instead of eliminating the gunmen.
The shadow treasurer said that thankfully the three captives had been set free without any harm but he expressed sadness that such a bad precedent had been set for the country which was likely to spur similar hostage-taking incidents in future.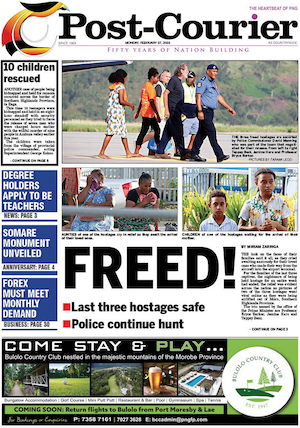 Tomuriesa said since the hostages were now free, Police Commissioner David Manning must ensure that the culprits would be brought to justice and face the full force of the law.
He said it was "shameful" that the Prime Minister had contradicted his Police Commissioner by initially denying that any ransom had been paid.
"I now demand the Prime Minister tell the truth and reveal the actual amount of ransom paid to the criminals and why a third party was involved," Tomuriesa said.
One of three women captives was released on February 23 while the other two were released with Australia-based New Zealand academic Professor Bryce Barker on February 26 after K100,000 (NZ$46,000) had been paid, according to one news report.
"If all the government can do is pay ransom to terrorists, then PNG can forget about promoting tourism and foreign investment in the country as investors will view the country as too dangerous.
"By very quickly resorting to allowing payment of ransom money, the government has now realised that the PNG police and military are very ill-equipped to deal with a dangerous hostage-taking situation.
"The whole country will remain at risk unless the gunmen are made to surrender all their guns, including the high-powered machines stolen from the PNG Defence Force armoury."
Tomuriesa said the government must now seek specialised training and assistance from friendly countries like Australia, New Zealand, United Kingdom, or the United States to establish and train a special task force for the PNG police and military.
The special force would need to be capable of undertaking search and rescue operations should similar hostage-taking situations arise in future.
Republished from the PNG Post-Courier with permission.
Article by AsiaPacificReport.nz