Source: The Conversation (Au and NZ) – By Michelle Foster, Professor, Melbourne Law School, The University of Melbourne
The United Kingdom's Illegal Migration Bill, introduced in the House of Commons this week, will look very familiar to Australians.
If passed, the bill would see asylum seekers who arrive in the UK without a visa deemed "illegal" and prohibited from applying for protection under the refugee system. Any claim for protection will be deemed "inadmissible", and anyone arriving "illegally" will be removed to their home country or a so-called "safe" third country.
The bill also grants enhanced detention powers to the government while removal arrangements are under way. In other words, it lifts directly from the Australian handbook when it comes to punitive refugee policy, including the potentially devastating human impact and disregard for human rights.
The similarities extend to political spin as well as policy. Prime Minister Rishi Sunak has firmly backed the bill, vowing this week to "fight" for the legislation. He made his address behind a lectern emblazoned with the slogan "stop the boats" – the same three-word slogan that helped former Australian Liberal Prime Minister Tony Abbott win the 2013 federal election, and launched a particularly dark chapter in refugee policy in Australia.
While the UK government notes that irregular migrant arrivals have "
increased notably
" since 2019, it is imperative to consider the origin of those seeking asylum.
Afghans consist of the largest nationality group to have crossed the English Chanel in recent months, consistently increasing since the resurgence of the Taliban.
Countries do not exist in a vacuum. When wars and conflict erupt, people are forced to flee elsewhere. This is the fundamental premise upon which the Refugee Convention was drafted in the aftermath of the second world war.
The dark history of Australia's refugee policy
The reintroduction of regional processing of asylum seekers in Australia in 2012 followed a long history of turning back boats at sea. The turn-backs were drastically stepped up in the immediate aftermath of the 2013 election under the guise of Operation Sovereign Borders.
Both policies remain in place under the new Labor government at an estimated cost of $9.65 billion over the past decade for offshore processing alone. Australia's policy of sending asylum seekers to third countries – Nauru and Papua New Guinea – has been found to contravene human rights by numerous international bodies.
UN High Commissioner for Human Rights Michelle Bachelet labelled the centres "an affront to the protection of human rights". The International Criminal Court's prosecutor called the offshore regime "cruel, inhuman or degrading treatment".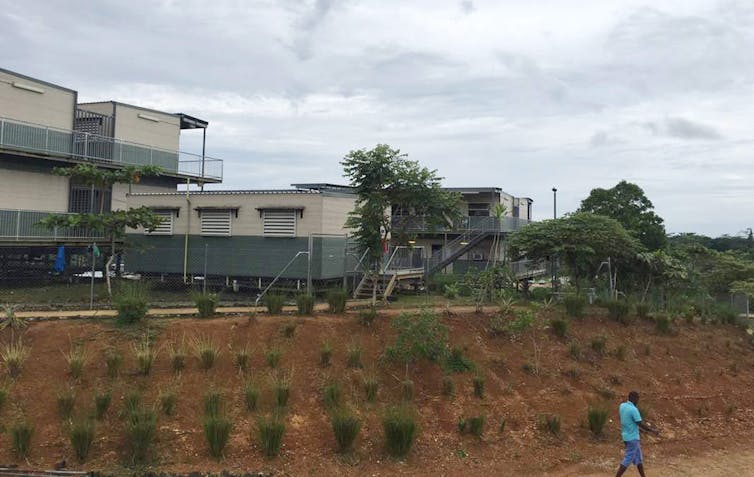 Australian law provides that an application for a protection visa is not valid if made by an "unauthorised maritime arrival". It also stipulates that such arrivals "must" be removed to a regional processing country.
The UK bill similarly places a duty on the secretary of state to remove any person who arrives without authority, irrespective of their claim for protection under refugee law. This amounts to a dangerous repudiation of the UK's obligations under international refugee law to respect the doctrine of non-refoulement. It's a cornerstone principle that protects refugees from being returned to a place where they may suffer harm.
This is but one of the more drastic ways in which the UK bill contravenes human rights law. Home Secretary Suella Braverman has acknowledged she cannot guarantee the bill is compatible with the European Convention on Human Rights.
Concerningly, the UK bill further authorises the secretary to "make arrangements for the removal" of an unaccompanied child who arrives alone.
Removal of children is sadly commonplace in the Australian experience, with devastating impacts. More than 8,000 pages of leaked incident reports from Australia's detention camps on Nauru in 2016 (known as the "Nauru files") detailed numerous cases of child abuse and sexual assault suffered on the island. More than 1,000 of the leaked reports documented harm to children.
There's no denying the issue of refugees arriving by sea is complex. But within the tangle of competing arguments, some things are simple. There's no excuse for harming people.
With the UNHCR estimating the "vast majority" of those arriving in the UK via the English Channel would be accepted as refugees if their claims were fairly determined, this bill undermines the fundamental system of international protection. It represents a dangerous trend by governments eager to follow the lead of Australia's punitive policy.
---


Read more:
Changes to temporary protection visas are a welcome development – and they won't encourage people smugglers


---
The human toll is too high
Beneath the intellectual discussion of human rights violations lies the devastating human impact of the Australian policy Britain seeks to replicate. Over the past ten years, we've represented and heard from many who have suffered irreparable harm from Australia's refugee policy.
Among them were children who have attempted self-harm and speak about no longer wanting to live. A tall, gentle man who lost his eye and suffered blunt facial trauma while witnessing his friend die during a riot in detention on Manus Island. A wife who watched on helplessly as her husband self-immolated on Nauru. He died in agonising pain two days later from burns the inquest into his death heard were "very survivable". There were also pregnant women medically evacuated to Australia with life-threatening conditions, shaking on the hospital bed as they recall their ordeal and clutch their newborn.
We have witnessed families separated across oceans; fathers who missed the birth of their children. The ongoing physical and mental harm suffered by refugees in Australia cannot be overestimated – nor can the damage to the soul of the nation.
The Australian experience of deterring and punishing people seeking asylum by boat should serve as a warning rather than a blueprint for the UK. Australia represents an example of a dangerously inhumane and exorbitantly costly policy that has damaged its human rights standing globally. But, more fundamentally, it's an example of the devastating human toll that will ensue if this bill is passed into law.

Michelle Foster receives funding from Australian Research Council.
Katie Robertson does not work for, consult, own shares in or receive funding from any company or organisation that would benefit from this article, and has disclosed no relevant affiliations beyond their academic appointment.
– ref. UK moves to copy Australia's cruel asylum-seeker policy – and it will have the same heavy human toll – https://theconversation.com/uk-moves-to-copy-australias-cruel-asylum-seeker-policy-and-it-will-have-the-same-heavy-human-toll-201390