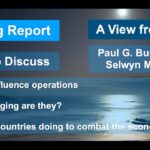 A View from Afar – In this podcast, political scientist Paul Buchanan and Selwyn Manning analyse the advent of new technologies and the rise of hybrid warfare.
In this episode, Buchanan and Manning take you on a journey into a world that exists all around us, no matter where we live. But, it's fair to say, it's a world few realise exists and few realise how it is effecting them.
With the technologies that surround us, tech that we use every day, it has become easy to conduct indirect or non-attributable warfare using a variety of means.
There's the grey area phenomena where opponent states undermine adversaries from within, sowing distrust, or fear, where there should not be. The purpose is to weaken public trust and a population's resolve to support their government.
In an extreme situation, this form of hostilities can escalate into hybrid warfare using indirect and direct means, from cyber offensives to firepower.
To illustrate the issue, we will draw on the build-up to the Russian invasion of Ukraine, and also evaluate other locations around the world where there is evidence of hybrid warfare.
It may surprise you to realise how close to home are real world examples of hybrid warfare.
You can comment on this debate by clicking on one of these social media channels and interacting in the social media's comment area. Here are the links:
If you miss the LIVE Episode, you can see it as video-on-demand, and earlier episodes too, by checking out EveningReport.nz or, subscribe to the Evening Report podcast here.
The MIL Network's podcast A View from Afar was Nominated as a Top  Defence Security Podcast by Threat.Technology – a London-based cyber security news publication.
Threat.Technology placed A View from Afar at 9th in its 20 Best Defence Security Podcasts of 2021 category. You can follow A View from Afar via our affiliate syndicators.

***