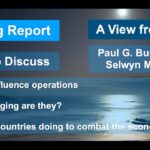 A View from Afar – In this podcast, political scientist Paul Buchanan and Selwyn Manning examine political events taking shape in South America.
In particular, Buchanan and Manning detail how there is a presidential run-off election in Colombia this Saturday and examine the outcomes of recent elections in Chile, Nicaragua, Honduras and Peru.
Paul takes us through the political landscape and highlights what this means for populism, left-right ideologies and for the South American continent and its respective political partners.
For example; in this episode Buchanan and Manning examine the so-called Pink Tide of (supposed) indigenous socialism started by Hugo Chavez and Evo Morales – and what relevancy this has had with regard to the Summit of Americas.
And, with respect to the Summit of Americas, this event is used as a test of how far the United States has fallen as a global leader.
QUESTIONS:
What is the latest emerging from the political hot-bed of South America?
What are the political trends there with populism, pragmatism, and left-right ideologies?
Why has the Summit of Americas been regarded as a fiasco and how does this impact on the United States' reputation?
You can comment on this debate by clicking on one of these social media channels and interacting in the social media's comment area. Here are the links:
If you miss the LIVE Episode, you can see it as video-on-demand, and earlier episodes too, by checking out EveningReport.nz or, subscribe to the Evening Report podcast here.
The MIL Network's podcast A View from Afar was Nominated as a Top  Defence Security Podcast by Threat.Technology – a London-based cyber security news publication.
Threat.Technology placed A View from Afar at 9th in its 20 Best Defence Security Podcasts of 2021 category. You can follow A View from Afar via our affiliate syndicators.

***