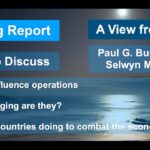 A View from Afar – Bannonism-Trumpism, a cultural ideological export – Political scientist Paul Buchanan and Selwyn Manning deep-dive into how Aotearoa New Zealand is in the cross-hairs of two distinct political powers – one has been around for awhile and applies influence operations aimed at elites; and the other is new to this part of the world and uses cultural and ideological diffusion that is aimed at civil society and aims to change the character of democracy itself. Can countries like New Zealand resist the slide into US-styled political chaos?
In this podcast we explore the under-defined, but hardly hidden, ideology that we will refer to as Bannonism-Trumpism.
So what is taking shape in New Zealand? Why is New Zealand a political lab-rat of sorts?
How is this battle taking place for the minds and political thinking of New Zealand voters?
What should you be aware of?
What political parties are most vulnerable to these two powerful external influences?
What is the end-game?
Is resistance achievable?
Join Paul and Selwyn for this LIVE recording of this podcast while they consider these big issues, and remember any comments you make while live can be included in this programme.
You can comment on this debate by clicking on one of these social media channels and interacting in the social media's comment area. Here are the links:
If you miss the LIVE Episode, you can see it as video-on-demand, and earlier episodes too, by checking out EveningReport.nz or, subscribe to the Evening Report podcast here.
The MIL Network's podcast A View from Afar was Nominated as a Top  Defence Security Podcast by Threat.Technology – a London-based cyber security news publication.
Threat.Technology placed A View from Afar at 9th in its 20 Best Defence Security Podcasts of 2021 category. You can follow A View from Afar via our affiliate syndicators.

***