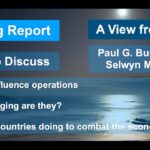 A View from Afar – In this week's podcast, Paul G. Buchanan and Selwyn Manning discuss: Geopolitics and how the global order is changing fast after the United States withdrawal from Afghanistan. And overnight the US and Australia announced the nuclearisation of Australia's submarine fleet.
In particular, Paul G. Buchanan and Selwyn Manning examine how the United States' military arm is now pivoting to the Indo-Pacific region, as the People's Republic of China pivots its priorities westward to a land-based Silk Road orientation joining Pakistan, Russia, Iran to develop interests in the post-US Taliban-controlled Afghanistan.
It appears both the USA and China are moving to fill a perceived vacuum left by the other side.
While the PRC focusses its attention to Silk Road interests, it also is preoccupied inwardly. China has issues at home. As does the USA where its President Joe Biden is struggling to stabilise intrenched divisions in this post-Trump period.
But back to China, where its leader Xi Jinping has ordered strict screen-time controls over young new generation Chinese; huge regulatory reforms designed to control its wealth generating business sector; and a command for China's wealthy classes to share and to shift toward a state-wide goal of common prosperity.
What does all of this mean for the states and economies of the Asia Pacific/Indo-Pacific region?
WE INVITE YOU TO PARTICIPATE WHILE WE ARE LIVE WITH COMMENTS AND QUESTIONS IN THE RECORDING OF THIS PODCAST:
You can comment on this debate by clicking on one of these social media channels and interacting in the social media's comment area. Here are the links:
If you miss the LIVE Episode, you can see it as video-on-demand, and earlier episodes too, by checking out EveningReport.nz or, subscribe to the Evening Report podcast here.
The MIL Network's podcast A View from Afar was Nominated as a Top  Defence Security Podcast by Threat.Technology – a London-based cyber security news publication.
Threat.Technology placed A View from Afar at 9th in its 20 Best Defence Security Podcasts of 2021 category. You can follow A View from Afar via our affiliate syndicators.

***