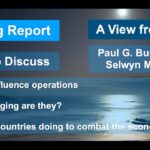 A View from Afar: Selwyn Manning and Paul Buchanan present this week's podcast, A View from Afar, where they analyse how leaders of the G7, NATO and EU juxtapositioned behind the United States to form a consensus-pact immediately prior to the Biden-Putin Summit.
United States President Joe Biden spoke of this in an impromptu media stand-up after the US-Russia bilateral. He said he owes G7, EU and NATO leaders a "debt of gratitude", adding that it made a difference in that he (that is Biden, but also significantly Putin) knew he was representing a powerful global bloc at the US-Russia summit. And, that the USA was again accepted as the leader of western nations.
But with a grouping of the world's strongest countries creating a new 'consensus pact', where does that leave small and regional powers like New Zealand, Australia, and many within the Indo-Asia-Pacific region?
The outcome of the series of summit meetings in Europe this week confirm; the world is being divided into blocs, one Western centric, the other not.
It is now clear, the US has re-committed to multilateralism, acknowledges there's strength in numbers, and is revitalising the European alliance system.
It is also important to note, the G7 leaders (and those addressing Biden at the European Union) all focused on strategic competition with the People's Republic of China and the Russian Federation.
However, for small and medium states outside these multilateral fora, how does the stark-rhetoric of the summit statements impact on China's 'traditional' trade partners?
New Zealand stands at the fault-line of this challenge.
How does NZ navigate a stable path forward – a transition that's designed to ease its trade-dependency on China – while schmoozing the western geo-demographic, so as to cut trade deals with the EU and UK?
Western multilateralism may indeed pose a problem to small powers. So what solutions do such countries have at their disposal?
WE INVITE YOU TO PARTICIPATE WHILE WE ARE LIVE WITH COMMENTS AND QUESTIONS IN THE RECORDING OF THIS PODCAST:
You can comment on this debate by clicking on one of these social media channels and interacting in the social media's comment area. Here are the links:
If you miss the LIVE Episode, you can see it as video-on-demand, and earlier episodes too, by checking out EveningReport.nz or, subscribe to the Evening Report podcast here.
The MIL Network's podcast A View from Afar was Nominated as a Top  Defence Security Podcast by Threat.Technology – a London-based cyber security news publication.
Threat.Technology placed A View from Afar at 9th in its 20 Best Defence Security Podcasts of 2021 category. You can follow A View from Afar via our affiliate syndicators.