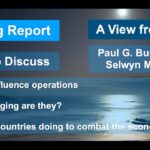 A View from Afar: In this week's podcast Selwyn Manning and Paul Buchanan debate: How recently New Zealand Government confirmed its intention to be defined as an independent Pacific Island state, where its foreign policy should be considered against the collective values that its peoples share, and its diplomacy (if you consider human rights issues) will now be expressed multilaterally with likeminded countries.
But how does this work in practice?
Many see multilateral bodies like the United Nations being controlled by large global powers such as China and the United States of America. That this reality renders the UN's security council as toothless, cumbersome, and slow to act in times of crisis.
Basically, this form of multilateralism seems designed to create a stalemate between great powers that assert their respective competing agendas. The affect; small countries lose their voice and influence.
So how do small powers like New Zealand express themselves on the world stage?

How do small countries shape reform of global bodies, so that they can work as forces of good in a world where geopolitics is divided between polarised blocs?

Is microlateralism (a global collective of likeminded states) the answer?
Is New Zealand about to stride out on the world-stage to assert this new form of multilateral collective bargaining?
WE INVITE YOU TO PARTICIPATE WHILE WE ARE LIVE WITH COMMENTS AND QUESTIONS IN THE RECORDING OF THIS PODCAST:
You can comment on this debate by clicking on one of these social media channels and interacting in the social media's comment area. Here are the links:
If you miss the LIVE Episode, you can see it as video-on-demand, and earlier episodes too, by checking out EveningReport.nz or, subscribe to the Evening Report podcast here.