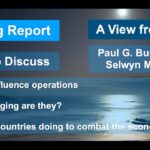 A View from Afar: Political scientist and former Pentagon analysis Paul G. Buchanan and investigative journalist Selwyn Manning and debate security, intelligence, and foreign policy trends and issues.
This week's episode: Paul Buchanan and host Selwyn Manning discuss this week's revelations by Paula Penfold and the Stuff Circuit team that a New Zealand tech company (with New Zealand Government investment) has been in business with iFlytec – a Chinese company alleged to be involved with surveillance of China's oppressed Uyghur people.
Does this example underscore the perils facing New Zealand companies that enter into joint-ventures with Chinese interests in the surveillance and state control sector?
And should New Zealand Government front-up and provide answers as to how it invested in the New Zealand company that got into business with iFlytec?
ALSO MYANMAR, Buchanan and Manning discuss the latest disturbing events occurring in Myanmar. What has caused Myanmar's military to once again overthrow a government and establish deadly totalitarian rule? So join Paul and Selwyn live, to comment, questions and interact in this debate.
COMMENT ON THIS DISCUSSION:
You can interact with the programme by clicking on one of these social media channels. Here are the links:
If you miss the LIVE Episode, you can see it as video-on-demand, and earlier episodes too, by checking out EveningReport.nz or, subscribe to the Evening Report podcast here.