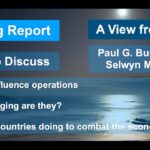 In this episode of A View from Afar, Selwyn Manning is joined by political scientist and former Pentagon analyst Paul Buchanan to discuss:
* Australia and New Zealand – are these two Pacific nations culturally and politically too distant and different to sustain their traditional 'special relationship'?
* The latest spat between New Zealand's Prime Minister Jacinda Ardern and Australia's Prime Minister Scott Morrison involves Australia acting in bad faith. In effect, cancelling the citizenship of an alleged terrorist sympathiser so that New Zealand is forced to relocate her and her two children.
Also, in Australia, centre-right commentators have labelled Jacinda Ardern's New Zealand government as socialist and siding with China over Australia and the PRC's diplomatic and trade battles.
* Can the AU-NZ special relationship be salvaged, or has it now gone too far?