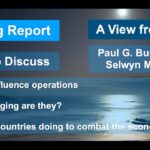 PODCAST: Paul G. Buchanan and Selwyn Manning present A View from Afar.
This week we discuss:
How around the world, in international relations, we see examples of strategic hedging, miscalculation, escalation, reputation, and face-saving.
Two of the most current examples of this are happening in the Middle East – after the killing of Iran's leading nuclear scientist, and, in Australia – as the Peoples Republic of China towers above the US-leaning Indo-Pacific regional power after claiming Australia propagates anti-China sentiment.
* What states are behind the Iran assassination? Who benefits from this killing? How should Iran respond?
* Why is China destabilising Australia's economic and security interests? What is China's end game?
* Will this dangerous posturing ease in late January when US President-elect Joe Biden takes up office in the White House?