Editor's Note: Here below is a list of the main issues currently under discussion in New Zealand and links to media coverage.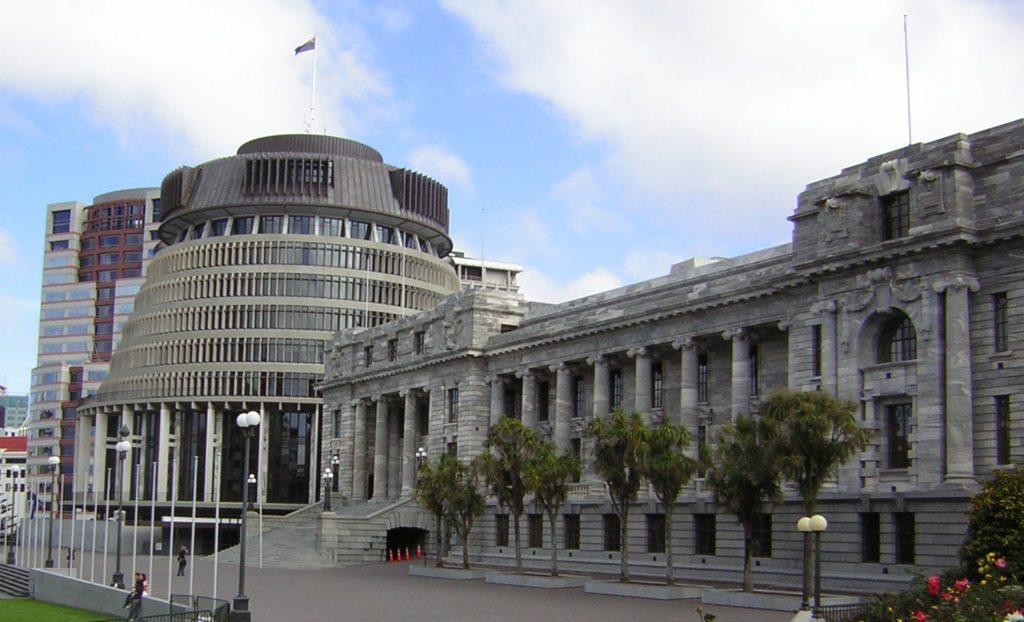 Today's content
Public health strategy
Henry Cooke (Stuff): New model shows coronavirus could kill 80,000 Kiwis without lockdown
Kate Newton (RNZ): Modelling shows NZ's lockdown could buy time for a vaccine
Rachel Sadler (Newshub): Research shows 80,000 Kiwis could die without strict lockdown measures
Shaun Hendy (Spinoff): The maths that explains why we're locking down
Michael Daly (Stuff): What happens after New Zealand has been locked down?
James Fyfe (Newshub): Infectious disease expert warns Kiwis to be prepared for the 'long game'
Government
Matthew Hooton (Herald): Trust Jacinda Ardern to get us through (paywalled)
Richard Harman (Politik): After the lockdown, what?
Chris Trotter (Daily Blog): How Do You Feel? What Do You Think?
Peter Dunne: The need to get the lockdown rules right
Luke Malpass (Stuff): Government needs to get its bubble self-isolated
Gordon Campbell: Six short takes about the lockdown
Sam Clench: Clarity is the quality that makes Jacinda Ardern so effective in a crisis
Verity Johnston (Stuff): When it comes to coronavirus, Ardern is winning on the world stage
Amelia Wade (Herald): Government threatens action against people taking advantage of the crisis
RNZ: Covid-19 lockdown running 'as smoothly as could be expected' – Ardern
Eleanor Ainge Roy (Guardian): Ardern thanks nation as New Zealand adjusts to 'new normal' of Covid-19 lockdown
1News: Jacinda Ardern praised after impromptu Facebook Live session about coronavirus, lockdown
State of Emergency powers
Gehan Gunasekara (Herald): Rights must be restored once Covid-19 coronavirus threat is over (paywalled)
Thomas Beagle (NZ Council for Civil Liberties): Civil liberties during a pandemic
1News: State of emergency gives Government, police, most power since 1950s but they still have limits, expert says
Martyn Bradbury (Daily Blog): Hating the NZ Police State while demanding it in an age of Pandemic Solidarity
Enforcing the lockdown
Donna-Lee Biddle (Stuff): Army on standby if people don't comply with lockdown
Thomas Manch (Stuff): Police can now enter homes to look for people gathering
Rachel Sadler (Newshub): Breaking lockdown rules could end in 6 month prison sentence for people
RNZ: Rule breakers warned by police on first night of alert level 4
1News:'This is serious stuff' – Police boss explains what to do if you see people violating coronavirus lockdown
Rachel Sadler (Newshub): Police 'absolutely discourage' all driving during lockdown that isn't essential
Jamie Ensor (Newshub): Comply or 'others will die': Police warning as drivers claim no knowledge of lockdown rules
Anna Leask (Herald): Retired cops may be back on the beat to bolster under-pressure frontline
Matthew Tso (Stuff): Cops team up with Wellington Paranormal TV cast to spread health messages
Border
Henry Cooke (Stuff): Close to half of new arrivals held at border because they had no self-isolation plan
Melanie Earley and John Weekes (Stuff): Police usher returning Kiwis into Auckland hotel, campervans on standby
Michael Morrah (Newshub): Couple quarantined in hotel by police 'made to feel like criminals'
Dileepa Fonseka (Newsroom): Returning to a nation in quarantine
Dileepa Fonseka (Newsroom): 'Dark period' for 200,000 visitors in NZ
Kate Newston (RNZ): Interactive: How Covid-19 arrived in New Zealand
Lockdown images
RNZ: Photos: New Zealand wakes up to a new way of life
Stuff: Wellington wasteland: day one of the lockdown
Lana Andelane (Newshub): New Zealand's most populated city a ghost town on day one of lockdown
Herald: An eerie silence across New Zealand
1News: Haunting images of an empty New Zealand
ODT: Photos: Lockdown empties the streets
Daisy Hudson (ODT): Streets a sign most obeying rules
Lockdown
1News: Last day for Kiwis travelling within NZ to get home amid coronavirus lockdown
Charlotte Graham-McLay (Guardian): New Zealand in lockdown: a surreal experience when you can't see the enemy
Rob Mitchell (Stuff): Wellington locked down and loaded to battle coronavirus
Tom Hunt (Stuff): Mittens the Wellington feline celebrity in lockdown
RNZ: Covid-19 lockdown day one: Things going as smoothly as possible as NZ begins new way of life
Health system – protective gear
Sam Yu (Press): Despite the confusing messages, facemasks will help in this pandemic
Phil Pennington RNZ): Not enough protective medical gear available despite govt assurances – supplier
Liu Chen (RNZ): Nurses asked not to wear masks feel unsafe at work
RNZ: Hundreds of masks to be released to district health boards
Lincoln Tan (Herald): Concerns that hospital nurses have no access to masks
Stephen Forbes (Stuff): Funeral directors need more protective gear or bodies 'won't be removed'
Nikki Mandow (Newsroom): "Please help us": Home care workers still without protective gear
Ripu Bhatia (Stuff): Dentists 'urgently concerned' at lack of masks for emergency care
Health system
Nicholas Jones (Herald): Entire hospitals could be used to treat the sick
RNZ: Checkpoint: Does NZ have enough ICU beds, ventilators?
1News: South Auckland doctors 'preparing for the worst' as coronavirus outbreak looms
Mike Houlahan (ODT): Inside Dunedin's fight against Covid-19 (+ video)
Nicholas Jones (Herald): Huge elective surgery shift to private hospitals to free-up space
Herald: Rest home staff move in with their residents
RNZ: Hospitals restrict visitors, postpone surgery
Dubby Henry (Herald): Stockpiling of medicines putting 'major strain' on supplies, Pharmac says
1News: Pharmacies bring in prescription restrictions to prevent stockpiling amid coronavirus lockdown
1News: Paramedics prepared for coronavirus outbreak responses amid lockdown
Simon Collins (Herald): Nurses still can't find childcare for their children
1News: NZ doctor has built an army of medical professionals to combat Covid-19
Helen Glenny (Newsroom): The fight for our blood supply
Employment – treatment of workers
Leonie Hayden (Spinoff): Dispatch from the frontline: a supermarket checkout manager on life under Covid-19
Anuja Nadkarni (Stuff): Burger King workers left in the lurch over lockdown pay
Laura Wiltshire (Stuff): Immunocompromised workers told to take unpaid leave or come to work
Hannah Kronast (Newshub): Staff forced to work through lockdown launch petition against retail store
Anuja Nadkarni (Stuff): Fletcher Building staff pay uncertain during month-long lockdown
Vita Molyneux (Newshub): Christchurch Novotel staff accuse hotel of not keeping them safe as dozens of international guests arrive for quarantine
Phil Pennington (RNZ): Air New Zealand's treatment of workers in coronavirus shutdown questioned
1News: Sistema workers allowed to go home on full pay after 'essential service' order leads to strike
Isaac Davison (Herald): Workers in essential services say they feel unsafe
Rebecca Ryan (ODT): Meatworks staff tell of safety fears
Glen Scanlon (RNZ): Your Covid-19 questions answered: Working under the lockdown
Anna Whyte (1News): Ardern thanks supermarket, bank workers and cleaners 'on behalf of all NZ'
Colleen Hawkes (Stuff): Essential workers' families struggle at home with need to stay safe
Wage subsidies
Rachel Sadler (Newshub): Employers who receive wage subsidy could commit fraud if they don't act in good faith
Bridie Witton (Stuff): More than 200,000 employers apply for coronavirus wage subsidy and leave payments
Essential services and businesses
Gavin Evans (BusinessDesk): Ports, truckers warn of looming freight blockages (paywalled)
Tom Hunt (Stuff): Work continues at cigarette factory through lockdown
Maia Hart (Stuff): Wine industry's 'privileged position' concerns wider wine capital community
RNZ: Wine industry faces worker accommodation woes during lockdown
Bonnie Flaws (Stuff): Businesses that support critical goods and services in primary sector to continue, says MPI
Eric Frykberg (RNZ): Miners exempt from lockdown as govt classifies coal as essential energy
Mat Kermeen (Stuff): TAB still trading online during lockdown as Kiwi punters at their most 'vulnerable'
David Farrar: Is horse racing an essential service?
Jamie Ensor (Newshub): Lockdown will reveal New Zealand's 'silent heroes' as 'economy goes on ice' – economist
Sarah Templeton (Newshub): Mad Butcher angers people by declaring itself an 'essential service', vowing to stay open during lockdown
Aimee Shaw (Herald): Mad Butcher stores continue to trade despite lockdown order
Anuja Nadkarni (Stuff0: Raglan butcher left with $40k of stock because of essential business confusion
Brianna McIlraith (Stuff): Supermarkets, petrol stations told to stop serving takeaway coffee
Unemployment, economy
Guyon Espiner (RNZ): Covid-19 epidemic could take unemployment from 4 to 30 percent – economists
Tony Alexander (Stuff): Lower retirement age could be part of solution to unemployment crunch
Paul Buchanan: Living within our means
Brent Edwards (NBR): Road bumps to be expected as government confronts Covid-19 (paywalled)
Mark Quinlivan (Newshub): Coronavirus crisis to be 'significantly worse' than GFC – Finance Minister Grant Robertson
Brian Fallow (Herald): How Reserve Bank is fighting the virus (paywalled)
Rod Oram (Newsroom): Two Herculean efforts to save economy
Newstalk ZB: Economist says NZ is already in a recession
Inequality
Rob Stock (Stuff): Loan applications crash, except among poor desperate to stock larders
Jane Matthews (Taranaki Daily News): Lockdown hits foodbanks and organisations that feed school children
Māori
RNZ: How Māori across Aotearoa are working to stop the spread of Covid-19
Te Aniwa Hurihanganui (RNZ): Far North iwi checkpoint closes
Donna-Lee Biddle (Stuff): Tourists turned away at Far North checkpoints
Housing
Susan Edmunds (Stuff): Property investor claims human rights breach as Govt clamps down amid coronavirus outbreak
RNZ: Paying rent in lockdown: Officials clarify legislation for property managers
Derek Cheng (Herald): Property manager slammed over letter to tenants about not paying rent
Jenna Lynch (Newshub): 'It won't be the virus that takes me out': Tenant's shock as landlord flouts Government's new rental rules
Vita Molyneux (Newshub): Jacinda Ardern's warning to landlords playing hardball with tenants amid lockdown
Thomas Coughlan (Stuff): Jacinda Ardern wants names of landlords flouting new rules
Rob Stock (Stuff): Coronavirus mortgage 'holidays' can save homes, but people's credit scores also need protecting
Homeless
1News: Social services rush to help homeless as lockdown begins
Eva Corlett (RNZ): Some rough sleepers still have nowhere to go during lockdown
Alice Webb-Liddall (Spinoff): Guidelines say stay at home. But what about those who don't have one?
Education
Sharon Brettkelly (RNZ): Hundreds of childcare centres hit by lockdown to get insurance payout
Erin Gourley (Critic): Opinion: Otago Fked Up with Covid-19
Brittany Keogh (Stuff): Food, rent money and laptops for struggling uni students
KiwiSaver
Rob Stock (Stuff): Emergency moves to make KiwiSaver hardship withdrawals possible under lockdown
Rob Stock (Stuff): Call to suspend $800 million KiwiSaver subsidies during Covid-19 crisis
Local government
Joel MacManus (Stuff): Rates relief announcements likely coming next week
Logan Savory (Southland Times): Invercargill Mayor Sir Tim Shadbolt faces up to technology challenge in lockdown
Christina Persico (Stuff): Law change for council meetings to continue remotely
Georgina Campbell (Herald): How Wellington City councillors are doing lockdown
Hamish McLean (ODT): DCC Council staff aid in tracing Covid contacts
Vita Molyneux (Newshub): Wellington City Council halts all recycling for coronavirus lockdown
Jared Morgan (ODT): Changes made to rubbish collection, recycling
Price gouging reports, stocking up
Anna Whyte (1News): Govt follows up on reports of price gouging at supermarkets
Aimee Shaw (Herald): By the numbers – What Kiwis have been panic buying
Volunteering, community care
Amelia Wade (Herald): $27 million to keep NGOs and community groups going
1News: People at risk, disability services get $27m for help during Covid-19 lockdown
RNZ: Community organisations 'crying out' for volunteers as over-70s isolate
Jono Galuszka (Manawatū Standard): RongoCare: How a small village stays alone together during self-isolation
NZers in Australia
Joe Nunweek (Overland): On the wrong side of the ditch
Barry Soper (Newstalk ZB): The truth of bubbles we are living in
Tourists in NZ
Amanda Cropp (Stuff): Air NZ helping fly home 15,000 stranded Germans and Europeans
1News: Lockdown leaves families trapped and separated abroad and at home
Charlotte Jones (RNZ): Freedom campers in lockdown in Whakatane carpark
Other
Adam Dudding and Eugene Bingham (Stuff): Coronavirus NZ podcast: The price of breaching lockdown
Bryan Gaynor (BusinessDesk): Is your bank safe and, if not, what is your position? paywalled)
Chris Keall (Herald): State of the telcos: Lockdown teething issues will pass, but big problem remains (paywalled)
1News: Elderly encouraged to have a self-isolation buddy to get through lockdown
Chloe Ranford (Stuff): 'Do not attempt to go boating' during lockdown
Bruce Munro (ODT): Global Insight: 'Solidarity needed' to win Covid-19 war
Bridie Witton (Stuff): Oranga Tamariki moves online amid fears for increase in domestic violence
Breanna Barraclough (1News): Urgent appeal sees SPCA rehome more than 1000 pets nationwide ahead of lockdown
Rob Stock (Stuff): Insurers have 'pandemic insurance' in case virus deaths spike
Robin Martin (RNZ): Grey Power welcomes decision to pull funeral cover ads during shutdown
Rob Stock (Stuff): Lockdown will 'kill' construction companies, 'unless Government acts'
RNZ: Tonga declares lockdown starting this weekend
Leigh-Marama McLachlan (RNZ): Families at Ihumātao staying in one bubble during lockdown
John Anthony (Stuff): 90 jobs gone after Auckland Airport suspends second runway
RNZ: $5m expected to provide 'lifeline' for tourism workers
Greg Ninness (Interest): Property market comes to a virtual standstill
Christchurch mosque shootings – Brenton Tarrant pleads guilty
RNZ: Checkpoint (RNZ): Mosque shooting survivor explains love, forgiveness for the terrorist
1News: 'I want to pray for him' – Christchurch mosque victims respond after attacker pleads guilty
Kurt Bayer (Herald): How Brenton Tarrant's shock admissions unfolded
Kurt Bayer (Herald): Shock in courtroom as gunman admits being March 15 killer
Sam Hurley (Herald): Will terrorist and mosque killer be deported to Australia?
Sam Hurley (Herald): Kiwis have no constitutional right to bear arms, Court of Appeal rules in failed challenge to Govt gun ban
1News: Biggest number of Police in operation as new graduates bring total to 10,000
1News: Jacinda Ardern 'let out massive sigh of relief' at Christchurch mosque gunman's guilty plea
David Williams (Newsroom): The terrorist pleaded guilty, now what?
Martin van Beynen (Stuff): Why did the mosque shooter change his mind?