Editor's Note: Here below is a list of the main issues currently under discussion in New Zealand and links to media coverage.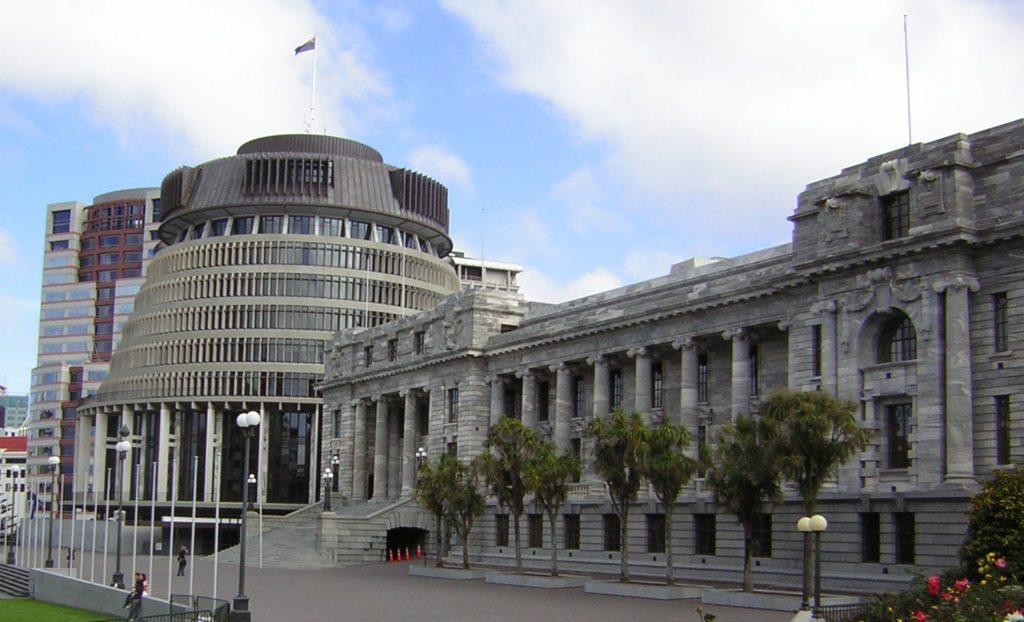 Today's content
State of emergency, Lockdown
Andrew Geddis (Spinoff): How politics, police and power work in lockdown New Zealand
Press Editorial: Welcome to the pandemic police state
Richard Harman (Politik): Army and police to show no tolerance
RNZ: State of National Emergency explained
Zane Small (Newshub): Government officials declare state of national emergency in New Zealand amid COVID-19 pandemic
ODT: Call for calm as emergency declared – PM's statement
Lois Williams (RNZ): Council staff co-opted as Civil Defence gears up for action at midnight
Anna Whyte (1News): 'There will be no tolerance' – Covid-19 lockdown rules will be enforced, says PM
Mark Quinlivan (Newshub): How the Government will enforce the COVID-19 lockdown
Māori TV: What does a State of Emergency mean for Māori? – Minister Kelvin Davis
Newstalk ZB: A drive to the beach? Don't even think about it, warns top cop
Herald: What New Zealanders can and can't do during lockdown
Sam Brookes (Spinoff): What are the rules for lockdown in New Zealand?
RNZ :'Don't pop the bubble' – Microbiologist Siouxsie Wiles
Siouxsie Wiles & Toby Morris: You're waking up in lockdown New Zealand. Here's how it works
Audrey Young (Herald): Whole of New Zealand in self-isolation in battle against disease
Steven Walton (Stuff): Kiwis need to keep their pets in lockdown bubble too
Government, Parliament
Chris Trotter (Daily Blog): It's Time For Disaster Socialism
Tim Watkin (Pundit): Why Timing Is Everything: 'A Time To Refrain From Embracing' Starts Today
Paul Hunt (Stuff): We all have a duty and responsibility to self-isolate
Peter Dunne (Newsroom): A careful balancing act for the Government
Claire Trevett (Herald): Covid-19 lockdown begins, live the life of Eleanor Rigby (paywalled)
Sam Sachdeva (Newsroom): Hands across the aisle as Parliament locks down
1News: Simon Bridges says his role amid coronavirus lockdown will be to 'constructively' ask 'hard questions'
James Fyfe (Newshub): NZ in 'good place' to fight COVID-19 but 'constructive scrutiny' of Government needed – Simon Bridges
Border
Fran O'Sullivan (Herald): Nail the border down hard (Better late than never) (paywalled)
Heather du Plessis-Allan (Newstalk ZB): We need to be tougher at the border during lockdown
Derek Cheng (Herald): Jacinda Ardern defends decision not to quarantine everyone arriving into NZ
Anna Whyte (1News): All returning Kiwis to be screened for coronavirus as border rules tighten
Tova O'Brien (Newshub): Jacinda Ardern's tough new border measures for arrivals to New Zealand
Inequality, poverty
Max Rashbrooke (Guardian): New Zealand must ensure coronavirus crisis doesn't become an inequality crisis
Sarah Robson (RNZ): Food banks face Covid-19 lockdown issues – demand high, supplies low
Matt Burrows (Newshub): What Auckland City Mission is doing for homeless during COVID-19 lockdown
Healthcare
Marc Daalder (Newsroom): Six-day testing delay raises concerns
Nicholas Jones (Herald): Speed-builds of hospital negative pressure rooms wow ICU doctors
Phil Pennington (RNZ): Location rules out nurse's bid to join Covid-19 contact tracing team
Rowan Quinn (RNZ): Frontline doctors prepare for 'what's coming' by sending kids away
Michael Morrah (Newshub): Health workers assaulted by people wanting to be tested for COVID-19
RNZ: Hospital to allow staff to park for free after nurse forced to pay $19
RNZ: 'It really is shameful' – Nurse says Wilson Parking still charging during Covid-19 pandemic
Matt Nippert (Herald): Panic sparks discrimination against healthcare worker (paywalled)
RNZ: Hospitals, medical centres face staff shortage
Mike Houlahan (ODT): Clinicians face of the fight
Herald Editorial: Hail those who walk into the path of Covid-19 coronavirus
Mike Houlahan (ODT): Restrictions in force in SDHB hospitals
Covid-19
George Heagney (Stuff): New Zealand in 'excellent position' to stop virus spread
Jamie Morton (Herald): Big Read: How Covid-19 has perplexed scientists everywhere
Farah Hancock (Newsroom): Covid-19: NZ's latest numbers in charts – March 25
Kate Newton (RNZ): Early analysis suggests NZ Covid-19 cases fit pattern of victims being older
David Farrar: The numbers
Financial support package, economy
Thomas Manch and Henry Cooke (Stuff): Finance Minister considers universal basic income to ward off economic peril
Keith Rankin: Universal Basic Income And Covid19
Newstalk ZB: CTU concerned employers are abusing covid-19 fiscal support package
Jamie Ensor (Newshub): Wage subsidy scheme 'working', but changes could be coming – Finance Minister
Bridie Witton (Stuff): More than 200,000 employers apply for coronavirus wage subsidy and leave payments
Ilan Noy (Newsroom): Financial package a golden opportunity for long-term change
Raf Manji (Interest): Good QE vs Bad QE: RBNZ launches bond-buying program
Bridget Tunnicliffe (RNZ): Concern for small business who opt to go under
Tess Brunton (RNZ): 'Left in limbo': Fears for foreign hospitality workers who lose jobs
Essential services, export, trade
Lana Andelane (Newshub): Export-driven food manufacturers questioned as staff say they're forced to work during lockdown
Kate MacNamara (Stuff): Make wine, not homes: The new essential services
1News: Coronavirus-impacted countries announce pact to keep trade links open
RNZ: Sistema to pay workers striking until Sunday night
1News: Sistema workers walk off the job amid concerns over working during lockdown
Housing
Amelia Wade (Herald): Rents frozen and evictions banned under emergency legislation
1News: Rent freezes to provide relief for those struggling with coronavirus business shutdown
Henry Cooke (Stuff): Government to ban most evictions and rent-rises for several months
Zane Small (Newshub): Support for renters as Government bans termination of tenancies during COVID-19 lockdown
1News: Kiwi renters demand same financial certainties as homeowners amid coronavirus lockdown
Katie Todd (RNZ): Tenants told skipping rent not an option
Katie Todd (RNZ): Tenants group calls for more help for renters
Mandy Te (Stuff): Tenants told 14-day notices sent if rent not paid
Tamsyn Parker (Herald): Six-month mortgage holiday will increase loans, but people will keep their homes, Robertson says
David Farrar: Beware the mortgage holiday
Essential workers
Melanie Carroll (Stuff): Essential workers don't need a letter of authority, but some have one
Glen McConnell (Stuff): Thanks to the bus drivers, to the nurses and shelf stackers
Herald: Government will fund home-based childcare for essential workers
Price gouging, online shopping
Mark Quinlivan (Newshub): Prime Minister Jacinda Ardern's warning to supermarkets after accusations of price gouging
Anusha Bradley (RNZ): Supermarkets, food outlets deny price hikes
Herald: Online shopping only allowed for essentials during lockdown
Mobile phone tracing
Nikki Macdonald (Stuff): Could NZ use mobile phones to trace the contacts of Covid-19 cases?
Ayesha Verrall and Peter Fuller (Newsroom): Is it time to use technology to trace Covid-19 cases?
Education
Amelia Wade (Herald): All schools will now be controlled by the Government under new emergency changes
John Gerritsen (RNZ): Teachers respond to challenge of online learning
Josephine Franks (Stuff):School closures hard on parents of children with special needs
ODT Editorial: Deep breaths for families on day 1
Brittany Keogh (Stuff): Universities may scrap work experience, practical assessments
Katie Harris (Herald): Student hardship applications skyrocket
John Lewis (ODT): Lecturer, students turn hands to sanitiser
Children
Julie Spray (Spinoff): Children are experiencing the pandemic too
RNZ: Parents with shared custody arrangements given guidance
Lockdown for the vulnerable
Herald: Vulnerable Kiwi kids to benefit from new approach
Kate Nicol-Williams (1News): Domestic violence support organisations bracing for impact as NZ enters lockdown
Anna Bracewell-Worrall (Newshub): Charities warn COVID-19 lockdown may cause spike in domestic violence
Iwi close tribal borders
1News: Northland iwi put up checkpoints to help stop coronavirus spread
Rukuwai Tipene-Allen (Māori TV): Taitokerau bands together to keep virus out
Kayne Ngātokowhā Peters (Newsroom): Foreign tourists stopped at iwi checkpoints
RNZ: Tribal borders in East Coast and Northland now closed
1News: East Cape iwi places rāhui to prevent coronavirus spread
Kiwis stranded overseas, tourists stranded in NZ
Collette Devlin (Stuff): New Zealand mercy flights for Kiwis stuck abroad are unlikely
1News: Stranded Kiwis fear the unknown as PM tells them to prepare for the long haul
1News: Group of 17 Kiwis stranded on cruise ship pens open letter to NZ Government to get them home
RNZ: Nine to Noon: Kiwi student stranded in South Africa due to broken NZ embassy printer
Natalie Akoorie (Herald): Tess Johnson stranded in Australia despite growing up in New Zealand
—————
Amanda Cropp (Stuff): Fears thousands of 'homeless' and 'ignorant' tourists will break lockdown rules
Tracy Neal (RNZ): Stranded tourists hunkered down on lawns, high-rent homes
Hugh Collins (ODT): Far from family, trying to get home
Kerrie Waterworth (ODT): Lockdown catches out tourists
1News: Campervans a valid isolation spot as lockdown looms, but there's a catch
Transport
John Anthony and Steve Forbes (Stuff): Here's what major airlines are offering customers affected air travel turmoil
Herald: Air New Zealand drops international flights to just 12 routes
Herald: Fullers announces free services for Waiheke Island essential travel during lockdown
Phil Pennington (RNZ): Virgin Australia looks to shut down NZ operations, 550 jobs on line
Banks
Gareth Vaughan (Interest): New Zealand banks are now an extension of a socialist state
RNZ: Banking system in New Zealand secure, says ANZ boss
Local government
Hamish MacLean (ODT): New rules permit video links
Tim Miller (ODT): 'Be kind': A message of hope from Southern mayors
RNZ: Invercargill council shuffles to protect councillors
Rotorua Daily Post: Zero rates rise the goal – Bay of Plenty regional councillors agree
Internet
Conan Young (RNZ): GPs worry games, movies slowing down internet for referrals, prescriptions
Jessica Tyson (Māori TV): Public assured that the internet won't go down during lockdown
Environment
Sam McGlennon (Newsroom):Let's never return to normal
Christine Rose (Daily Blog): A Call to do Better By Nature
Justice, corrections
Sam Hurley (Herald): Court to continue during lockdown if liberty, safety and wellbeing affected
Collette Devlin (Stuff): More prison phone calls for inmates during lockdown
Other
Gordon Campbell: On Australia's callousness, and grandparents as parents amid Covid-19
Mike Hosking (Newstalk ZB): The virus crisis gives us a chance to shake things up (paywalled)
Simon Wilson (Herald): Pandemic diary – now we have the Kiwi Queue (paywalled)
Marc Daalder (Newsroom): Tiwai Point smelter exempted from lockdown
Barry Stewart (ODT): Our commitment to inform you remains
1News: Gull giving 340k litres of ethanol to make 950k bottles of hand sanitiser for NZ's coronavirus battle
Susan Strongman (RNZ): Big numbers head to coastal baches
Laura Smith (ODT): Govt's liquor decision means Invercargill avoids 'prohibition'
RNZ: Two prominent public figures among 205 Covid-19 cases