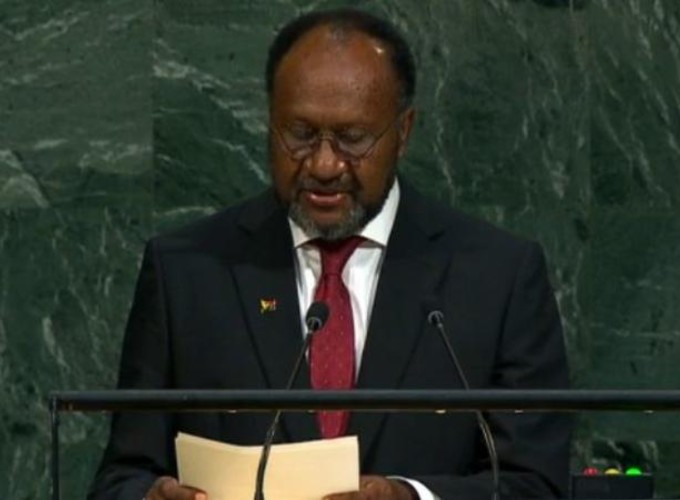 Pacific Media Watch Newsdesk
Vanuatu leaders have taken the podium at the United Nations General Assembly to speak out against the military repression of anti-racism and independence demonstrations in West Papua, reports SBS news.
Addressing world leaders at the New York gathering – which has so far been a platform for powerful climate change activism – Vanuatu Prime Minister Charlot Salwai said his country "condemns, emphatically" the ongoing human rights abuses in West Papua.
He also lamented how some Pacific territories are yet to break the shackles of colonialism, citing France's territories of New Caledonia and French Polynesia, as well as Indonesian-ruled West Papua, reports RNZ Pacific.
READ MORE: Vanuatu and Solomons raise Papua at UN rights council
His colleague, Foreign Minister Ralph Regenvanu said the current situation in West Papua "fits the criteria for genocide" and implored world leaders to address it.
"History will judge us and we have to be on the right side of history."
He targeted Australia specifically, saying that its status as a Pacific country meant that it had responsibilities in the region.
"Australia's got to step up substantially on the issue of West Papua, particularly because it's on the Human Rights Council, it is a member of the Pacific Islands Forum."
Among the Vanuatu delegation to the UN was exiled West Papua Independence Leader Benny Wenda. Along with other Pacific leaders, he met with the UN Secretary-General António Guterres to stress the importance of a UN visit to West Papua.
"So I hope that Indonesian government and President Jokowi will allow the UN High Commissioner to visit West Papua because this is a human rights crisis happening right now in West Papua," he said.
According to Antara, Wenda was not permitted entry into the UN Assembly Hall along with the Vanuatu delegation as the UN rules stipulate that diplomats must be nationals of the country they are representing.
Indonesian authorities have blamed Wenda for inclinting the West Papua unrest, including last week's clashes which reportedly claimed the lives of at least 40 people.
According to The Guardian, testimonies of the clashes from eyewitnesses differ greatly from the official Indonesian account.
While authorities maintain that those killed were mostly non-Papuans who died as a result of the destruction caused by the Papuan demonstrators, one eye witness said that police directly opened fire on protestors killing "16 to 20" of them.
Another witness said that children were among the dead, reports The Guardian.
The unrest has prompted further tension throughout the Wamena community, with non-native residents allegedly arming themselves with machetes to protect their properties.
Others have fled en masse to military bases where they are awaiting evacuation to safer parts of the region, reports ABC.
Article by AsiaPacificReport.nz