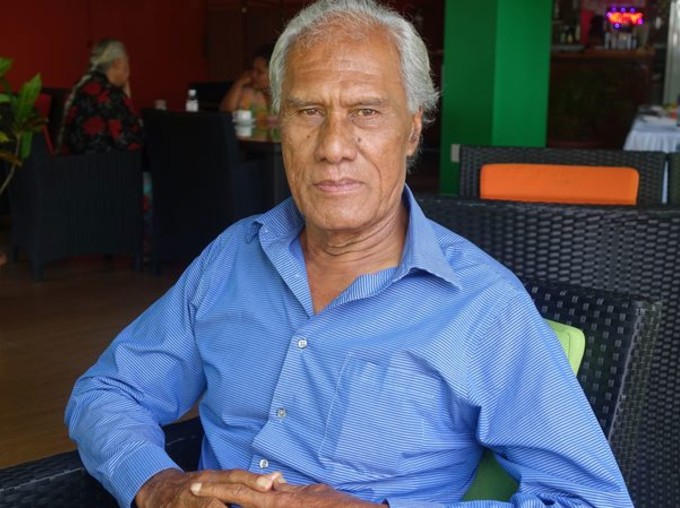 By Michael Andrew
Members of the Pacific media have paid tribute to the late Tongan Prime Minster 'Akilisi Pohiva, who died in New Zealand earlier this week.
An enduring symbol of democracy in Tonga and the Pacific, Pohiva died at Auckland hospital after a long struggle with various health problems.
"He fought for many years for real change in the Pacific's only kingdom against at many times daunting odds from the establishment," said Pacific Media Centre director Professor David Robie.
READ MORE: Tongan PM blasts Pacific regionalism 'myth' and silence over West Papua
"But he persevered and eventually opened the door to fundamental changes a decade ago.
Dr Robie said the late leader faced a new set of challenges as Prime Minister.
"While he found being in office as Prime Minister more complex and conflicted, he had an impassioned vision for such critical and existential Pacific issues such as climate change and self-determination for West Papua."
Pohiva spoke passionately on both topics at the last Pacific Islands Forum in Tuvalu, delivering unprecedented emotional pleas to his fellow Pacific leaders to act on climate change and condemn Indonesia for its treatment of West Papua.
Friend and former editor of Taimi 'o Tonga Kalafi Moala said his death would not have surprised many Tongans due to the long deterioration of Pohiva's health in recent years.
"He was not a healthy man. In recent years, prostate problems, and more recently diagnosed with liver cancer."
Nevertheless, Moala said he was saddened by the loss of a friend despite the political differences between the two over their three-decade relationship.
"[He was] very intense, and treated most things, especially political issues as 'life and death'."
"Because of his focused and intensive nature, he tended to be feisty at times. He liked being viewed that he was leading a revolution."
Pohiva and Moala along with Filokalafi Akau'ola were jailed for contempt of parliament in 1996, after Moala published in Taimi 'o Tonga details of parliamentary proceedings that Pohiva had leaked.
Their 26-day incarceration prompted Dr Robie and journalist Peter Cronau to cover the story intensely in order to raise awareness and have the "Tongan three" released from prison.
This saga was the genesis of the Pacific Media Watch project and its role as "watchdog" to support regional journalists facing adversity.
After his release, Pohiva continued campaigning for democracy, clashing with the government and monarchy before becoming the first democratically-elected Prime Minister in the country's second democratically-elected parliament.
Moala said that despite Pohiva's later years as Prime Minister, when he was unable to produce the things he had promised in his campaigns, his years of fighting the monarchy for the rights of Tongan people will stand out.
"People will remember him as the best opposition leader ever in Tonga, and he helped shape Tongan politics, and helped bring about the 2010 [constitutional] reforms, in partnership with King George V," he said.
Article by AsiaPacificReport.nz