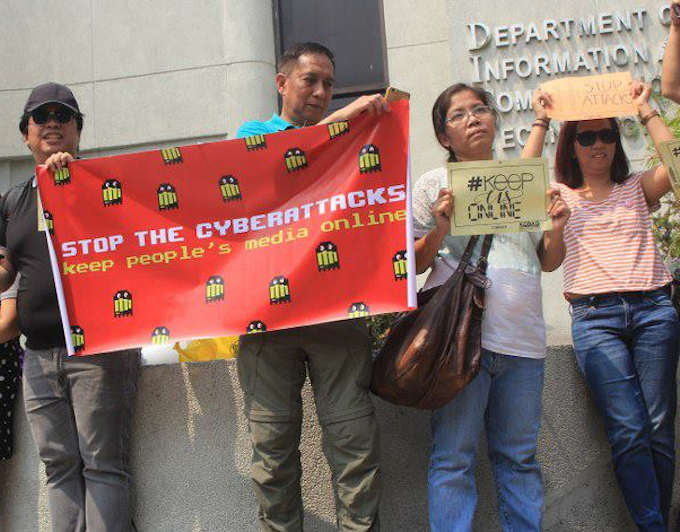 Groups denounce cyberattacks against several independent media websites in the Philippines. Image: Kodao Productions/Global Voices
By Mong Palatino in Manila
Several media groups in the Philippines marked the World Day Against Cyber Censorship this week by holding a protest to denounce the ongoing cyberattacks against their websites which they claim are backed by the government.
Since December 2018, the websites of alternative media groups Bulatlat, Kodao Productions, Pinoy Weekly and Altermidya have been targeted by distributed denial of service attacks (DDoS).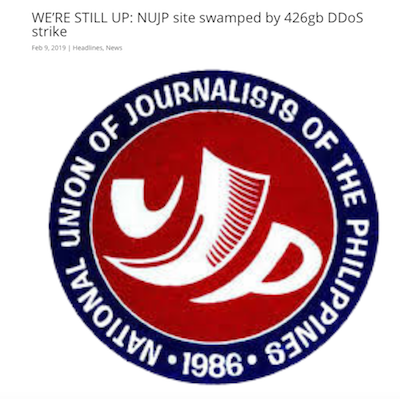 The NUJP "we're still up" page. Image: PMC screenshot
The websites of Arkibong Bayan, Manila Today and the National Union of Journalists of the Philippines have also been attacked in the past month.
According to the Southeast Asian Press Alliance, at least 10 cases of cyber onslaught against select Filipino news outlets have been
documented since President Rodrigo Duterte came to power in 2016
.
Qurium, a Sweden-based media foundation which has been assisting those media groups, confirmed the DDoS attacks against Altermidya and other alternative news websites.
The details of the DDoS attacks have been reported to the government's National Computer Emergency Response Team (NCERT) of the Department of Information and Communications Technology (DICT). After one month had passed without the government body acknowledging their report, the media groups led by Altermidya decided to protest in front of NCERT's office on Tuesday.
In a pooled editorial, the media groups linked the cyberattacks to the government's crackdown on dissent:
The Duterte regime is using every means to silence dissent, criticism and free expression: from threats, incarceration to killings, to cyber warfare. The main target of this latest assault are the alternative media that mostly via online disseminate reports and views on events and issues that are rarely covered, if at all, by the dominant media. The goal is to deny a public hungry for information the reports and stories that it needs to understand what is happening in a country besieged by lies and disinformation.
The editorial condemned the increasing attacks against the press, especially those perceived to be critical of the Duterte government.
Altermidya national coordinator Rhea Padilla explained on Facebook why they protested against NCERT:
This is why we are here. We demand that they act on the attacks. Otherwise, we will be lead to believe that NCERT and DICT are complicit in the attack on press freedom.
Altermidya reporter Toby Roca echoed her words: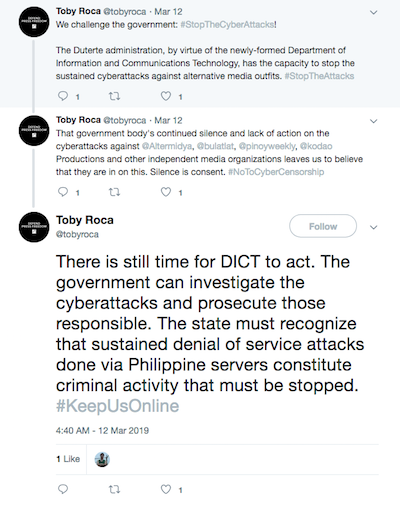 Jola Diones-Mamangun, executive director of Kodao Productions, criticised the use of bots and trolls to undermine the work of the independent media:
Not content with fomenting disinformation and fake news, the Duterte administration is hell-bent on silencing what it considers as fierce critics and political opponents and goes to extreme lengths and harnessing even the power of the dark web.
Mong Palatino is a Filipino activist and former lawmaker in the House of Representatives. He has been blogging since 2004 at mongster's nest. This article is republished from Global Voices on a Creative Commons licence.

Article by AsiaPacificReport.nz