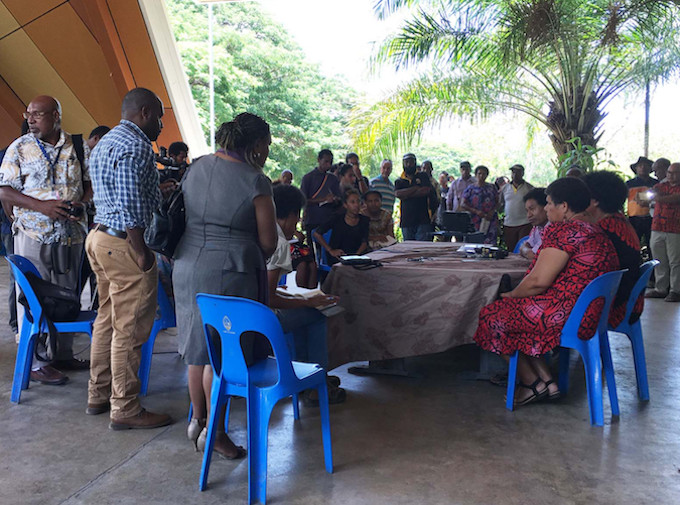 NASA representatives, including Dr Linus Digim'Rina, talking to journalists at the University of Papua New Guinea yesterday. Image: Alan Robson/PMC
By Leiao Gerega in Port Moresby
Prime Minister Peter O'Neill has sidelined the University of Papua New Guinea interim council but has retained interim chancellor Jeffery Kennedy.
The decision yesterday appeased the disgruntled National Academic Staff Association (NASA) members who have agreed to return to classes today.
According to NASA working committee head, Dr Linus Digim'Rina, the ouster move was relayed by government Chief Secretary Isaac Lupari on behalf of O'Neill yesterday.
READ MORE: UPNG shutdown crisis – the facts behind the turmoil
The new university council would be "open to dialogue" among members of the UPNG staff, Higher Education Department and the interim university administration, Dr Digim'Rina said.
Those who were sidelined included pro chancellor Jerry Wemin and acting vice-chancellor Dr Kenneth Sumbuk.
University of PNG academic staff "stopped work" on Monday in protest against the recent appointments.
Dr Digim'Rina said last night when all parties decided on a new appointment process nominations would be submitted to the National Executive Council for approval.
"I can assure you that NASA and all UPNG staff (those taking voluntary action) will sustain pressure to make sure the process is completed as soon as possible," he said.
The chief secretary told UPNG staff yesterday that O'Neill had taken note of staff grievances "to acknowledge the process of the appointment of the vice-chancellor".
"It (the process) has followed the statute of the university…it has followed the guidelines on merit-based system where it has protected and safeguarded the appointment of vice-chancellors since 1965.
"And that process must be completed and consistent with the Higher Education Act," Lupari said, adding that Professor Frank Griffin's appointment as vice-chancellor would be subject to Cabinet approval.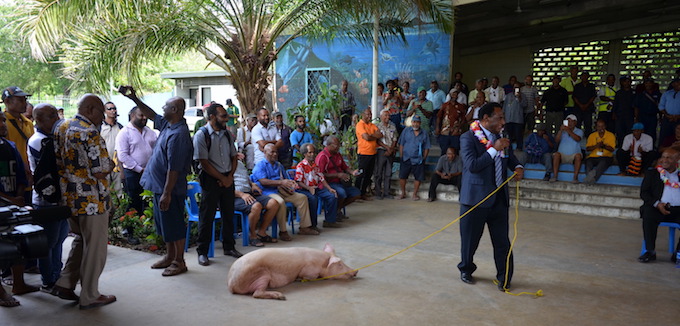 NASA acting president Mark Kia said that according to the documents received from O'Neill and the Higher Education Minister Pila Niningi, the acting chancellor Kennedy would not be retained and the opportunity was now given to the UPNG community to suggest names for the position.
He said that because the process to appoint Dr Griffin was not completed in due time, yesterday's decision instantly allowed the process to continue and documents would be filed next week for NEC endorsement.
The announcement of Kennedy's retained position was, however, met with murmurs of disapproval from UPNG staff yesterday who had had to wait for almost five hours to hear O'Neill's decision.
They were not happy that Kennedy had not been sidelined. Niningi told UPNG staff members that his "hurried decision" that had led to the "stop work" was due to "lack of communication" with the university.
He maintained that he wanted to see good governance and would make no apology.
The three issues raised by the UPNG staff members was for the government to appoint Dr Griffin vice-chancellor, reinstate the duly-appointed registrar, Dr Peter Petsul, and remove the current council.
Leiao Gerega is a reporter with the Post-Courier. The photographs are by a Pacific Media Centre correspondent.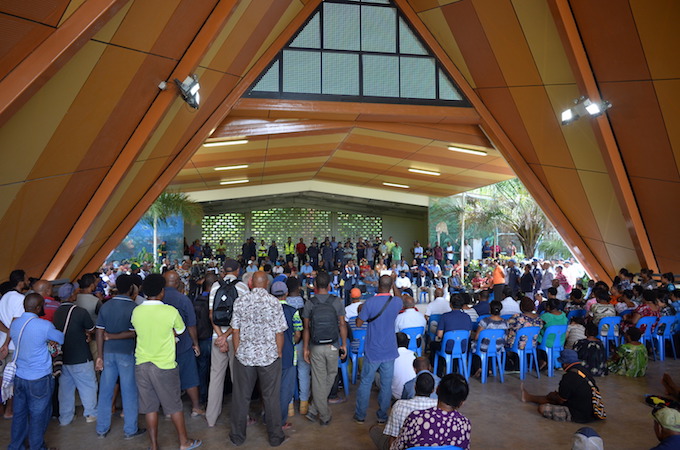 Striking UPNG staff meet with Higher Education Minister Pila Niningi and Chief Secretary Isaac Lupari on campus yesterday. Image: Alan Robson/PMC

Article by AsiaPacificReport.nz